Golden Shower Gate Latest: Russia Has Audio, Video Of Donald Trump's Alleged Sex Acts?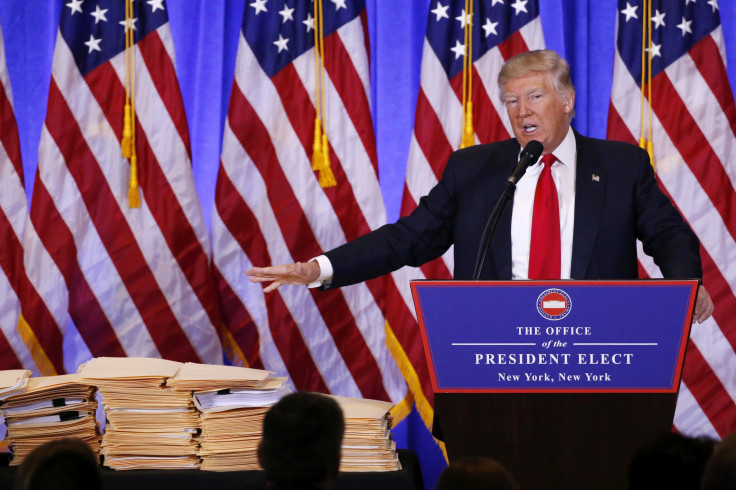 Engulfed in a major scandal less than 10 days from his inauguration, President-elect Donald Trump could face even more disturbing allegations as reportedly more than one intelligence source was aware of the so-called Golden Shower Gate details, Raw Story reported Wednesday.
In his first press conference in six months and first since winning the election in November, Trump denied reports from CNN and BuzzFeed News of an unverified 35-page dossier that included scandalous details of his supposed time visiting Russia in the past. The dossier, which contains errors and has not been proven true, alleges Trump paid prostitutes to urinate on each other.
The dossier was reportedly prepared by a British intelligence officer at the behest Trump's political opponents and the information it contained has circulated political and media circles for months. The Brit in question is now reportedly a private security consultant named Christopher Steele, the Wall Street Journal reported Wednesday.
But, Raw Story, citing a BBC Washington correspondent Paul Wood, reported the British officer is not the only source for the potentially damning information and that Russia could possess multiple sex tapes of Trump.
"The rumors or the allegations or whatever you want to call them have been circulating for a number of months now," Wood said in a BBC 4 radio broadcast Wednesday. "I saw the report, compiled by the former British intelligence officer, back in October. He is not, and this is the crucial thing, the only source for this."
Wood elaborated, saying at least one Eastern European intelligence service was "aware" of the material Russia may have on Trump and that includes both audio and video and of more than one alleged incident.
"It's very, very difficult, of course, to talk to U.S. intelligence people. They're breaking the law if they talk to you," the BBC correspondent pointed out. "But I did ask somebody with connections in the CIA to pass a message to them and I got a message back that there was allegedly more than one tape, not just video, but audio as well, on more than one date, in more than one place, in both Moscow and St. Petersburg."
Wood admitted intelligence officers can be wrong, but that the Central Intelligence Agency claimed the dossier is "credible."
"But it is viewed as credible by the CIA and that's why it landed on President Obama's desk last week, on the desk of the congressional leadership and was given to Mr. Trump as well. And even congressional Republicans are talking about investigations and Democrats, I know, are talking about impeachment."
© Copyright IBTimes 2023. All rights reserved.