'The Good Place' Season 3 Spoilers: Episode 1 Synopsis And Sneak-Peek Clip
Holy Shirtballs, "The Good Place" Season 3 premiere is almost upon us! Seven months after viewers saw Michael and The Judge's decision to allow Chidi, Eleanor, Tahani and Jason the chance to return to Earth and show they are meant to go to the Good Place, the series is returning.
Thursday, Sept. 27 will see the gang return to the very moment before they died in "Everything is Bronzer." While the Season 2 finale only saw Michael (Ted Danson) save Eleanor's (Kristen Bell) from her demise, the forthcoming two-part installment will follow Michael as he "intervenes" in the other's near-death accidents "in hopes that a second chance at life allows them to become better versions of themselves," according to NBC's synopsis.
"So the four are sent back to Earth, their memories are wiped, and now we have to see how they would have lived their lives in they hadn't died," Bell says in one preview. "But how much can they meddle with things on Earth before they truly disrupt the entire timeline of the planet?"
A sneak peek of the premiere, posted above, shows Michael receiving a one-of-a-kind key to Earth from The Doorman (Mike O'Malley) after getting the approval for his experiment from The Judge (Maya Rudolph) to reverse the deaths. The Doorman warns Michael he won't have any of his special powers on Earth, a prospect which excites him.
What follows is Michael saving Eleanor from being hit by a stream of shopping carts, Chidi (William Jackson Harper) from a falling air conditioner, Tahani (Jameela Jamil) from a falling statue and Jason (Manny Jacinto) from suffocating in a safe.
Like viewers saw in the Season 2 finale, photos from the one-hour premiere show Eleanor and Chidi reuniting. Other images show Jason in his DJ/dance crew days and Tahani in formal attire. Additional shots from the premiere feature Michael working alongside his AI sidekick Janet (D'Arcy Carden).
"The Good Place" returns Thursday, Sept. 27, at 8 p.m. EDT on NBC.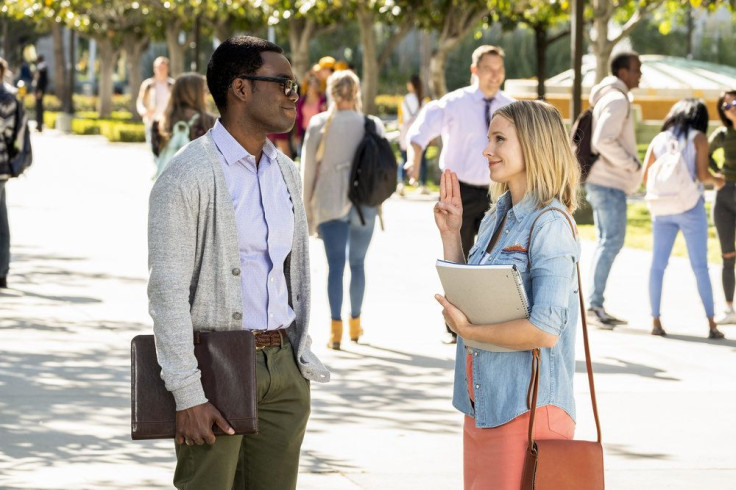 © Copyright IBTimes 2023. All rights reserved.