'The Good Place': D'Arcy Carden On Having Ted Danson As Scene Partner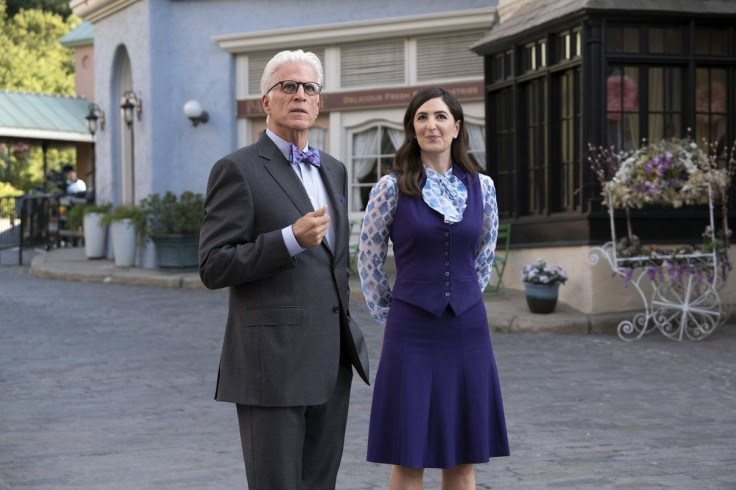 "The Good Place" star D'Arcy Carden is opening up about what it's like to have Ted Danson as a scene partner on the NBC afterlife comedy.
In an interview with TV Guide, Carden, who plays Janet on the Michael Schur-created sitcom, said that having a scene partner like Danson gave her what she needed to play her character on the next level.
To explain her point, Carden recalled filming the scene in Season 2, episode 7, in which Michael (Danson) admits that the reason he can't destroy Janet is because she's his best friend.
"He surprised me in real life in that scene because he got emotional," Carden said of Danson. "His eyes go red and there's tears in them and I was like, 'What the hell? This wasn't in the script. How dare you.' And it made me, D'Arcy the actor, also get teary-eyed. Which I was immediately like, 'No, no, no, we can't do that because Janet would not — but then I also realized this is the moment when Janet is changing.'"
Carden also only has good words to say about Danson as a person. "I am so happy talking about Ted. I have nothing bad to say [about him]," the actress told GQ Magazine last September. "You want to hear that Ted Danson is a butthole, but he's the greatest human alive. He's so funny. He's a giddy little weirdo. He's very silly, he's very caring."
Carden continued: "Let's say you've met him. You see him again, and you hope he just remembers that he's met you, and then he says, 'How's your sister doing? I remember she just had a baby.' He's a deeply good person. He also loves being an actor, and he's been doing this job for a while, and he's had some great success, and that can make people bitter … but every day he's happy to be on set."
Unsurprisingly, Danson is also amazed by Carden's performance on the show. "She's a delight. She's so fast and so quick," Danson said of the "Barry" actress. "It's kind of funny. I remember the first couple of weeks of shooting 'The Good Place,' I felt sorry for D'Arcy. Here the rest of us gets to do all these fun things and she's just this informational system robot. (Laughs.) It turns out to be one of the most astounding characters because she gets to play Good Janet and Bad Janet, and Good Janet falling in love and kind of is becoming humanized herself. Watching her play that and walk that fine line is really impressive. I'm astounded by the work she did this year."
"The Good Place" Season 2 will kick off with a one-hour premiere on Thursday, Sept. 27 at 8 p.m. EDT on NBC. It will then move to its regular time slot at 8:30 p.m. on the following Thursday, Oct. 4.
© Copyright IBTimes 2023. All rights reserved.