Google Lawyer Eviction Delayed As Protesters Gather In Mission District To Support Renter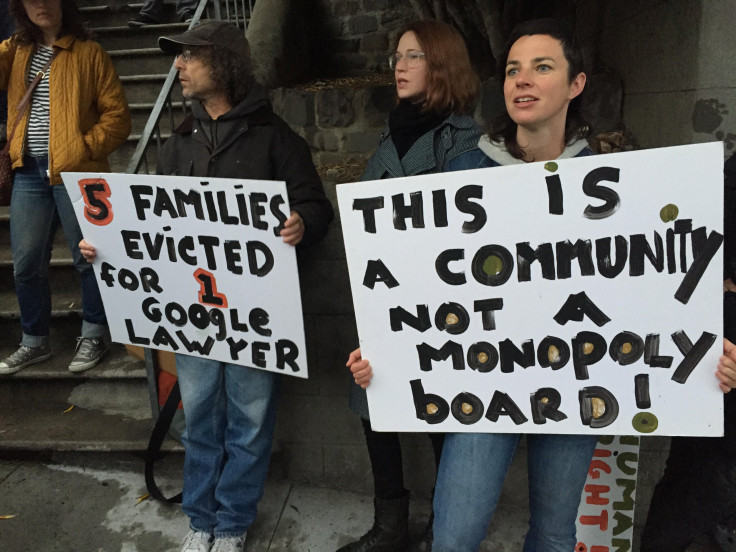 Once again, Google became the face of San Francisco's housing and gentrification problems Wednesday when more than 30 protesters took to the streets to block the eviction of a disabled woman in her 50s from a building owned by one of the company's lawyers.
Jack Halprin, the Google lawyer, purchased the building in 2012 for $1.4 million in San Francisco's Mission District and has been trying to force his tenants out since. As a result, one of those residents, Rebecca Bauknight, was scheduled to be evicted Wednesday by San Francisco sheriffs, but the demonstration by protesters appears to have staved off her removal for the time being.
"How do you spell eviction?! G-O-O-G-L-E! How do you spell gentrification?! G-O-O-G-L-E!" the protesters sang early Wednesday morning despite much-needed California rain. Several of the protesters banged away at drums while one man played a trombone.
"Hey Google, you can't hide! We can see your greedy side!"
For Google, this is the latest instance of the company's brand being used as the face for the cause of San Francisco's many social issues. A few years ago, protesters blocked the company's shuttles, blaming Google and other tech giants in the region for raising the price of housing in the city.
"In San Francisco, to be displaced from your home often means being displaced from the city," said Evan Wolkenstein, one of the protesters and a neighbor of Bouknight.
Although a handful of San Francisco Police Department officers appeared at the scene throughout the morning, they never exited their patrol cars to enforce the eviction. When it comes to enforcing evictions, police take into account the factors of each situation and some times give tenants more time to leave if necessary, said Mark Nicco, assistant legal council to the San Francisco Sheriffs Department.
Neither Google nor Halprin, the lawyer, responded to multiple requests for comment. The eviction could still proceed when the dust clears. A San Francisco Police patrol car remains at the scene.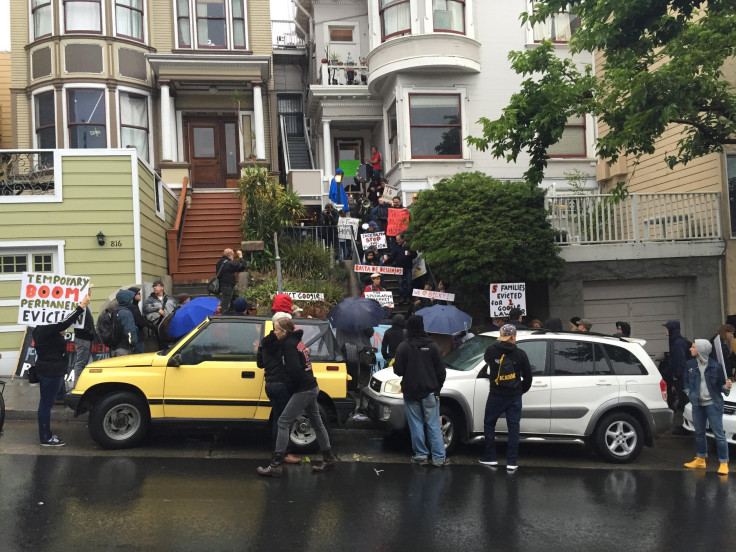 © Copyright IBTimes 2023. All rights reserved.