Google Teams Up With PayPal For Android Pay Mobile Payments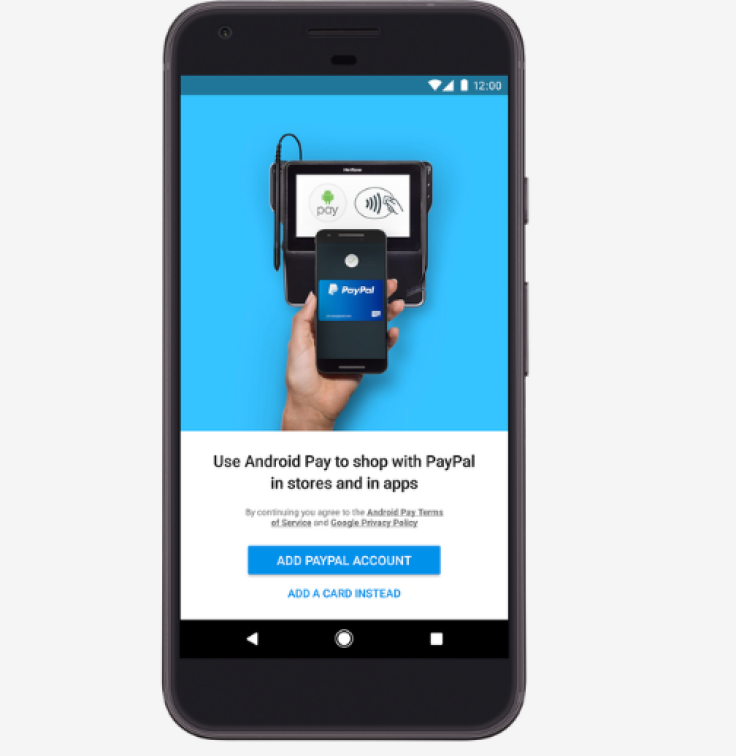 Google and PayPal are teaming up to make your checkout easier in stores and on Android apps, the companies announced Tuesday.
The feature is rolling out in the next few weeks in the U.S. in Android Pay and PayPal apps. This means Android Pay users will be able to link their PayPal accounts to use it with Android Pay. They will then have the option of paying with PayPal instead of their debit or credit card.
Read: Facebook Messenger Payment Feature: How To Send, Receive Money With FB Group Chats
"Millions of people already use their PayPal account to make online purchases, receive payments and send money to friends and family," Google said in a post. "Soon they can start using the same PayPal account to tap and pay with their phones in stores and speed through checkout in Android apps."
When the partnership launches, users will only be able to pay using their PayPal balance. In the coming months PayPal will add the ability to use cards that have been stored with PayPal.
Android Pay will be able to pay with PayPal at retailers from Walgreens to Dunkin' Donuts, PayPal said. The new partnership could boost the amount of mobile payments for PayPal. Last year, the company processed $102 billion in mobile payment volume and two billion mobile payment transactions.
The PayPal partnership with Android Pay is supported on versions of Android OS 4.4 and higher, including KitKat, Lollipop, Marshmallow and Nougat.
Read: Gmail App Update: How To Send, Receive Money On Android Devices
The Google and PayPal collaboration comes after the search-engine company announced last month users can send money through the Gmail app on their Android devices, a feature that had been limited to the web. The service is free and is available in the U.S. only on Androids or through Gmail on the web.
© Copyright IBTimes 2023. All rights reserved.