GOP Agrees To Second Coronavirus Stimulus Check, But 'Overwhelmingly' Opposes Unemployment Payments
KEY POINTS
The $600 weekly jobless benefit set to expire July 31 is unlikely to be renewed by Senate Republicans, who "overwhelmingly" oppose it
Senate Republicans are in favor of more stimulus checks
The Democrats' proposed HEROES Act would extend the $600 weekly jobless benefit but faces tough challenge
Senate Majority Leader Sen. Mitch McConnell, R-Ky., wants Americans to get a second round of stimulus checks, which starts at $1,200 per individual, but opposes renewing the popular $600 unemployment payments found in the Democrat's CARES Act.
McConnell said Senate Republicans "overwhelmingly" oppose extending the $600 weekly unemployment supplement because they believe it's a deterrent to work. But he left open the possibility of a compromise with Senate Democrats, saying there's "room for negotiation."
McConnell, however, is clear on his support for a new round of stimulus checks for individuals earning less than $40,000 a year.
"We do envision direct checks again," McConnell told the HuffingtonPost, who revealed no further details of the GOP proposal.
However, the timing likely means the $600 weekly federal jobless benefit keeping millions of Americans afloat won't be renewed by July 31. A fourth stimulus package would have to be approved and signed into law over the next nine days to avoid an interuption in the benefit. McConnell scoffed at the idea suggested by Treasury Secretary Steve Mnuchin that the fourth stimulus package will be wrapped-up within the month.
On Tuesday, Senate Republicans poured cold water on the prospect of a new coronavirus relief package before key programs (such as the $600 unemployment payments) expire. They've long opposed an extension of the unemployment benefit provided under the Democrats' CARES Act, which was signed into law March 27.
The Democrats' version of the fourth stimulus package -- the HEROES Act (H.R.6800) -- would preserve the $600 jobless benefit. HEROES, however, has been resoundingly rejected by Senate Republicans, who expect to unveil their version of HEROES next week.
Republicans claim the $600 is too high and is a disincentive for employees to return to work. They have not, however, objected to the idea of continuing a federal supplement to state unemployment benefits, which average only $364 per week. Some Republicans want to convert the $600 benefit into a bonus for people that return to work.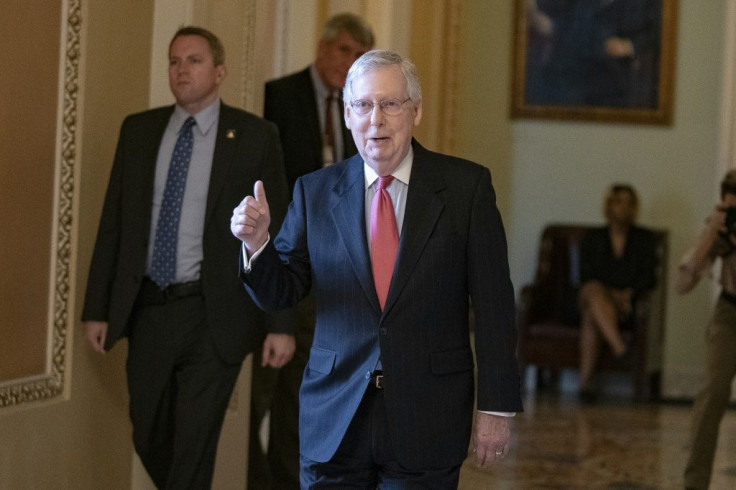 Senate Republicans are angling for a fourth stimulus package worth $1 trillion, which is roughly a third of the $3.4 trillion proposed by Democrats in their HEROES Act. In pushing this more modest amount, GOP senators cite renewed concerns over the budget busting potential of the new spending proposed by Democrats.
The Democrats' HEROES Act proposes up to $1,200 in payments for an individual (or $2,400 for married couples). It will provide an extra $500 per dependent up to a maximum of three. The income thresholds are the same as in the CARES Act.
© Copyright IBTimes 2023. All rights reserved.
FOLLOW MORE IBT NEWS ON THE BELOW CHANNELS