GOP War On Drugs Over? Republicans Sound Off On Marijuana Legalization At Colorado Debate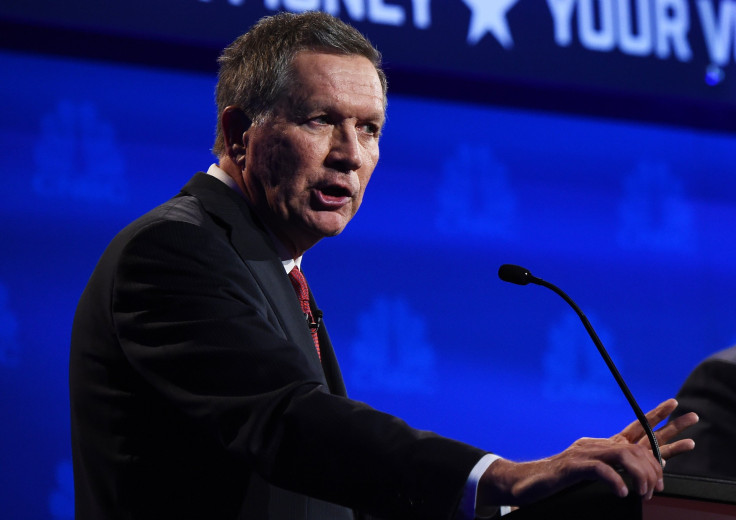 Given the Colorado setting of the third Republican debate, one of the most progressive states when it comes to regulating cannabis, legalization of marijuana was bound to come up Wednesday night on the debate stage. Ohio Gov. John Kasich was the only candidate given the opportunity to address cannabis from a legislative perspective, but the other candidates still found windows to get their pot jokes in during the Boulder debate.
Moderator Carl Quintanilla asked Kasich to respond to whether he believed marijuana could benefit the American economy, the way it has in Colorado, the first state to legalize marijuana for recreational use when the state passed legislation in 2014. The move has generated significant revenue for the state, earning Colorado more than $70 million in taxes during the last fiscal year, according to Time.
Kasich said he was not for legalization, saying it could send mixed signals to children about drug use. "I've spent years of my administration to do a whole sort of thing to rein in the problem of overdoses," Kasich said.
With up to 16 marijuana legalization state referendums on the table -- including in Kasich's Ohio -- the debate has spread across the country. Advocates in North Dakota, Vermont and Florida have all marched towards some level of marijuana legalization with legislation this year.
Earlier in the debate, another candidate, U.S. Sen. Ted Cruz of Texas, told Quintanilla after a heated exchange between him and moderator.
"I'll buy you a tequila," Cruz said. "Or even some famous Colorado brownies."
Marijuana Legality by State | FindTheHome
Before the debate, Democratic U.S. Sen. Bernie Sanders called for the country to legalize marijuana. "In my view, the time is long overdue for us to remove the federal prohibition on marijuana," the Democratic presidential candidate said. "In my view, states should have the right to regulate marijuana the same way that state and local laws now govern the sale of alcohol and tobacco."
The other candidates to appear in the prime-time debate were businessman Donald Trump, retired neurosurgeon Ben Carson, former Hewlett-Packard CEO Carly Fiorina, former Florida Gov. Jeb Bush, U.S. Sen. Marco Rubio of Florida, former Arkansas Gov. Mike Huckabee, U.S. Sen. Rand Paul of Kentucky and New Jersey Gov. Chris Christie.
National polls from Sept. 17 to Oct. 21 determined the candidate line-up. The top-tier GOP debate aired on CNBC at 8 p.m. EDT.
Four candidates were invited to the undercard debate. The candidates selected for the earlier forum were former Pennsylvania Sen. Rick Santorum, Louisiana Gov. Bobby Jindal, former New York Gov. George Pataki and U.S. Sen. Lindsey Graham of South Carolina.
© Copyright IBTimes 2022. All rights reserved.
FOLLOW MORE IBT NEWS ON THE BELOW CHANNELS