GOP Debate 2015: Marco Rubio Defends H1B Visas Amid Criticism And Questions Of Microsoft Support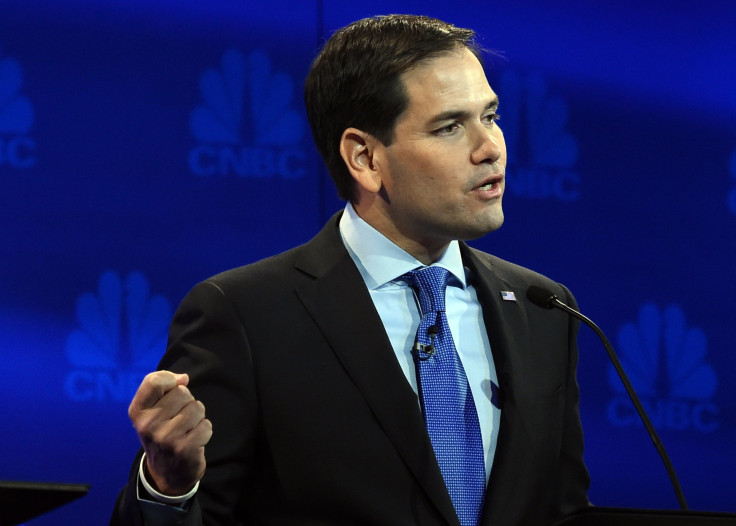 Republican presidential candidate Sen. Marco Rubio defended his support of federal H1B visas during the third Republican debate Wednesday, saying that the American higher education system needs to be reformed and that companies that abuse the program need to be banned from ever using it again. Rubio has been criticized by his Senate colleague Jeff Sessions, R-Ala., for a bill that would expand the visa program even though tech companies have been accused of laying off qualified American workers in order to bring in foreign workers who are paid less.
"We need to get back to training people in this country," Rubio said. "Why for the life of me, I do not understand why we stopped vocational training in this country."
The H1B visa program allows employers to bring in foreign workers to take jobs that require "highly specialized knowledge," and is intended to fill in gaps where there aren't enough qualified American workers to fill open positions. Rubio said that any companies that are found abusing the visa system should immediately be banned from ever using it again. He favored an 80-day advertising period for all open positions before a H1B visa could be granted.
"We should put strict standards into place to make sure that they're not being abused," he said.
Rubio has been criticized for his support of expanding H1B visas because of concerns that Microsoft, his second largest donor, has laid off over 20,000 workers while lobbying for expanded H1B visas, according to conservative site Breitbart. Microsoft employees and PACs gave Rubio's Senate campaign $33,100 in 2014, and another $16,960 was donated to Rubio's campaign from lobbyists employed by Microsoft, according to data from the Center for Responsive Politics.
Rubio has jumped in national polls since the second Republican debate in September when he showed off his foreign policy expertise and made headway to show that, while he is only 44 years old, he is mature enough to be the president. He has risen in national polls from fifth place in mid-September with 5.3 percent of the vote, to his current share of 9 percent, according to averages of polls put together by Real Clear Politics.
That single-digit showing may not sound like much, but he has overtaken his former mentor, former Florida Gov. Jeb Bush, and is in third place. He is behind real estate mogul Donald Trump (26.8 percent) and retired neurosurgeon Ben Carson (22 percent), making him the top polling candidate who has actually been elected to public office.
As his polls have ascended, Rubio has been increasingly in the spotlight. That visibility has brought attacks from the current front-runner, Trump, who tends to not pull punches when it comes to his presidential competition. He has said that provoking Trump is entertaining.
In terms of policy, Rubio is known for his foreign policy chops, however he has released tax plan, which would reduce the number of tax brackets to just two. Under that plan, he proposes a 15 percent tax on couples earning up to $150,000 and a top tax rate of 35 percent above that. Tax experts have said that his plan might help lower-income earners more than plans proposed by some of his competitors like Trump.
© Copyright IBTimes 2023. All rights reserved.
FOLLOW MORE IBT NEWS ON THE BELOW CHANNELS