'Gotham' Season 2 Spoilers: Michael Chiklis To Debut In Episode 4; How Will Capt. Barnes Get Along With Jim Gordon?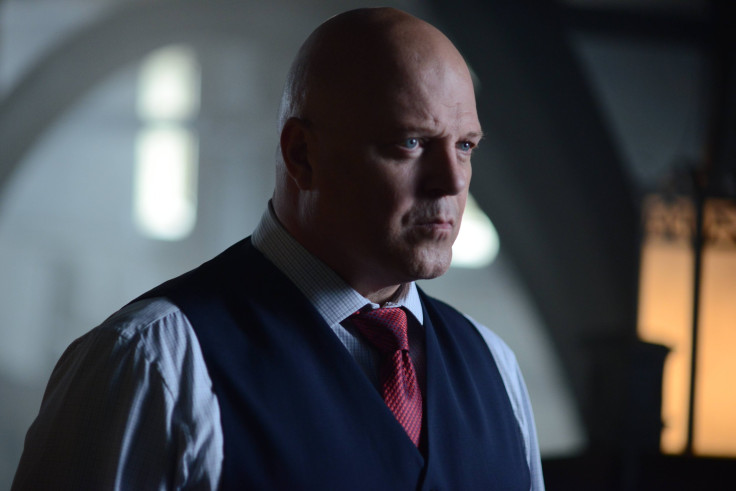 When Sarah Essen was killed, the Gotham City Police Department was left without a leader. Detective Jim Gordon (Ben McKenzie) and Harvey Bullock (Donal Logue) did their best to avenge her and now the two will get a new boss on Season 2, episode 4 of Fox's "Gotham." They'll now have to answer to the strict law-abiding Captain Nathaniel Barnes, who will be played by Michael Chiklis.
Entertainment Weekly reports that at first Barnes will be a good guy, but there is enough room for the show to take the character down a different path if it chooses to. This is part of why Chiklis reportedly agreed to take the role in July.
"The potential of it is exciting because it really could go in any direction, especially considering what we just shot," Chiklis dished. He also said that episode 9 is where the audience will get to see the backstory of Barnes and understand why he is the person he is.
In an interview with Yahoo! TV, Chiklis described Barnes as a "bull in a bull ring, not a bull in a china shop." Barnes will take Gordon under his wing because he sees him as the future of the police department, but he has to stay on the right path.
"He's trying to pull him off of that path because he knows that's the way to Hell. It's making for some really good stuff because this whole thing is bubbling up into a war," Chiklis said.
The synopsis for episode 4 reveals that Barnes will begin to assemble a task force along with Gordon to try and stop the new villains in Gotham City. This includes trying to take down the Penguin (Robin Lord Taylor), which could cause some problems for Gordon.
Showrunner Bruno Heller told the Hollywood Reporter in September that Barnes has a hard line when it comes to the law, while Gordon has more a "gray area." As tensions rise up, the two might not become so friendly after all.
"Finally Gordon has someone who is as gung-ho, committed and reckless enough to challenge the powers that be in Gotham, and bring about genuine change," Heller said. "The problem is that Gordon's going to discover that, although they might be soul mates in their desire to change Gotham, Capt. Barnes is much more committed to the law."
The McKenzie and Chiklis dynamic will be a very interesting one to see play out on screen. Both have been a part of crime drama's before as Chiklis was on FX's "The Shield" and McKenzie appeared on "Southland." The relationship between these two should be a very big part of the storyline, especially since Jerome Valeska went on to greener pastures last week.
Watch the full episode 4 promo video below:
© Copyright IBTimes 2023. All rights reserved.