'Gotham' Season 2 Spoilers: Jerome Valeska The Inspiration For The Joker? Cameron Monaghan Discusses Idea Behind Character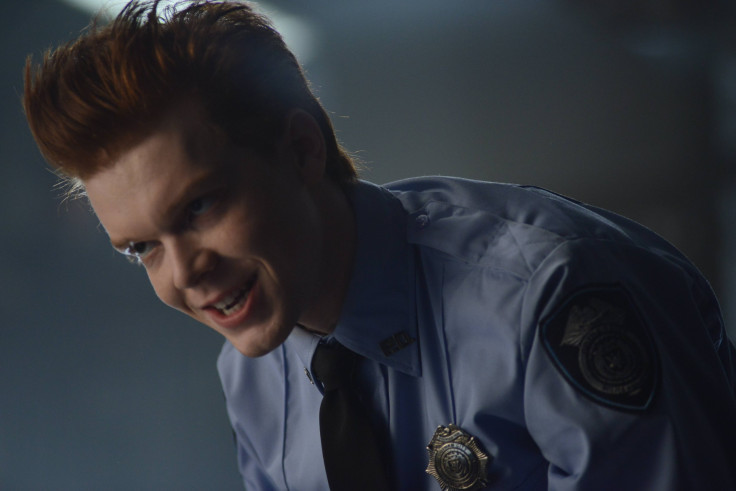 After the first two episodes of "Gotham" Season 2, many fans were sold on the idea that Jerome (Cameron Monaghan) was the first look at the character who would go on to be Batman's greatest nemesis, the Joker. In a stunning plot twist in episode 3 [spoiler alert] Theo Galavan (James Frain) turned on him and stabbed him in the neck. Jerome bled out onstage and died with the biggest smile on his face.
The final moments of "The Last Laugh" showed a bunch of people seeing Jerome on TV and they started to laugh as manically as he did. One even killed two people after watching him, which suggested that even though Jerome is dead, his legacy will go on to inspire the eventual Joker. Monaghan confirmed this idea during an interview with TVLine.
"I think he's the Joker in that he represents the idea, the greater concept. And somewhere, some kid or some person watched [his videos/the news coverage] and it burrowed into their mind, and one day it will snap and take them over. The idea of this person will possess someone completely new. So, I love that idea — something about it really is chilling and excited me when I read the episode," he dished.
When creating the character, Monaghan turned to Mark Hamill's portrayal of the Joker in the Batman animated series because he's held the role for over 20 years. He also mixed in a little bit of the Heath Ledger's "The Dark Knight" Joker adaptation as well.
"He's lived with that character for 20 years and he's done incredible work with it, and his dynamism is something I really appreciated. Beyond that, it was just reading every major run in the comics involving the character that I could get my hands on, looking at his face, how he's drawn, and taking what I could from that," Monaghan said.
The question now on everyone's mind will be if that's the last the show will touch on the Joker or if there's more to come. Will we get to see who really is the Joker or is it one of the characters we know already? Showrunner Bruno Heller told Comicbook.com the origin of the Joker on the show is more of a "graphic novel" origin that shows depth and social reality.
"What I can promise you is that from episode three and what follows, and we would ask the audience to hold faith in the storytelling here, is going to be completely satisfying, completely coherent with the larger Joker myth, and will tell a story that really explains the entire sort of cultural history of how the Joker came to be," Heller said.
"Gotham" airs Mondays on Fox at 8 p.m. EDT.
© Copyright IBTimes 2023. All rights reserved.