Gov. Newsom Tells Biden He Will Not Run For President In 2024
California Governor Gavin Newsom told President Biden he does not plan to run for president in 2024 and will back his reelection campaign.
According to Politico's Jonathon Martin Saturday, Gov. Newsom, who has long been considered a White House contender, told President Biden he was not planning a 2024 primary challenge on midterm election night.
Newsom stated he "told everyone in the White House," including "the chief of staff to the first lady" he would not oppose Biden in the primaries.
"He not only beat Trump once, I think he can beat him again," the governor said of Biden. "I hope he runs, I'll enthusiastically support him."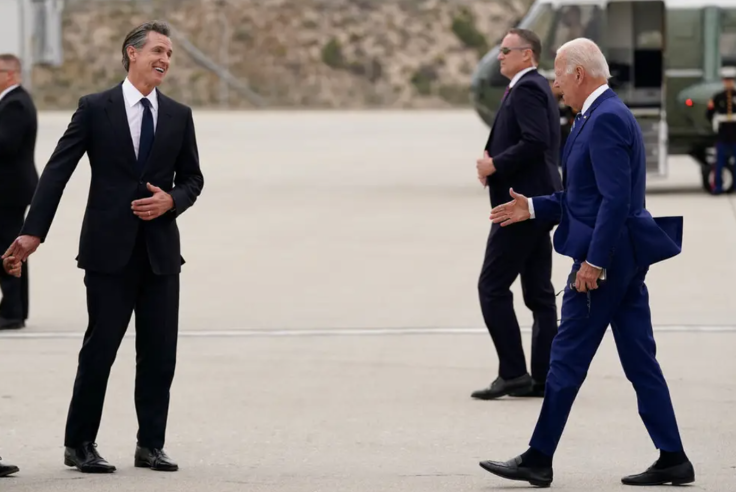 Gov. Newsom has won three elections in California in five years. He recently defeated Republican Brian Dahle in a nearly 19-point lead during the midterm elections.
This year, Newsom has publicly stated he wants Democrats to embolden their agendas and communicate more effectively with voters about their policies, especially abortion rights.
Newsom has also publicly challenged Republican Gov. Ron DeSantis of Florida, who could potentially launch a 2024 presidential bid against former President Donald Trump. In a tweet responding to journalist Dan Rather, who posed an idea for Chris Licht, the CEO of CNN, to set up a televised debate between Newsom and DeSantis, he said the Florida Republican has been "busy playing politics with people's lives."
DeSantis criticized Newsom in July for running ads in his state that encouraged Floridians to relocate to California. The two have been feuding for at least a year. Newsom has also promised he would donate $100,000 to DeSantis' Democratic opponent, Charlie Crist, in April.
Newsom confided in Politico that he'd love to see an early 2023 declaration of Biden's candidacy, and then the media could, as he put it, "let me go."
© Copyright IBTimes 2023. All rights reserved.
FOLLOW MORE IBT NEWS ON THE BELOW CHANNELS