Gov. Ron DeSantis Accuses Sarasota Schools Of Violating Law Amid Mask Mandate Ban
Gov. Ron DeSantis has accused schools in Florida of violating his mask mandate ban after the Sarasota County School Board issued a 90-day mask mandate that requires students to wear masks unless they have a doctor's note.
On Friday, the board passed the mandate, which can be removed if the county's COVID-19 positivity rate stays below eight percent for three days.
DeSantis slammed the Sarasota schools on Saturday, claiming the mask mandate issued to students violated the Parents' Bill of Rights. He also touched on the federal government stepping in to issue mandates in schools.
"The U.S. is the only major country that is saying that this has to be forced on people by the government," DeSantis said.
DeSantis previously revealed funds will be withheld from schools that violate the mask mandate bans. However, President Joe Biden has promised to support schools that go against governors.
"Let me be clear: We will do everything we can to support local school districts in safely reopening schools. American Rescue Plan funds can be used to backfill the salaries of the brave Florida school board members, superintendents, and other educators keeping our children safe," Biden stated in a tweet on Friday.
However, the mask mandate isn't the only thing DeSantis has been criticized about.
On Friday, the Associated Press urged the Florida governor to step in after his press secretary ​​Christina Pushaw's tweets about an article written by AP writer Brendan Farrington resulted in the reporter receiving threats.
Farrington wrote an article that noted one of DeSantis' multimillion-dollar donors invests in Regeneron, the company producing the coronavirus treatment drug, which the governor has been praising.
Pushaw retweeted the article and encouraged DeSantis' supporters to "drag them" and target the reporter. Twitter suspended her account for 12 hours after learning Farrington was being threatened.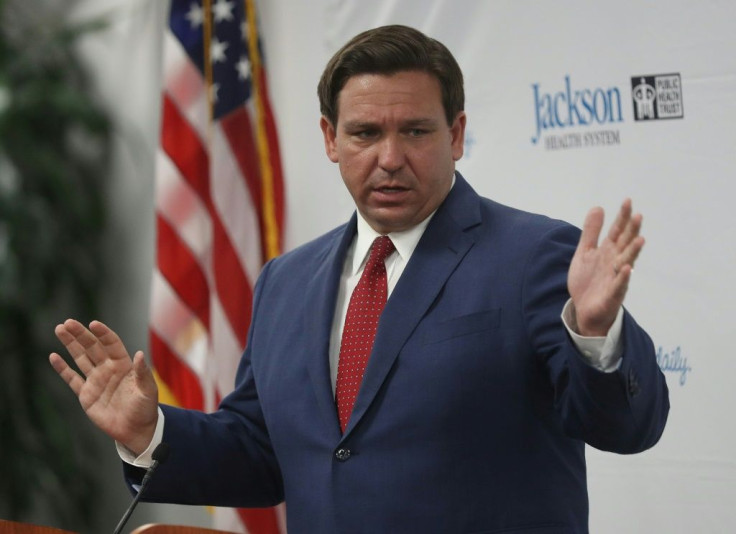 © Copyright IBTimes 2023. All rights reserved.