Government Shutdown 2017: Will Trump Go To War With Congress Over Border Wall, Military Spending?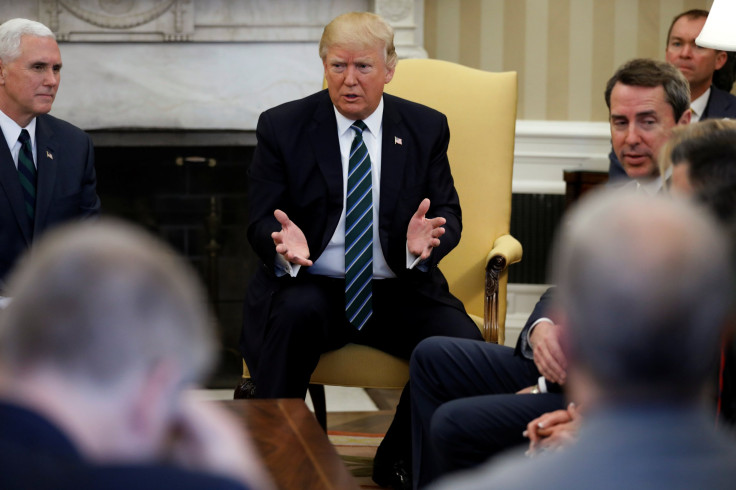 President Donald Trump's first foray in the budget process with Congress could ultimately result in a partial government shutdown by the end of April and the military, both stateside and overseas, could be affected, Military Times reported Friday.
Trump released his fiscal 2018 budget proposal Thursday and prefaced it with a letter to the legislative branch, which thinly alluded to the well-publicized border wall, along with his proposed increases in military spending by as much as $54 billion. He wrote: "A budget that puts American first must take the safety of our people its number one priority – because without safety, there can be no prosperity."
Read: Japan At War With North Korea?
However, earlier this week, Democrats had already stated that if the president planned to cut social programs and deport immigrants in order to build the highly controversial wall then a shutdown would be imminent.
"If Republicans insist on inserting poison pill riders such as defunding Planned Parenthood, building a border wall, or starting a deportation force, they will be shutting down the government and delivering a severe blow to our economy," Democratic Sen. Chuck Schumer of New York said in a statement.
Despite Republicans majority in both houses of Congress, especially the Senate, Trump's administration would need to sidle up to some Democrats in order to gain the 60 Senate votes necessary to pass his budget.
Democrats have called for compromises and also have sequestration – which called for corresponding defense budget and non-defense budget cuts to pare down the deficit by $1.2 trillion - in their back pockets, however, a shutdown by April 29 could be possible.
Read: Explaining South China Sea Dispute
The federal government, including the Defense Department, has been funded under a continuing budget resolution but that runs out by the end of April, according to Military Times. The current fiscal year's budget won't run down until Sept. 30, but a $578 billion military spending bill for 2017 that passed in the House had yet to make it through the Senate.
© Copyright IBTimes 2022. All rights reserved.
FOLLOW MORE IBT NEWS ON THE BELOW CHANNELS