Grammy Awards 2015: Beyoncé Leaves Jay Z In Audience As 'Drunk In Love' Wins; Watch Acceptance Speech Video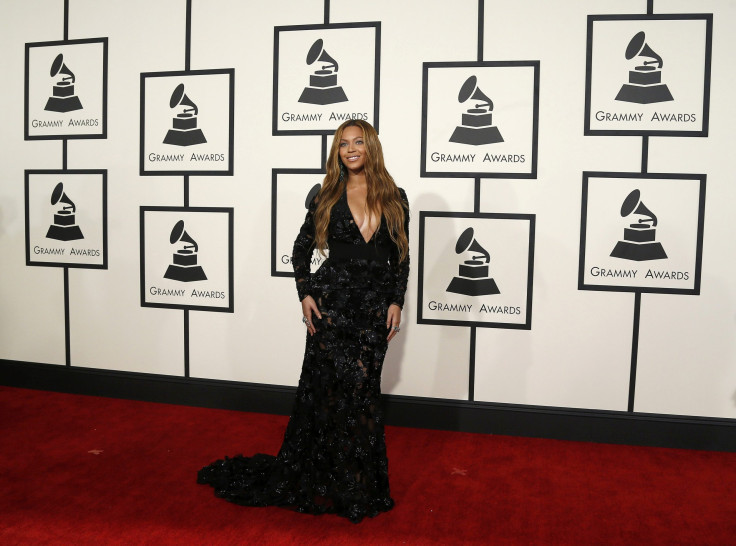 Beyoncé and Jay Z kissed at the 2015 Grammy Awards after they won for Best R&B Performance for their song "Drunk In Love." Although they both performed on the single, Beyoncé left Jay Z in the audience while she accepted the award in Los Angeles Sunday night.
"Wow, thank you guys so much," Beyoncé said. "This is such an honor. I'd like to thank God. This has been such an incredible year. I love ya'll. I'd like to thank my beloved husband. I love you deep. My daughter who's watching, Blue, I love you, and I'd like to say thank you to my BeyHive."
BeyHive, of course, is a nickname dedicated to Beyoncé's fans. Her fans definitely deserve the onstage thank you. They not only bought her surprise self-titled album, they also pushed "Drunk In Love" to the top of the charts despite lack of promotion before its release.
The former member of "Destiny's Child" was up against Usher's "Good Kisser," Ledisi's "Like This," Jennifer Hudson's "It's Your World" featuring R. Kelly, and Chris Brown's "New Flame" featuring Usher and Rick Ross for the award.
Jay Z still has plenty of opportunities to join the songstress onstage. She is also nominated for four other Grammy Awards: Album of the Year, Best Urban Contemporary Album, Best Surround Sound Album and Best Music Film.
In the video of Beyoncé's acceptance speech, it looks as if she asked her husband if he was coming with her and he declined. Watch her acceptance video below and see for yourself:
The 57th Annual Grammy Awards aired Feb. 8 on CBS. Find out how to live stream the show here and read our live blog here.
© Copyright IBTimes 2023. All rights reserved.