'Great News' Season 2 Sneak Peek Teases Arrival Of Tina Fey's Character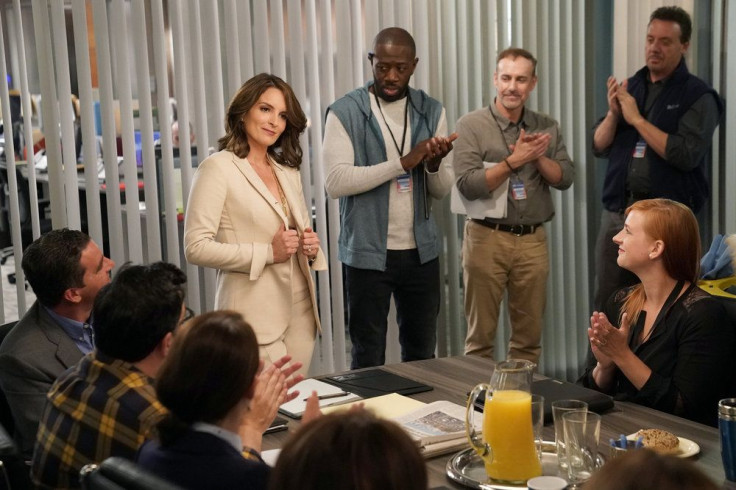 Tina Fey's Diana St. Tropez makes a memorable arrival at MMN in a sneak peek from Season 2 of "Great News."
In the video teasing the new season of the NBC sitcom, Diana walks into a production meeting for "The Breakdown" and introduces herself. "My name is Diana St. Tropez. I sleep two hours a night. And I'm never not doing kegels," Diana says in a self-assertive way, leaving a striking impression on everyone in the room.
Diana later reveals to Carol (Andrea Martin) that she's a mother to four kids. "[They have] different donor fathers, all carried by surrogates and born on international flights," Diana says of her children. "It's advantageous for tax reasons."
While motherhood is something that Diana and Carol can bond over with, it seems that the dynamic between the two is going to be antagonistic. In the sneak peek, Carol thrusts Diana out of a treadmill, while Diana calls Carol a "sexist old-fashioned lunatic."
Apparently, Carol isn't the only one who is not fond of Diana. As the new MMN boss try to make changes on "The Breakdown" in an attempt to get the failing news channel out of the ratings dumper, Chuck (John Michael Higgins) also finds himself at odds with her.
In the sneak peek, Diana introduces a new panel segment of screaming pundits on "The Breakdown." "[News viewers] want to see someone they agree with argue with someone they don't," Diana says of why she came up with the new segment.
The senior newscaster, however, doesn't think it's a good idea. "News is not the place for screaming opinions. The place for that is my mother's grave," Chuck says.
Meanwhile, Katie (Briga Heelan) is thrilled to be working with Diana. "I can't believe Diana's our boss. Her life is everything that I want," Katie says in the sneak peek despite the obvious tension between her mom, Carol, and Diana.
Fey, who is also an executive producer on the series, will appear in the first three episodes of Season 2 and will return for more episodes later in the season. According to The Hollywood Reporter, NBC Entertainment chairman Bob Greenblatt confirmed that the Golden Globe-winning actress will appear in seven episodes of the show's sophomore run.
As for what viewers can expect from Diana when she comes back later in the season, Fey teased that her character's return would be on better terms. "When she first gets there she thinks it's kind of behind-the-times, but by the time she leaves later in the season, she's very impressed with the staff as a group of human beings and how they relate to each other," Fey told TV Insider.
"Great News" Season 2 premieres on Thursday, Sept. 28 at 9:30 p.m. EDT on NBC.
© Copyright IBTimes 2023. All rights reserved.