Greek Referendum Threatens New Euro Zone Crisis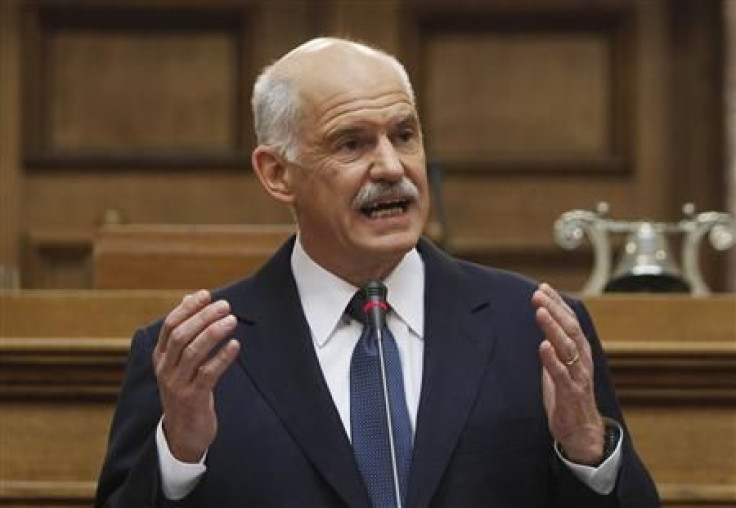 Prime Minister George Papandreou's shock announcement that he will put Greece's bailout to a referendum threatened to intensify the euro zone crisis, and brought complaints in Germany that Athens is trying to wriggle out of the deal.
Euro zone leaders agreed last week to hand Athens a second, 130 billion-euro ($179 billion) bailout and a 50-percent writedown on its huge debt. The price of the package is a program of harsh state spending cuts that have unleashed a tide of anger among Greeks.
Papandreou, whose ruling Socialist party has suffered several defections as it pushes waves of austerity measures through parliament while protesters rally outside, said he needed wider political backing for the fiscal measures and structural reforms demanded by international lenders.
A leader in German Chancellor Angela Merkel's center-right coalition said Tuesday he was irritated by Papandreou's announcement.
This sounds to me like someone is trying to wriggle out of what was agreed -- a strange thing to do, said Rainer Bruederle, parliamentary floor leader for the Free Democrats.
One can only do one thing: make the preparations for the eventuality that there is a state insolvency in Greece and if it doesn't fulfill the agreements, then the point will have been reached where the money is turned off.
Analysts said the latest opinion poll showed a majority of Greeks took a negative view of the bailout deal.
The renewed uncertainty will be likely be an embarrassment for G20 leaders in France this week trying to coax China into throwing the euro zone a financial lifeline.
If there was to be a referendum, we may reasonably conclude that they may not accept the austerity measures. We may conclude that it will bring the pack of cards tumbling down, Howard Wheeldon, senior strategist at BGC Partners in London, said.
Early reactions to the surprise move ranged from accusations that Papandreou was gambling with the country's future and predictions of default, to questions over the legality of the referendum and statements by lawmakers that a No vote would force his resignation and early elections.
Nobel Prize-winning Greek economist Christopher Pissarides caught the mood of uncertainty: It is difficult to predict what will happen to Greece if they reject it. It will be bad enough for the European Union and the euro zone in particular, but it will be far worse for Greece.
In the scenario of a 'No' vote Greece would declare bankruptcy immediately, they would default immediately. I can't see them staying within the euro, he said.
REFERENDUM ON MEMBERSHIP
The situation is so tight that basically it would be a vote over their euro membership, Finland's Europe Minister Alexander Stubb told broadcaster MTV3.
Greek Finance Minister Evangelos Venizelos also warned citizens that euro zone membership was at stake. It's crunch time, he told lawmakers on Monday.
Citizens will have to answer the question: are we for Europe, the eurozone and the euro?
Early on Tuesday, Venizelos checked into an Athens hospital with stomach pains but was expected to be discharged later.
Analysts were divided over whether Greek voters would accept the deal, but agreed that a damaging month or two of market volatility lay ahead while pollsters repeatedly took the Greek voters' pulse and European leaders looked on nervously.
The immediate market reaction to the announcement was negative, the euro extending losses against the dollar and tumbling more than 2 percent to a session low.
European shares were seen opening lower on Tuesday.
Opposition New Democracy leader Antonis Samaras will visit President Karolos Papoulias on Tuesday to discuss developments and push for snap elections, party officials said.
Mr. Papandreou is dangerous. He tosses Greece's EU membership like a coin in the air, party spokesman Yannis Michelakis said. He cannot govern and instead of withdrawing honorably, he dynamites everything.
UP TO THE VOTERS
Papandreou told the Greek voters it was up to them to decide the country's fate.
We trust citizens, we believe in their judgment, we believe in their decision, he told Socialist party deputies. In a few weeks the (EU) agreement will be a new loan contract... we must spell out if we are accepting it or if we are rejecting it.
Papandreou, grappling with Greece's worst financial crisis in 40 years, said the referendum would take place in a few weeks. Venizelos told Greek TV it would probably be held early next year.
Opposition parties accused Papandreou of looking for a way out for his embattled party by dragging Greece, which has seen violent clashes between anti-austerity protesters and riot police, through a lengthy period of political instability.
I never expected Papandreou to take such a dangerous and frivolous decision, said Dora Bakoyanni, former foreign minister and leader of the small center-right Democratic Alliance party. All the international media will say that Greece itself is putting the EU deal at risk.
Greek newspapers Tuesday also harshly criticized Papandreou for his choice. More uncertainty is the last thing that Greece needs right now, said conservative newspaper Kathimerini in its lead editorial.
The country will certainly paralyze amid endless debates -- the government, the state apparatus and institutions won't work, the newspaper added.
Papandreou also said he would ask for a vote of confidence to secure support for his policy for the rest of his four-year term, which expires in 2013.
Analysts said he was likely to win that, despite dissent among his parliamentary team, and parliament officials said the confidence debate would begin on Wednesday, with a vote on Thursday or Friday.
MONEY RUNNING OUT?
Greece is due to receive an 8 billion-euro tranche in mid-November, but that is likely to run out during January, around the time of the referendum, leaving the government with no funds if there is a no vote.
Germany issued a statement saying the EU was working hard to put the second Greek aid package in place by the end of the year and had no comment on the referendum.
Swinging opinion polls would leave markets fluctuating and Greece's EU partners dangling.
A survey carried out on Saturday showed that nearly 60 percent of Greeks viewed the agreement on the bailout package as negative or probably negative.
But David Lea of Control Risks struck a more positive note. It's all in the question. If he can frame it as a sufficiently apple-pie issue, he stands some chance of winning, he said.
Some parliamentarians questioned the legality of the planned plebiscite under the constitution, which does not allow referendums on economic issues, only on matters of great national importance.
The last time Greeks held a referendum was in December 1974, when they voted to abolish the monarchy shortly after the collapse of a military dictatorship.
To be binding, a referendum result requires a minimum 40 percent turnout on issues of crucial national importance and 50 percent on a law that has already been voted on in parliament and regulates a serious social issue, according to legislation enacted this year. It was not clear which option the government would favor.
If the referendum answer is no, Papandreou has to resign, said Costas Panagopoulos, an analyst at polling firm Alco.
In the meantime what will happen with the decisions the EU took last week? I cannot understand what the prime minister wants to do.
(Additional reporting by Ingrid Melander; Writing by Dina Kyriakidou; Editing by Andrew Roche)
© Copyright Thomson Reuters 2023. All rights reserved.