'Grey's Anatomy' Season 10 Spoilers: Season Finale Promo Video Says Goodbye To Cristina; Watch Best Yang And Meredith Moments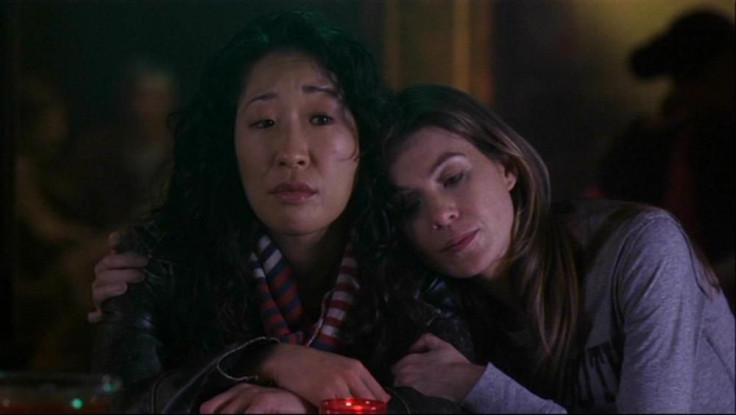 There's only one episode left until fans of the hit ABC series "Grey's Anatomy" are forced to bid farewell to one of the show's most beloved characters: Cristina Yang. Yep, it's true. Sandra Oh will be hanging up her scrubs once and for all when she makes her final appearance in episode 24, "Fear (of the Unknown)."
The Season 10 finale will air on Thursday, May 15, at 9 p.m. EDT so make sure you prepare for a tearful goodbye by purchasing tissues, chocolate and anything that can help ease the pain when Cristina walks out of Grey Sloan Memorial Hospital for the last time. And while we brace ourselves for the inevitable water works, we can't even imagine how Meredith Grey will feel when her best friend leaves her side come episode 24.
Before there was a Dr. McDreamy or even a Dr. McSteamy, there was a Cristina. The two ladies started as surgical interns together and eventually climbed their way up the ranking ladder, becoming two of the most prestigious women in the field. They're smart, sassy and, most importantly they're each other's "person."
The phrase was coined by Cristina early on in the series when she informed Meredith that she put her down as an emergency contact person in case something went wrong during her scheduled abortion. Since then, they've proven that the expression isn't just for show. They've stuck together through plane crashes, terrible dances, near-death experiences and break ups and now they'll prove that they're friendship is stronger than ever when they endure a long-distance relationship.
Take a look back at Cristina and Meredith's best moments by reliving scenes from the show's past. We promise that if the montage video doesn't make you tear up, then it'll surely make you want to call your bestie and tell them you love them! What was your favorite Cristina-Meredith moment? Offer your opinion in the comments section below and don't forget to tune in to "Grey's Anatomy" when episode 23, "Everything I Try To Do, Nothing Seems to Tune Out Right," airs on Thursday, May 8, at 9 p.m. EDT.
© Copyright IBTimes 2023. All rights reserved.