'Grey's Anatomy' Season 11 Spoilers: 7 Things to Know Before The Jan. 29 Winter Premiere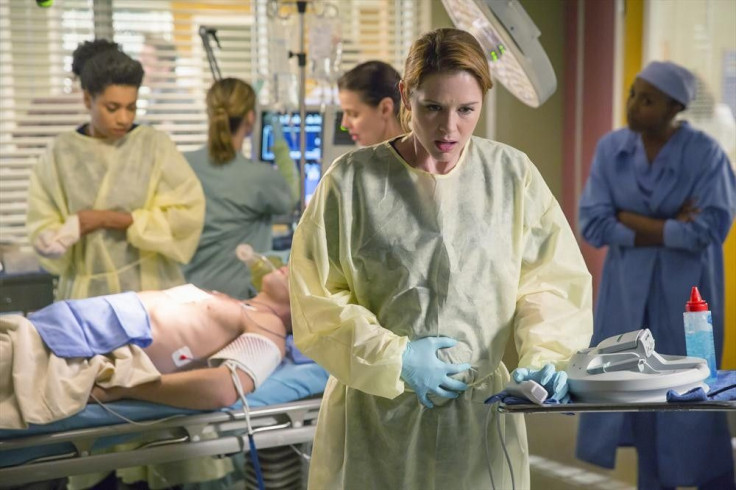 "Grey's Anatomy" will be returning to ABC with the second half of Season 11 on Thursday, Jan. 29. And according to reports, the winter premiere episode, "Where Do We Go From Here," will be stuffed to the brim with dramatic story lines.
That's why we've decided to prepare fans prior to the emotional midseason premiere with a round up of all the previously released spoilers. Check out all the ins-and-outs of Season 11 below:
1. Season 11 Winter Premiere Synopsis
According to the summary for episode 9, the second half of the current "Grey's Anatomy" season will pick up right where the winter finale ended: with Derek (Patrick Dempsey) preparing for his move to Washington D.C. In episode 8, Derek was re-offered the presidential position, which he accepted following an explosive fight with Meredith (Ellen Pompeo).
Mer will reportedly keep herself busy, distracting herself from her marital troubles at the hospital while Jackson (Jesse Williams) and April (Sarah Drew) are forced to face "difficult news" head on. Lastly, the story line of Dr. Herman's (Geena Davis) alleged "inoperable brain tumor" will come into play as Arizona (Jessica Capshaw) and Amelia (Caterina Scorsone) search for the best way to approach their colleague about a cure.
2. Derek's Disappearance
As Derek prepares for his trek across the country, Shonda Rhimes, creator of the medical drama, revealed to fans that cameras won't be traveling with him. That means viewers should anticipate a lack of appearances from the handsome doctor in Season 11.

"It's highly possible that we might not see Derek for a while," Rhimes admitted during an interview with Entertainment Weekly. "There will be a time when you see him again, yes, but it's probable that you won't see Derek for a while."
3. The New MerDer
With Cristina (Sandra Oh) in Switzerland and Derek in D.C., Rhimes teased that this will be the first time in Meredith's career that she's forced to face work alone. However, Rhimes seems to have forgotten about Mer's new ride or die: Alex Karev (Justin Chambers).
Alex became Meredith's new "person" when Cristina left the country for her new gig. And according to Chambers, Derek's absence will only help grow Alex and Meredith's bond. "It comes off somewhat begrudgingly, but underneath it all, I think he's really happy to have that connection," Chambers admitted to TV Guide about "MerKar's" developing friendship.
4. Alex/Jo (Camilla Luddington) Relationship Woes
As Meredith and Alex's friendship strengthens, Alex and Joe's romance will crumble. According to Chambers, his TV girlfriend will have a hard time accepting his intimate yet platonic relationship with another woman. "I guess you could call it an emotional affair in a sense. It has come between [Alex and Jo]," Chambers told TV Guide, insinuating audiences should prepare themselves for relationship drama.
5. Baby Buddha
When we last saw "Grey's Anatomy," viewers learned that Jackson and April's baby was diagnosed with osteogenesis imperfecta, also referred to as brittle bones disease. Dr. Herman explained to Stephanie (Jerrika Hinton), who discovered the issue, that children born with the deformity "usually don't live more than a couple of days or weeks." Jackson overheard the discussion regarding his son and confronted Stephanie, his ex-girlfriend.
Rhimes revealed that this dark story line will play a pivotal role in episode 9 as the soon-to-be-parents are forced to face the hard truth. "For Jackson, who is a man of science, and April, who is a doctor filled with faith, it is going to be a very interesting struggle," Rhimes revealed to TVLine. The showrunner then revealed that fans shouldn't anticipate Jackson to hold this heavy secret solo. "That would just make him an awful human being, so we're not playing that," she confirmed.
6. Owen's (Kevin McKidd) New Love Interest
Looks like it won't take Owen too long to get over Cristina! According to reports, the newly single doctor will be setting his sights on two ladies when "Grey's." Rhimes teased who the lucky gals were during an interview with TVLine, revealing that in addition to Amelia catching Owen's attention, Callie (Sara Ramirez) might also tickle his fancy with their shared interest in starting a family.
"I have thought of that — and I don't know why that is still not a possibility. I don't know why you think that's not a possibility," Rhimes explained of the two doctors' potential romance. "Yeah, we've thought of every possibility for Owen and how he can have a baby — believe me."
7. Tear-Jerking Premiere
Last but not least, the final thing viewers should know about the upcoming episode of "Grey's" is that it will have fans reaching for the tissues – and maybe the tequila. "There's such huge stuff coming! And it's so top secret we can't even tell you who it involves," Capshaw teased during an interview with TVLine, only to have Luddington chime in that viewers may want to stock up on the alcohol before episode 9 airs.
"At the table read, people were crying. ... There's no relaxing. There's no calm before the storm. It's just storm. All storm, all the time," the actress elaborated.
The Season 11 winter premiere of "Grey's Anatomy" will air on Thursday, Jan. 29, at 8 p.m. EST on ABC.
© Copyright IBTimes 2023. All rights reserved.