Hajj 2014: For Saudi Arabia, The Muslim Pilgrimage Is Big Business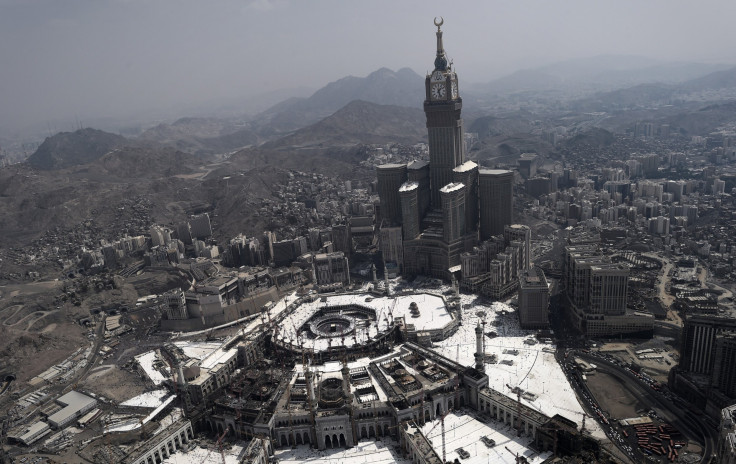 When Tariq Abdullah was making arrangements to perform the Hajj to Mecca last October, he had a choice between the "4 Star Deluxe Package" or the "5 Star Super Deluxe Package" offered by Hasan Hajj Tours, one of the roughly 80 British travel agencies approved to arrange travel for the Muslim pilgrimage by the Saudi Ministry of Hajj. Abdullah, a 26-year-old project manager at a nonprofit in London, opted for the less expensive 4 Star package -- which still cost him 3,800 pounds, or about $6,000.
In addition to being a sacred Muslim tradition -- and perhaps in spite of Islam's mandate for simplicity, especially during the pilgrimage -- the modern-day Hajj has turned into big business. Saudi Arabia has undertaken an effort in recent years to build more luxury hotels and services catering to the Muslim faithful who flock to Mecca each year, and as a result, many pilgrims are spending more than ever before. That's pushing poorer Muslims into having to save for decades so they can afford to comply with one of the basic duties of every Muslim.
For that hefty fee, the tour company processed Abdullah's visa, issued his round-trip ticket on Saudi Arabian Airlines, provided bus transportation during the 12-day trip to Mecca and Medina, and arranged accommodations and food in world-class hotels, like the Retaj Al-Bayt Suites located in the newly built Mecca Royal Hotel Clock Tower, just south of Mecca's Grand Mosque, home of Islam's holiest site.
Abdullah's experience is likely representative of many of the more than 1.3 million Muslims who traveled to the Kingdom of Saudi Arabia this year to perform Hajj, the annual pilgrimage that occurs during the 12th month of the Islamic lunar calendar. It is a requirement of all able-bodied Muslims who can afford it to make the trip at least once in their lifetime; it consists of a series of ancient rites associated with the prophets Muhammad and Abraham. Among them, pilgrims circumambulate the Kaaba, the black cuboid structure at the center of the Grand Mosque in Mecca, which Muslims believe was the first house of worship.
"The Hajj at the moment is a huge earner, after oil, for Saudi Arabia," said Ziauddin Sardar, author of the forthcoming book "Mecca: The Sacred City." "We know that oil is going to run out. The Saudis are counting on Hajj to provide income. It's big business."
Revenues from both Hajj and Umrah, the pilgrimage Muslims make outside the prescribed month, will total more than $18.6 billion this year, according to the Hajj economy professor Abdullah Al-Marzoouq of Al-Qurah University in Mecca. (Oil exports earned the kingdom $213 billion last year, according to U.S. government data.)
Khaled Ramadan, a manager of a Hajj and Umrah service company, told Arab News that the flock of pilgrims to Saudi Arabia is a gold mine for Saudi businesses. "The large Hajj and Umrah market will increase the sale of Saudi products, which includes gift items," he said. With proper marketing, Ramadan says, Saudi products could hit up to $213 million in sales each year.
And the kingdom is hoping to attract wealthy pilgrims who will be able to spend money for such products at its many malls and luxury shopping outlets, which rival anything you'd find in New York, London or Paris. "Together with private capital investment partners, and boosted by rising oil prices in the 2000s, the kingdom has been aggressively developing accommodation, retail and related services in Mecca, with a view to significantly increasing pilgrim (and especially 'premium pilgrim') numbers," wrote the University of Leeds' Sean McLoughlin in a 2013 research paper on the cultural and political economy of Hajj.
As a result, Mecca's skyline is now dotted with malls and what some call gaudy skyscrapers, like the Abraj Al-Bait towers, a complex of seven buildings that has at its center a 1,972-foot clock tower that could easily be mistaken for Big Ben if not for the Arabic lettering above its face. The towers are home to many of the newest luxury hotels, where many pilgrims stay during their Hajj and Umrah travels.
Even the Hajj sites have not remained untouched by modernization. Pilgrims travel from Mecca to Mina, a sprawling tent city about five miles away, on the first day of Hajj. They later visit Mount Arafat, the site of Muhammad's final sermon, and Muzdalifah, an open area between Mecca and Mina. But many of the routes are connected by a series of air-conditioned tunnels. And accommodations at the tent city are hardly rustic: Tour companies set up their groups in huge, air-conditioned tents. Some tour packages offer upgrade options like sofa beds.
If a pilgrim wants to avoid a tour operator, no such luck. The Saudi Ministry of Hajj requires that pilgrims must apply for their visas and arrange travel through approved tour operators in their respective countries. Each agency is issued a certain allotment of visas, said Rahim Ahmad, manager of Manara Travel, an approved Hajj and Umrah tour operator in Dearborn, Michigan.
Tour packages available in the U.S. rarely cost less than $6,000 and typically cover trips that are about two weeks long. (The Hajj occurred between Oct. 2 and Oct. 7 this year, but most pilgrims stay in the country for longer than just the prescribed days for additional worship and to visit other sites, including the city of Medina.) The lowest-end tour at Manara costs $6,500 per person and includes "14 nights at three-star hotel" in Mecca, while its highest-end "super deluxe" package costs $10,500 for accommodations at the likes of the Swissotel in Mecca. "Basically, you're paying for the quality of the hotels," said Ahmad.
"The Hajj ministry has set it up in a way to create a scarce good -- that is, the visas," said Steve Carvell, professor of financial economics at Cornell University. "Why wouldn't they extract that economic rent?"
Sardar agrees. "They are turning a profit. Now, to go to Hajj, it costs $6,000 to $10,000. It's not cheap to go anymore," he said. "So people from places like Indonesia, Pakistan, Bangladesh will have to save for decades."
Abdullah, who did the Hajj with six family members, was not immune to the commercial attractions in Mecca. After completing the Hajj rites, he said, his family stayed in Mecca for a few days and hit the malls in addition to doing more tawaf, or circuits, around the Kaaba. But, he says, they didn't distract him from finding Hajj to be a spiritually transformative experience. Abdullah bonded with others on the trip and even formed a WhatsApp group with fellow pilgrims he met there; they keep in touch and meet up for soccer matches back home in London.
"I was focused on my spiritual self. When you see the Kaaba for the first time, you feel like you're in a different place," Abdullah said. "Once you go there, something cracks in you. You're meeting God."
© Copyright IBTimes 2023. All rights reserved.
FOLLOW MORE IBT NEWS ON THE BELOW CHANNELS