Hallmark Channel 'Cooking With Love' Premiere: Meet The Cast, Watch Trailer
Ali Liebert and Brett Dalton star in Hallmark Channel's final Countdown to Valentine's Day movie, "Cooking with Love," which premieres on the network tonight (Feb. 11) at 9 p.m. EST.
Although this will be their first Hallmark movie together and the first flick on the network ever for Dalton, Liebert has been in a few with her most recent one being the 2017 Christmas movie "A Gift to Remember." Get ready to watch them together now in this brand-new Hallmark premiere.
"Reality cooking show producer Kelly (Liebert) prepares for her show 'Little Gourmet,' a cooking show for kids," the synopsis begins. "This season is especially important for Kelly as it is her boss Amanda's (Janet Kidder) last season, and Kelly is in the running to take over her job. When the show's host, Chef Betty (Gabrielle Rose), throws her back out right before shooting, Kelly goes out on a limb to recommend controversial – and recently disgraced – Chef Stephen (Dalton) as the new host."
Stephen reluctantly agrees to do the job, but fights with Kelly every chance he gets. His intimidates the children on the show, which Kelly tries to stop. Stephen also tends to undermine Kelly and side with Jeremy (Preston Vanderslice), the rude executive who's competing for the same job as Kelly. Eventually, Kelly and Stephen decide to team up to help each other in order for him to win over the kids and her to win over the audience and get the job.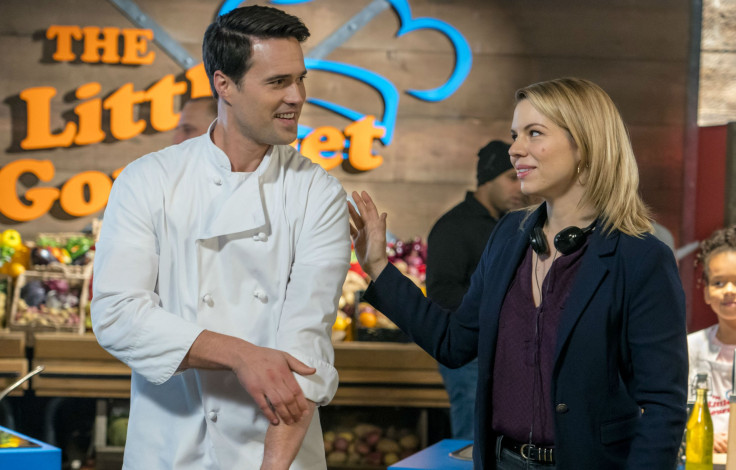 "A dedicated producer, Kelly keeps a notebook of ideas on ways to improve the show, but has been too timid to present them to Amanda," the synopsis continues. "After seeing the notebook, Stephen encourages her to share her ideas, resulting in Amanda agreeing to her idea to shoot a show at the firehouse of a contestant's father."
As Stephen and Kelly spend more time with each other, including a few cooking lessons, a spark begins to grow. Stephen ends up inviting Kelly to his restaurant for Valentine's Day and he takes a break from the kitchen to sit with Kelly.
"Just before the live finale, Chef Betty returns from her injury," the synopsis shares. "Stephen accepts an offer to host his own show that films across the country, which puts an abrupt end to his relationship with Kelly. Kelly is devastated, which is compounded when she discovers that Jeremy stole her notebook and presented the ideas as his own to Amanda and the network."
Just as Stephen is leaving, Chef Betty once again gets hurt and is unable to film the finale, leaving Kelly to try and stop Stephen from leaving so he can host one more time. She also decides it's time she tells him how she feels in the hopes he feels the same.
Catch "Cooking with Love" on Hallmark Channel on Sunday at 9 p.m. EST.
© Copyright IBTimes 2023. All rights reserved.