Hallmark Channel Fall Harvest 2019 Movies Schedule: 'Love, Fall & Order,' More
Summer is coming to an end next week, but Hallmark Channel has just what everyone needs to make sure they don't find themselves coming down with the end-of-summer blues. The network's Fall Harvest 2019 event kicks off soon, at the start of October, and features the perfect cure to cool-weather sadness: three new, sweet, funny and romantic movies!
Last week, Hallmark Channel announced there'd be five new movies premiering during the event but followed that news up on Monday with an updated schedule featuring only three.
Tori Anderson and Benjamin Hollingsworth's "Love Under the Olive Tree (working title)" and Jessy Schram and Niall Matter's "Country at Heart" are no longer part of Fall Harvest. International Business Times has reached out to Hallmark for comment on why the switch was made and if these two movies will premiere at a later date, on either Hallmark Channel or the company's streaming service, Hallmark Movies Now, a la "In the Key of Love." Hallmark has not yet responded to the request.
Although fans have two fewer movies to watch during the event, there are still three brand-new movies to enjoy. Plus, aside from the new films, Hallmark will also debut the Candace Cameron Bure-hosted "Countdown to Christmas 10th Anniversary Preview Special" on Oct. 19 at 10 p.m. EDT, the Beth Stern and James Denton-hosted "2019 American Humane Hero Dog Awards" on Oct. 21 at 8 p.m. EDT and the "Love of Dogs Benefit Concert" on Oct. 21 at 10 p.m. EDT.
Mark those specials down on your calendar, and then keep reading to learn more about Hallmark's three new Fall Harvest 2019 movies.
"Over the Moon in Love" (Oct. 5 at 9 p.m. EDT)
After starring together on The CW's "90210" years ago, Jessica Lowndes and Wes Brown are reuniting onscreen for a new music-filled Hallmark movie.
"Brooklyn (Lowndes), owner of the matchmaking service Over the Moon in Love, hasn't seen Devin (Brown), a singer-songwriter, since high school. While their chemistry is instant, Brooklyn is focused on landing the cover of Life/Style by finding Stephanie, the magazine's writer, a match. Putting her 100% success rate on the line, Brooklyn matches Stephanie with Devin but they have nothing in common. Determined, Brooklyn feeds lines to Stephanie guaranteed to capture Devin's heart, and it works! Too bad Brooklyn has just realized she's in love with Devin. Admitting the match is a sham, Brooklyn risks losing the magazine cover and, more importantly, Devin."
"Love, Fall & Order" (Oct. 12 at 9 p.m. EDT)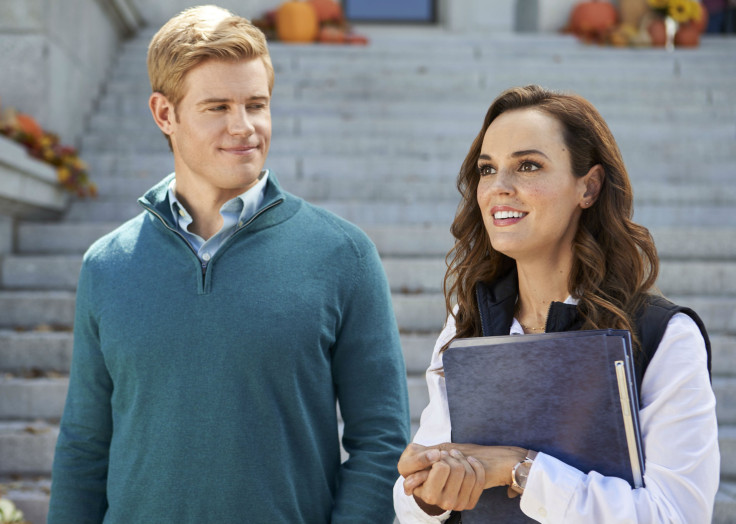 Catch Erin Cahill and Trevor Donovan, as well as Gregory Harrison, in Hallmark's upcoming legal rom-com.
"With the fall season underway, Claire (Erin Cahill), an ambitious New York attorney, returns to her small hometown in Vermont to help save her father's farm from being lost in a legal battle with his neighbor. There, she runs into her former high school rival, Patrick (Trevor Donovan), a handsome local lawyer, whom she soon learns is related to the woman suing her dad and is also representing her in the upcoming court case against him. Before long, Claire and Patrick find themselves on opposing sides of the heated property dispute and conflicting feelings arise when an autumn romance begins to bloom between them."
"Good Witch: Curse From a Rose" (Oct. 19 at 8 p.m. EDT)
Goodies, get ready for an all-new Halloween special, starring Catherine Bell and James Denton!
"Cassie (Bell) receives an unexpected visit from her college roommate Autumn Deveraux (Lolita Davidovich), who harbors resentment toward Cassie over a past event. Cassie relies on her magical instincts to help Autumn through her unresolved feelings before she sabotages Middleton's celebrations. Martha (Catherine Disher) plans a bonfire to honor the season and tries to ignore her husband's failure to recognize the anniversary of their engagement on Halloween night. Bad luck seems to thwart Sam's (Denton) attempts to plan a romantic Halloween for Cassie since it's their first as a married couple, despite the arrival of a mysterious good luck charm. Donovan (Marc Bendavid) makes a wager with Abigail over the Halloween-themed triathlon he is racing against Sam, with the winner earning the rights to decide the couple's Halloween plans. Stephanie (Kylee Evans) and Adam (Scott Cavalheiro) rally the town to break a pumpkin carving record held by Blairsville. Meanwhile, George (Peter MacNeill) and Nick (Rhys Matthew Bond) search for Middleton's mythical sea monster. As the bonfire nears, Cassie works her magic to help Autumn overcome the past and take control of her future."
© Copyright IBTimes 2023. All rights reserved.