Hallmark Channel 'Sharing Christmas' Premiere: Meet The Cast, Watch Trailer
Another day, another Hallmark Channel premiere, another night with a smile plastered on your face. This time, it's the Sunday night Countdown to Christmas premiere of "Sharing Christmas," with Ellen Hollman and Bobby Campo.
Welcome to the Hallmark family, Hollman! This marks the actress' first flick on the network, though she has her co-star Campo, who's been in two Hallmark Channel films and one Hallmark Movies & Mysteries film, to help show her the way.
Campo had a role in 2011's "Love's Christmas Journey" on Hallmark Movies and in "Snow Bride" in 2013 with Katrina Law, but it was in his movie last year, "My Christmas Love," with Meredith Hagner, where he really broke out.
Now, Campo and Hollman are sharing the screen to make some Christmas magic together, with a little help from special guest star and jazz musician Dave Koz.
Two Hallmark up-and-comers in one movie? Sounds like a glimpse at who the future big-time stars of the network will be.
Staying in the present for just a little bit longer, though, here's what to expect from the current Hallmark movie on their plate.
"Stephanie Nichols (Hollman) practically grew up at the Christmas Shop, the old-fashioned, holiday boutique her parents opened 40 years ago in the atrium of the Trolley Square building on Manhattan's Upper West Side," the synopsis opens. "Over those four decades, the store became a neighborhood treasure, known for its festive Christmas Eve block parties and the bespoke tree ornaments commemorating milestone events in customers' lives."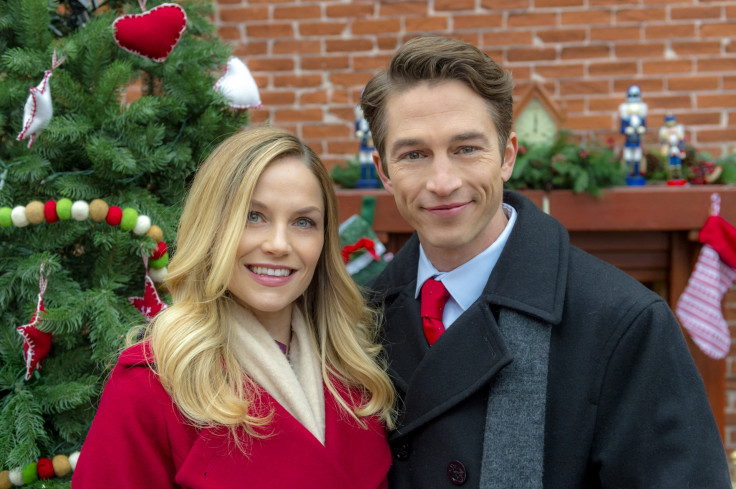 Now her parents, Iris (Pamela Roylance) and Dan Nichols (David Starzyk), are retiring to Long Island and leaving the store in their daughter's hands as of December 1. It's a big step for Stephanie, but she's excited to take over the store. That excitement falters a bit when a developer comes into town and decides to terminate the leases of the atrium's retail tenants come Dec. 31.
"Stephanie is still absorbing the news when closing time brings a last-minute customer, Michael Kilpatrick (Campo), who is charmed by both the store and its owner," the synopsis continues. "When she makes passing reference to her lease dilemma, Michael offers to help her look for a solution, explaining that he has experience in real estate. What neither of them knows in that moment is that Michael works for the very same property company that is kicking Stephanie out."
Eventually, they both learn of this dilemma and Stephanie challenges Michael to spend time at the Christmas Shop to see how important it is.
"Though Michael has some trepidation, his boss, Helen MacLaine (Cynthia Gibb), embraces the idea as a way to make the transition easier on Stephanie," the summary reveals.
Stephanie's happy to be able to show Michael all the best parts of the store and explain its long history. Slowly, Michael starts to enjoy the Christmas spirit in the store and Stephanie begins to trust him, and they both realize they are falling for each other more and more as the days go on.
With the deadline of Dec. 31 looming, will business or love win out?
"Sharing Christmas" debuts on Hallmark Channel at 8 p.m. EST on Dec. 10.
© Copyright IBTimes 2023. All rights reserved.