Halloween Desserts 2016: 8 Easy Recipes For Cookies, Cakes And More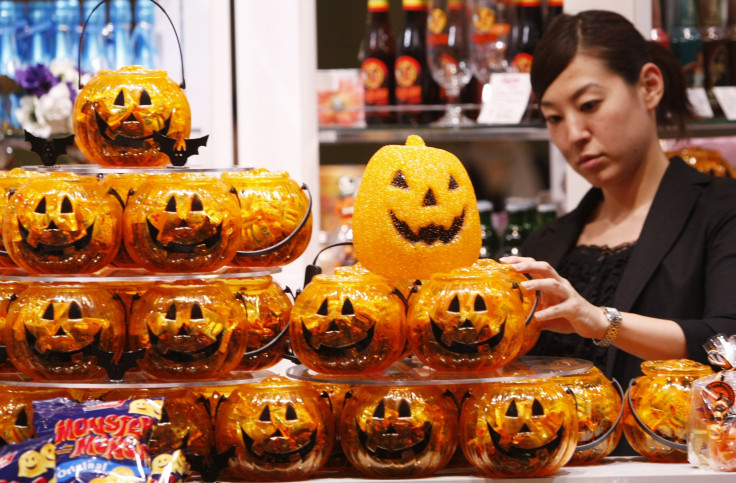 The countdown is on, and Halloween is only a couple of weeks away. The weekends leading up to the spooky holiday are a time for parties and themed get-togethers – and it's always good to come to a party prepared.
There is no shortage of Halloween-themed treats and desserts out there, but between all of the entertaining, hosting and party-hopping, time can be limited for baking and preparation. Don't get spooked. Here are eight quick dessert recipes fit for any Halloween party. The best part? Every recipe will take less than 40 minutes to make.
1. Spooky Spiders: This creepy, crawly recipe only requires three ingredients – black licorice lace, chocolate-covered marshmallow cookies and chocolate chips. Find the recipe here.
2. "Poison" Candy Apples: Here is a spooky spin on a classic Halloween treat. This candy apple recipe is really no different from others, but instead of the red apple, this recipe calls for granny smith. And it's amazing what a little black gel food coloring can do.
3. Cobweb Brownies: This recipe is too good to be true. All it requires is a pre-made brownie mix and melted marshmallows. Drizzle the sticky, melted mallow over the brownies and it's done.
4. Dirt Cake 1: The classic Dirt Cake recipe! The best part about this layered cake treat is that you can add as much as you want to it. Add gummy worms, fake spiders, lollipop ghosts, etc.
5. Halloween Marshmallow Pops: A bag of large marshmallows, candy and chocolate melts and decorative sprinkles never looked (or tasted) so good. Find the recipe here.
6. Chocolate Eyeballs: This is a great recipe for the absolutely last-minute dessert. Grab some donut holes, melt some chocolate and throw on some M&M/s and voila.
7. Witch Finger Pretzels: These quick-and-easy snacks are a snap to make. Use the leftover food coloring from the dessert recipes from above and grab some pretzel rods and almonds to make this treat.
8. Day Of The Dead Candy Party Tray: So this recipe might not exactly be Halloween-themed, but Day of the Dead follows right behind the Oct. 31 holiday. All this "recipe" requires is a ton of candy and a little patience. It's all about having fun with the decorating with this dish.
© Copyright IBTimes 2023. All rights reserved.