Harvey Weinstein Talk At Tribeca Film Festival: 7 Things We Learned About Working With Quentin Tarantino, Sony Hacks And 'Hateful Eight'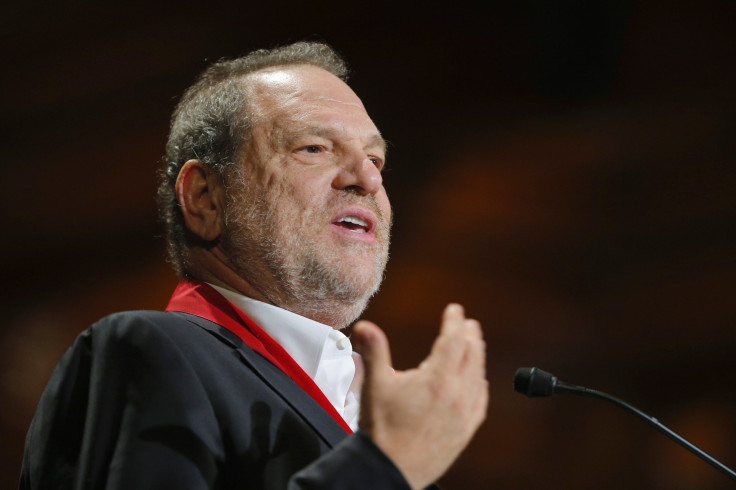 In a prelude to the event, the Tribeca Film Festival invited Harvey Weinstein to speak about his storied career, his foray into Broadway and television and his latest project with Quentin Tarantino, "Hateful Eight." The movie mogul behind Miramax and The Weinstein Company recently opened a Broadway adaptation of "Finding Neverland" and produced the "Marco Polo" series for Netflix, but his interests still lie mostly in the film world.
Although Weinstein remained largely tight-lipped about "Hateful Eight" (of which he's seen 40 minutes of so far), he did discuss several other Hollywood topics, past and present:
1. Weinstein Tried To Convince "Hateful Eight" Director Quentin Tarantino To Make The Script Reading a Live Show
After the movie's script leaked, Tarantino and Weinstein organized a live reading as a fund-raiser for the Los Angeles County Museum of Art. According to Weinstein, the show was so popular it sold out in less than two hours and raised $200,000 more than they had hoped for. Weinstein said he wanted to make it a 10-night engagement, but Tarantino decided to shoot the script. "In the end, cinema wins," said Weinstein.
2. Weinstein Is A Fan Of Real Film (The 35mm Kind)
"It's ethereal, it's real. It's a different experience," Weinstein said at Tribeca. He concluded that yes, digital does have advantages, but "[i]t's not film." Weinstein said his brother Bob was working with other studios to encourage film exhibition in theaters, which has become endangered in the digital rush to DCPs.
3. Tarantino Has Worked With Weinstein Since "True Romance"
Before "Reservoir Dogs" and "Pulp Fiction," Tarantino penned the script for Tony Scott's "True Romance." Weinstein loved the script and made the movie with Warner Bros. Studios. "They didn't know who [Tarantino] was," he dished. "When they bought the script, they bought it for Tony." Weinstein said Tarantino loved Scott and the two were friends. Of Scott, Weinstein said, "He was a great believer in Tarantino."
4. Remembering The Raucous Reception For "Pulp Fiction"
Weinstein decided not to screen "Pulp Fiction" for the press at Cannes, but within minutes of the film's premiere at the prestigious French film festival, he said the well-dressed audience was dancing. "Ironically, Clint [Eastwood] was the head of the jury, and he came up to us afterwards and said he wanted John Travolta for 'Best Actor,' but Cannes Film Festival told him not to," Weinstein revealed.
5. He Won The Rights To The Script Of "Good Will Hunting" Because He Read It Himself
When Matt Damon and Ben Affleck were shopping around the script that would become "Good Will Hunting," they struggled to find someone to produce the film as they envisioned it. Harvey, who emphasized his love of story at the talk, read it himself and recalled a bizarre, sexually graphic scene not mentioned elsewhere in the script. He asked Damon and Affleck about it, and they explained they had added the scene as a test to see which producers actually read it. The pair sold Weinstein the script at their first meeting.
6. Weinstein Has Some Regrets About His Career
For Harvey, the movie that got away was the wildly successful Peter Jackson trilogy, "The Lord of the Rings." He wanted to do it desperately, but Disney wasn't interested and had to let it go. He settled for an executive producer credit for helping to invest in Jackson's WETA Company.
7. Weinstein Is Not Thrilled Over The Sony Hacks And Wikileaks' Subsequent Publishing Of The Studio's Confidential Memos
"This was private property," Weinstein said about the leaked Sony docs and emails, to loud applause. He said he was supportive of former Sony exec Amy Pascal and that the hackers unnerved Hollywood. "The fact that they can just strike like that throws you off. It's a dangerous time." Of Julian Assange, Weinstein said the Wikileaks publisher was "not seeing the human cost" to his action.
There are more Tribeca Talks and events scheduled throughout the festival's run through April 26. For tickets and information, check out their site.
© Copyright IBTimes 2023. All rights reserved.