Harvey Weinstein's Estranged Wife Georgina Chapman Pictured Without Ring After Announcing Split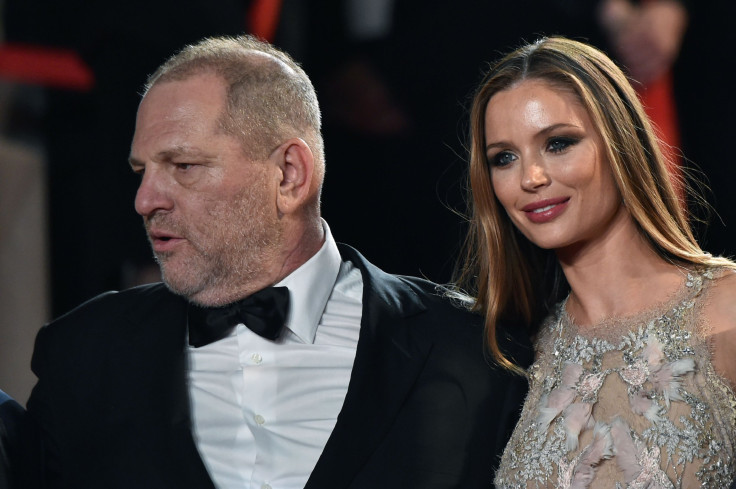 Designer Georgina Chapman has surfaced in her native England amid ongoing reports of sexual misconduct by former studio executive Harvey Weinstein. Chapman was pictured Friday in London roughly a month after announcing she planned to "leave" Weinstein, her husband of 10 years.
Chapman, a co-founder of fashion label Marchesa, was photographed wearing a long black coat, jeans and sneakers in the first pictures since she announced their split. She was not wearing a wedding ring in photos obtained by Us Weekly. The 41-year-old designer has reportedly been focused on her children and her brand in the wake of the allegations against 65-year-old Weinstein.
Chapman announced in October that she was separating from Weinstein following reports from the New Yorker and the New York Times that alleged the movie mogul had sexually harassed or assaulted several women. The reports opened the floodgates on accusations of decades of sexual misconduct by Weinstein that now number more than 100. More than a dozen women have claimed they were raped by Weinstein.
"My heart breaks for all the women who have suffered tremendous pain because of these unforgivable actions. I have chosen to leave my husband," Chapman said in a statement to People last month. "Caring for my young children is my first priority and I ask the media for privacy at this time."
Speaking with People earlier this month, an unnamed insider told the magazine that Chapman "will never take him back," though they have reportedly been in touch about their children.
"Georgina's plan is to keep staying low-key," the source told People. "She is focused on her children and her business. She doesn't have any plans for public appearances."
After Chapman announced their separation, Weinstein said that he "encouraged" her in the decision but said he hoped to eventually "rebuild" their relationship.
"I sat down with my wife, Georgina, who I love more than anything, and we discussed what was best for our family," he said in a statement. "We discussed the possibility of a separation and I encouraged her to do what was in her heart. In the end, she made the decision to separate. I understand, I love her and I love our children and hopefully, when I am better, I will be in their lives again. I support her decision, I am in counseling and perhaps, when I am better, we can rebuild."
© Copyright IBTimes 2023. All rights reserved.