Heat Wave 2021: 150 Million People To Suffer Scorching Weather This Week
KEY POINTS
The west coast is expected to experience excessive heat this week
Mid-Atlantic could reach up to 100 degrees Fahrenheit by Thursday
According to a UN climate report, heat waves can be expected more frequently
"The heat is on" as several states could expect scorching summer heat this week. The National Weather Service issued several Excessive Heat Warnings and Heat Advisories across the country on Tuesday, placing over 150 million people under heat watch.
In a recent forecast by the NWS, temperatures from the Pacific Northwest to the Northeast and Mid-Atlantic could reach up to 100 degrees Fahrenheit by Thursday. In a post on Twitter, the weather service warned of "a real oppressive week," warning of "dangerous" conditions across the country.
"It's going to be a real oppressive week with dangerous heat and hot conditions. Excessive heat watches are up across much of the Pacific Northwest," the NSW warned.
States in the central U.S., from Iowa to Texas, will experience a combination of hot temperatures and high humidity, increasing the heat index between 105 to 110 degrees Fahrenheit over the week. Most western states, including a large part of Washington, western Oregon and Northern California, are also on excessive heat watch, the New York Times reported.
The heat advisory places Seattle back on a dry spell days after breaking its second-longest dry streak of 51 days when it received light rainfall on August 5. Northern California is also of great concern due to the ongoing Dixie Fire that is devastating small towns in the area, CNN reported.
In Texas, the Electric Reliability Council of Texas predicts a rise in power consumption as air conditioners will be on full blast to beat the intense heat. The state power operator forecasts an increase of up to 74,034 MW on Wednesday. The highest recorded consumption of all time was in August 2019, with a record of 74,820MW.
The upcoming heat wave is the second one the country experienced this year, following several weeks of scorching weather from late June to mid-July 2021. The last wave caused numerous wildfires in Northern California, as well as extensive damage to crops and properties across Washington and British Columbia. It also claimed the lives of more than 1,000 people in the U.S. and Canada.
This may not be the last heat wave in the U.S., however. A recent UN climate science report noted that extreme heat waves that previously happened every 50 years could occur more often. The report found that heat waves, droughts and torrential rains are going to be more frequent due to climate change and global warming.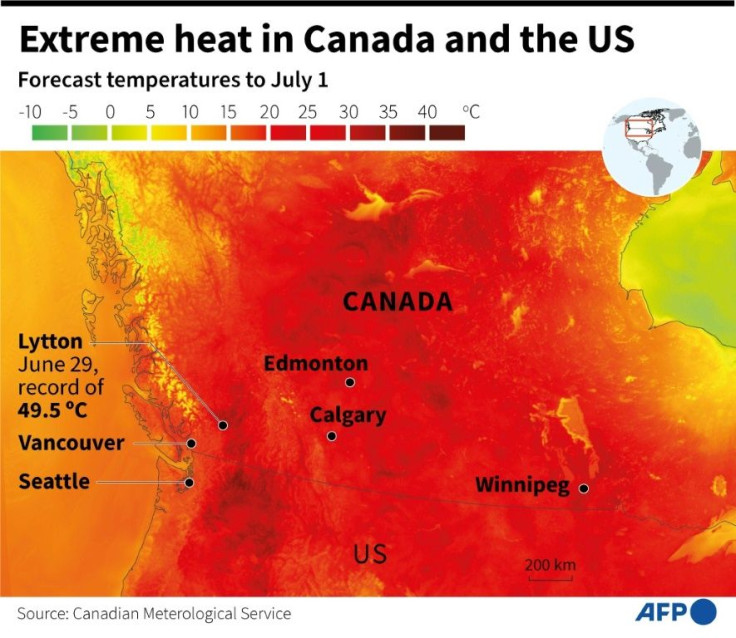 © Copyright IBTimes 2023. All rights reserved.