'Hey Arnold: The Jungle Movie' Plot To Reveal The Truth About Arnold's Parents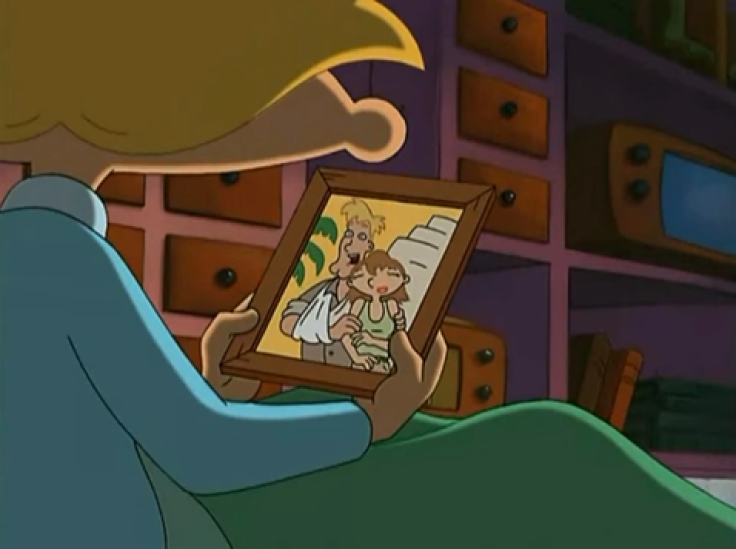 A favorite '90s Nickelodeon cartoon is returning to the small screen in a big way. On Monday it was confirmed that the network was working on another "Hey Arnold!" TV film, called "The Jungle Movie," and new details suggest it will provide longtime fans with a sense of closure.
According to Entertainment Weekly, the film will pick up right where the series — which ended in 2004 — left off. It will provide more information about the disappearance of Arnold's parents, who took a trip to San Lorenzo together and were never seen again. In the final episode of "Hey Arnold!" Arnold uncovers a journal with details about his parents' relationship, as well as discussion about their trip. Grandpa reads the journal to Arnold while flashbacks are shown to help viewers put the pieces together. The show ends with Arnold, as well as his grandparents, accepting the harsh reality that they may never see his parents again — but could they return in "Hey Arnold: The Jungle Movie"? A statement about the made-for-TV movie promises to "resolve unanswered questions and plot lines" — including Arnold finally getting answers about the whereabouts of his parents.
"Hey Arnold: The Jungle Movie" will feature many familiar animated faces, voiced by the actors who played them on the television series. Helga (Francesca Marie Smith), Phoebe (Anndi McAfee), Harold (Justin Shenkarow), Rhonda (Olivia Hack), Olga (Nika Futterman), Grandpa (Dan Castellaneta), Grandma (Tress MacNeille) and more will be voiced by the actors who gave them life from 1996 to 2004. Lane Toran and Jamil Smith, who voiced Arnold and Gerald, respectively, have confirmed they will be featured in the film, though they will be voicing new characters this time around. Mason Vale Cotton and Benjamin "L'il P-Nut" Flores have been cast as the main characters.
"We're incredibly fortunate to work with these talented voice actors who brought to life one of the most celebrated cartoons in Nickelodeon's history," Chris Viscardi, senior vice president of content development at Nickelodeon, said. "The voice cast is an essential piece to the 'Hey Arnold!' universe and we're excited for a new generation of fans to hear these characters in a new TV movie."
In addition to the dozens of voice actors reprising their roles, several new stars have signed on. Eugene will be voiced by Gavin Lewis, Stinky by Jet Jurgensmeyer, Sid will be played by Aiden Lewandowski and Laya Hayes has signed on as Nadine. Alfred Molina will also be in the "Hey Arnold: The Jungle Movie" cast, playing La Sombra. The character was introduced in Season 5, during Arnold's reading of his parents' journal. He will likely play a much larger role in the movie.
Nickelodeon Animation Studio broke the news about the movie on social media on Monday. Director Craig Bartlett later confirmed it, sharing the same photo on his own Instagram account, adding that it was taken "a couple months ago" during a table read. Since then several of the film's stars have taken to Twitter to celebrate.
"Hey Arnold: The Jungle Movie" received the green light in late 2015. Few details were made available about the film until now. The movie, which will be two hours long, will air in 2017.
© Copyright IBTimes 2023. All rights reserved.