Hillary Clinton In Cleveland: Black Lives Matter, Tamir Rice, Gun Violence Addressed During Campaign Speech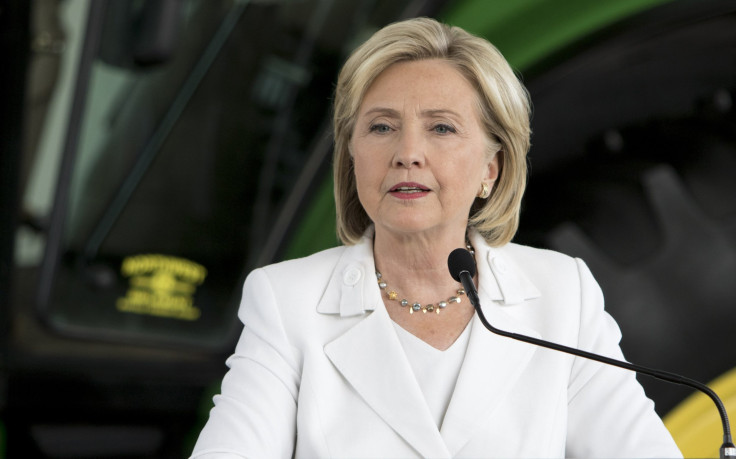 In her first campaign visit to Ohio, Democratic presidential front-runner Hillary Clinton took a moment Thursday to renew a call for "common sense reforms" for gun purchases. Speaking softly, she talked about Wednesday's shooting in Virginia, in which two journalists were murdered during a live broadcast, before mentioning the high level of gun violence in Cleveland, the city in which she was speaking.
Wednesday's violence was "horrifically on live television. We saw the terrible consequences of gun violence in America. I don't know how we keep seeing shooting after shooting, read about the people murdered because they went to Bible study or they went to the movies or they were just doing their jobs ... and not say we can do something about this," Clinton said. "It's not just the deaths that are in the headlines. Most of you in this audience know that we lose people to gun violence every day."
Cleveland, with a population of nearly 400,000, is one of the most violent cities in America. In 2014, there were 81 gun-related homicides in the city. One of those was the death of 12-year-old Tamir Rice, who was fatally shot by police in November.
"Here in Cleveland, you know" that gun violence kills, Clinton said. "Tamir Rice isn't here either. He should be. He should be healthy. He should be alive," she said, before launching into a discussion about race that has bubbled in intensity over the last year as stories of unarmed black men -- or children, as in the case of Rice -- getting killed by police across the country have been widely publicized. "We've got to come to terms with some hard truths about race in America. We do have to stand up and loudly and clearly say black lives matter."
While speaking about race, activists from Black Lives Matter, the movement to which she was referring, interrupted her. They were escorted out of the event, and Clinton continued speaking, unfazed, after saying she'd be happy to meet with the individuals afterward. The activists were calling on Clinton to divest from private prisons and invest in liberating black transgender women, according to a press release from the group.
They accused Clinton of being bankrolled by private prison operator Corrections Corporation of America. However, a review of contributions to her campaign PAC and the super PAC supporting her campaign did not turn up any contributions from the company or any individuals employed by it.
Activists from the group are becoming fixtures at campaign events, shouting down Democrats who, in the group's view, misspeak on racial issues, and providing Republicans with opportunities to denounce political correctness.
During the rally, Clinton also spoke about women's rights -- comparing Republicans on this issue to "terrorists" -- raising the federal minimum wage, lowering the cost of prescription drugs, the rising cost of health care and the debt burden placed on students through loans to pay for college. She also made clear that, while she was a Democrat who felt that her Republican opponents were offering up very little that would benefit the United States, she was her own woman.
"I'm not running for my husband's third term, and I'm not running for President Obama's third term," she said. "I'm running for my first term."
With 18 electoral votes and a population almost evenly divided between Democrats and Republicans, Ohio has historically been an important swing state during presidential elections, showing that whoever wins its March 15 primary is also very likely to win the presidency.
Follow me on Twitter @ClarkMindock and on Facebook.
© Copyright IBTimes 2023. All rights reserved.