Hillary Clinton Is The Debate Winner: Donald Trump Loses All Three Presidential Debates Despite Insults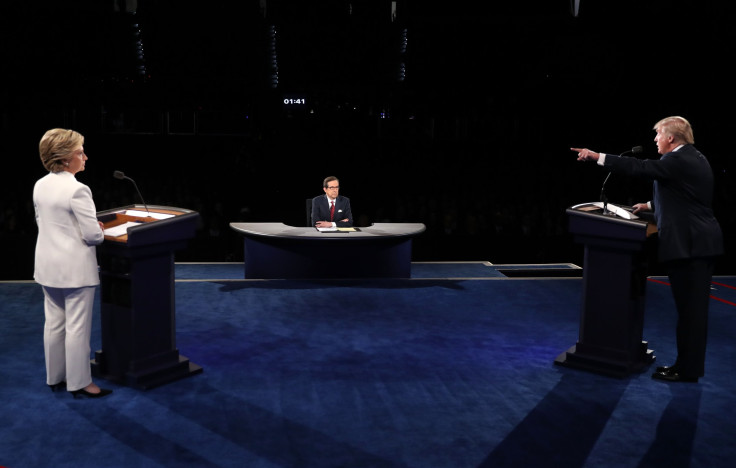 Hillary Clinton sighed and rolled her eyes through the final presidential debate Wednesday night, emerging the winner largely by ignoring Donald Trump's bait about her husband's many alleged affairs, his accusations that she created ISIS and any probing questions about her use of a private email server as secretary of state.
Pundits said heading into the debate that Trump needed to appear presidential. Instead, he embraced the kind of in-your-face rhetoric that helped him sail through the GOP primary and keep his standings in the polls despite attacks from mainstream Republican leaders who have called on him to drop out of the race.
"She gave us ISIS," Trump yelled at one point. "She gave us ISIS as sure as you are sitting there."
After Clinton defended women's right to abortions during the debate, Trump accused her of sanctioning graphic, late-term abortions.
"I have met with women who toward the end of their pregnancy, get the worst news one could get, that their health is in jeopardy if they continue to carry to term or that something terrible has happened or just been discovered about the pregnancy. I do not think the United States government should be stepping in and making those most personal of decisions," Clinton said.
Trump replied: "I think it's terrible if you go with what Hillary is saying in the ninth month you can take the baby and rip the baby out of the womb of the mother just prior to the birth of the baby... Because based on what she's saying and based on where she's going and where she's been, you can take the baby and rip the baby out of the womb in the ninth month."
Clinton dismissed his remarks as "scare rhetoric" that "is just terribly unfortunate."
At another point, Trump defended his proposed border wall by calling immigrants bad men in Spanish. "We need the wall. The border patrol, ICE, they all want the wall. We stop the drugs, shore up the border," he said. "But we have some bad hombres here and we're going to get them out."
After Clinton called on Trump to denounce Russian hackers interfering with the U.S. elections, Trump said Putin had no respect for Clinton.
"That's because he'd rather have a puppet as president of the United States," she said.
Trump shot back: "You're the puppet."
He also sparred with debate moderator Chris Wallace, yelling over him and saying voters should wait and see whether he would accept the Nov. 8 election results after complaining in recent days that the vote will be "rigged."
When Clinton said Trump has often claimed life has been unfair to him, including when he didn't win an Emmy for hosting "The Apprentice," Trump interrupted her: "I should have gotten it."
Trump said he hadn't apologized to his wife, Melania Trump, after a 2005 video of him discussing how he likes to "grab [women] by the pussy" emerged earlier this month. He instead called out Clinton for denouncing women who have accused former President Bill Clinton of sexually attacking them.
Clinton was also declared the winner of the first and second debate by pundits and voters. Perhaps more importantly, Clinton was winning in the polls. Clinton was ahead of Trump by 7.2 points in the RealClearPolitics average of national polling and a Washington Post/Survey Monkey poll released Tuesday estimated the former secretary of state would win 304 electoral votes, much more than the 270 needed to win. With those numbers behind her, the New York Times said Wednesday Clinton had a 92 percent chance of winning the election.
During the Wednesday night debate, pundits and reporters praised Clinton and Trump for focusing on issues important to their respective bases.
CNN's Jake Tapper said Trump clearly became the debate loser when he said he wouldn't accept the election results. "I don't think it helped him when it comes to showing the American people that he does have that temperament," Tapper said on CNN.
New York Times reporter Nick Confessore wrote: "I think one thing is clear here: Trump knows who he needs to win back – Republican-leaning suburbanites. Hence the dwelling on the Supreme Court, abortion, her emails. But Clinton does too: hence the quiver full of new attacks on women, on his mockery of a reporter with a disability."
Politico went with the headline: "Clinton swats away Trump." "Hillary Clinton took control of the Las Vegas debate stage on Wednesday night, springing traps for Donald Trump on immigration and Vladimir Putin as she deftly sidestepped revelations from the WikiLeaks trove of her aides' emails," the site wrote.
USA Today noted that Trump was vague when it came to defending his fiscal policies: "Trump is called upon to defend his plan against claims that his numbers don't add up. He avoids specifics and instead dwells on the nation's current problems, particularly trade and lost jobs."
The Associated Press held Trump accountable for refusing to acknowledge the U.S. government's stance that Russia is interfering with the presidential election by hacking into Democratic documents. "Trump denied any relationship with Putin and said he would condemn any foreign interference in the election. But he notably refused to accept the intelligence community's assessment that Russia was involved in the hacking of Democratic organizations," the wire service wrote.
Vox wrote: "Read this Trump debate answer and tell me if you can make sense of it."
Wallace, the first journalist from conservative-leaning Fox News to oversee a general-election debate, was expected to draw a massive audience. The first and second debates saw 84 million and 63 million viewers, respectively.
© Copyright IBTimes 2023. All rights reserved.