Hillary Clinton Gun Control Proposal: What 2 Decades In The Public Eye Tells Us About Her Policy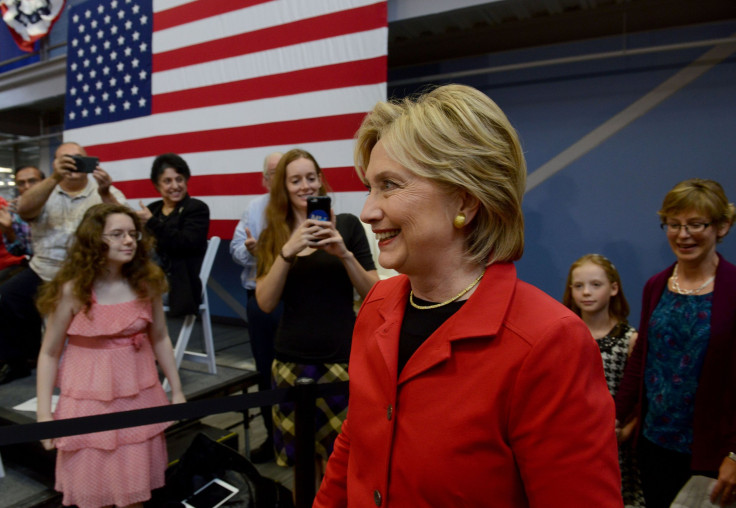 Bill Clinton, then the governor of Arkansas, turned the tables on President George H.W. Bush in 1992. For years, Democrats had been excoriated in political campaigns for being soft on crime. Clinton, through policy proposals to instate background checks for weapons sales across the country, reversed that trend. Come January 1993, Clinton stood in front of the U.S. Capitol, a blue tie around his neck, and became the 42nd president of the United States -- a feat fueled at least in part by his message to rein in accessibility to guns.
Just over two decades later, the woman who stood next to him as he took the oath of office is hoping to tap into a surging urgency to address the availability of guns amid high-profile gun violence. Hillary Rodham Clinton, the Democratic front-runner, detailed policies Monday to reform gun control legislation in the country through background checks and closing loopholes. In doing so, she is, along with other Democrats in the race, starting a fight with a massively influential gun lobby in Washington that grew to power partly through those policy positions championed by her husband.
"It's time for us to say, 'Wait a minute. We're better than this, our country is better than this, and there are steps we can take that improve gun safety and further prevention of violence,'" Clinton said Monday at a campaign rally in New Hampshire at which she unveiled her plans. "We haven't done what we need to do to try and make our children safe. That's what's behind the proposals I'm making. They're not new -- there's nothing unique about them other than that I'm so determined to do everything I possibly can."
Clinton spoke highly of the Brady Bill, major gun legislation that her husband signed into law in 1993, but also recognized its shortcomings. That legislation -- named for James Brady, the former White House press secretary who was injured in an assassination attempt in 1981 on then-President Ronald Reagan -- mandated federal background checks for weapons purchases in the United States from licensed retailers and put into place a five-day waiting period for the weapons.
Clinton also highlighted her intention to implement comprehensive federal background checks in situations where they are not currently required under federal law, such as sales made at gun shows or online. She also voiced her support of legislation that would restrict domestic abusers from having access to firearms, and keep military-grade weapons off of the streets. She praised the Brady Bill for leading to 2.4 million gun application rejections but said that the gun-show loopholes are a major problem.
To longtime observers of the gun control debate, the Clinton family has proved itself relatively committed to the issue, even if action taken in the '90s wasn't enough to deter violent episodes like last week's shooting at a Roseburg, Oregon, community college or the massacre at Sandy Hook Elementary School in Newtown, Connecticut, in 2012.
"I think you can say many things about the Clintons, but I think they've always been strong on this issue. He took on the [National Rifle Association]," Kristin A. Goss, an associate professor at Duke University and co-author of "The Gun Debate: What Everyone Needs To Know," said. "He really did, I think, stand up to the NRA, and ironically that really helped the NRA because they do really well when there's a perceived policy threat."
Gun Rights vs. Gun Control Support Over Time | InsideGov
The NRA spends millions of dollars on political campaigns every couple of years, spends a larger amount lobbying the federal government each year and claims to have 4.5 million registered members to add human might to that lobbying portfolio. As such, the group is able to curry a lot of favor in Washington from mostly legislators who are Republican -- the party that receives the lion's share of those campaign donations.
And while the majority of Americans support so-called "common-sense gun laws," most American voters aren't particularly politically motivated by the issue. So, stacked up against passionate NRA members, that majority has little impact on national politics.
Whether the Brady Bill even had a significant impact on gun violence is up for debate. Some experts say the evidence isn't quite there. Philip Cook, Goss' co-author and a fellow professor at Duke, said that in his studies of the issue, the vast majority of prisoners who had a gun at the time of their arrest had obtained their weapons from friends, family or acquaintances. Background checks at gun shows don't directly affect that.
"All of this is to say that the Brady law may well have done some good, but it left a huge loophole, which is private transfers, untouched," Cook said. President Barack Obama has called for an extension of the law to include background checks on private transfers.
When compared with other candidates' proposals, Clinton's aren't as attractive to some gun control advocates. She's taken a position to the left of her biggest threat, Sen. Bernie Sanders. But perhaps if she were to become president and push through gun control reforms, the nation would find itself struggling with gun violence in another two decades anyway.
When asked which candidate has the best proposal for gun control, Leah Gunn Barrett didn't hesitate: "Former Gov. Martin O'Malley." Barrett's organization, New Yorkers Against Gun Violence, of which she is executive director, supports expanding the group of individuals who would be blocked by background checks. She also advocates ensuring that those evaluations are undertaken by local police precincts, where officers know who in the community is a threat and who is not.
"In terms of a presidential candidate who has actually put forward a plan that makes sense and has actually been thought through, I think he is clearly above the pack," she said.
© Copyright IBTimes 2022. All rights reserved.
FOLLOW MORE IBT NEWS ON THE BELOW CHANNELS