Hillary Clinton Running Mate: 3 Possible VP Choices In Her 2016 Presidential Election Bid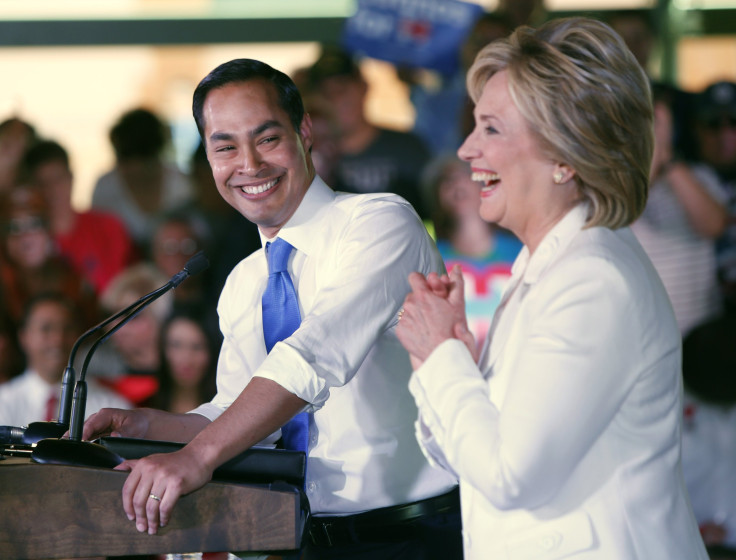 With strong Super Tuesday results lifting Democratic front-runner Hillary Clinton closer to the nomination over challenger Sen. Bernie Sanders, the search for a running mate for the first woman presidential nominee from a major party takes on added interest. And the issue arises in a highly unpredictable race against a fractured GOP.
The strong challenge from Sanders may force the Clinton camp to consider a more liberal running mate. The former first lady, secretary of state and U.S. senator from New York may also lean toward choosing a candidate who can help deliver a swing state.
Based on such criteria, Sen. Sherrod Brown of Ohio should generate plenty of chatter. No battleground state carries as much importance as Ohio, and Brown has proven highly popular, thumping two-term incumbent Republican Sen. Mike DeWine with 56 percent of the vote in 2006 before defeating challenger Josh Mandel by six points in 2012, despite Mandel's outspending Brown.
With his blue-collar persona, raspy voice and very liberal voting record, the 63-year-old Ohioan would likely balance the ticket and gain favor from Sanders' base. Brown denounced President Barack Obama's controversial and secretive Trans-Pacific Partnership initiative, received a 100 percent rating from the National Abortion Rights Action League and has an "F rating" from the National Rifle Association. As a House member, he opposed the Iraq War in 2002, and back in 1996 voted against the Defense of Marriage Act.
But Brown probably needs coaxing to take on higher office. He has repeatedly stated "zero interest" in being president or vice-president, vowing he is "very satisfied" with serving in the Senate.
Should Clinton's camp fail to convince Brown, she may consider turning her attention to Sen. Tim Kaine of Virginia, another swing state. Unlike Brown, Kaine may warm to the idea of serving as vice president. In 2014, well before Clinton officially announced her presidential candidacy, Kaine endorsed her. In 2008, while governor of Virginia, Kaine made the short list of Barack Obama's potential running mates.
The son of a welder, Kaine, 58, offers some interesting intangibles. A fluent Spanish speaker from his work as a Catholic missionary in Honduras, Kaine worked as a civil rights lawyer, which could endear the Clinton campaign to minorities and liberals. In contrast to Clinton, Kaine personally opposes abortions, though he refrains from wanting the Supreme Court to overturn Roe vs. Wade.
Should Clinton strike a bolder tone, she could consider Julian Castro, a 41-year-old rising Latino star in the party. The former mayor of San Antonio currently serves as secretary of housing and urban development, and has long been touted as a VP contender. A ticket featuring a woman and Latino would almost certainly prompt stronger interest in the Democrats' campaign.
Castro, the twin brother of Rep. Joaquin Castro, D-Texas, and the son of Mexican immigrants, received praise in October from Clinton, who said she would "look really hard at him for anything, because that's how good he is." Indeed, Castro trounced his mayoral opponents in the 2009, 2011 and 2013 elections to become the youngest mayor of a major U.S. city.
While Castro might deliver a strong Latino turnout, his home state of Texas likely remains red in November. Democrats have failed to carry Texas since 1976.
© Copyright IBTimes 2023. All rights reserved.