Hillary Clinton In South Carolina: Black Mothers Who Lost Family To Violence To Rally African-American Support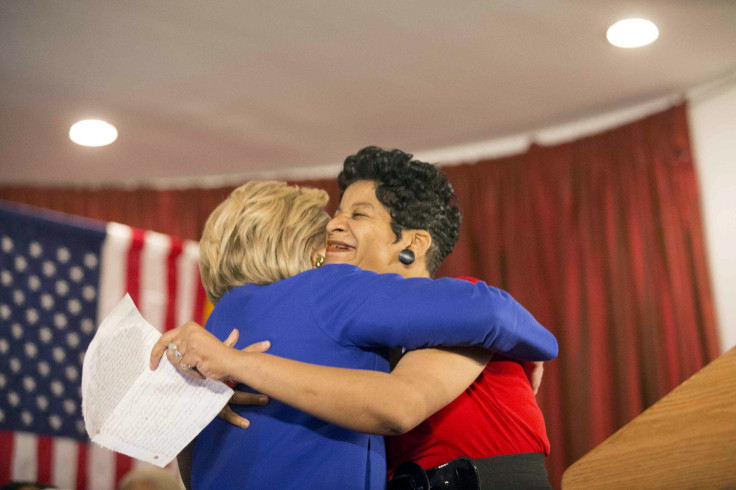 As several days remain before the Democratic presidential primary in South Carolina, Hillary Clinton is looking this week to bolster her support among African-American voters with help from some of the community's well-known matriarchs. Five black mothers who lost children to violence or in police encounters over the last few years are set to appear in several South Carolina cities to shore up support for the former U.S. secretary of state.
The group of mothers is scheduled Monday and Tuesday to host events to discuss equality, justice, police accountability and gun violence, Fox affiliate WHNS reported. Forum speakers announced by the Clinton campaign are Sybrina Fulton, mother of Trayvon Martin; Gwen Carr, mother of Eric Garner; Maria Hamilton, mother of Dontre Hamilton; Lucy McBath, mother of Jordan Davis; and Geneva Reed-Veal, mother of Sandra Bland.
The Clinton campaign is calling the events "Breaking Down Barriers" forums. They will include remarks from prominent civil rights lawyers Benjamin Crump and Gregg Greer, among others. The events will take place at churches throughout South Carolina, including in Greenville, Spartanburg, Charleston, Holly Hill, Aiken, Sumter, Columbia, Bennettsville, Rock Hill and Longs, according to WHNS.
2016 Democratic Presidential Primary and Caucus States | InsideGov
Clinton and opponent U.S. Sen. Bernie Sanders of Vermont have jockeyed for support among the overwhelmingly Democratic black voting bloc around the country. Those efforts have yielded high-profile endorsements from the likes of black social justice intellectual Cornel West, for Sanders, and the Congressional Black Caucus super PAC, for Clinton, among others for each.
Over the weekend, Reed-Veal appeared with Clinton at a campaign event in Chicago. Her daughter's videotaped traffic stop and her apparent suicide death in a Texas county jail in July drew national press amid a focus on racial discrimination and police brutality. But Reed-Veal and others have faced criticism from some in the community who see their public endorsements of Democratic candidates as exploitation.
"Regardless of the intentions or motivations of the campaigns, if someone was an active supporter before, the loss of a son, daughter, husband or wife shouldn't delegitimize his or her endorsement," Reed-Veal said last week in an interview with the Root. "We may never know how Trayvon Martin or Sandra Bland or John Crawford would have voted in 2016, but if their families believe that allying with a campaign may prevent the next tragedy from happening, they should do whatever they can to honor their lost loved ones."
The South Carolina Democratic primary, scheduled for Saturday, is considered the first opportunity for a representative population of African-Americans to weigh in on the election. Clinton appeared to have the black vote secured in the Palmetto State, according to a recent Public Policy Polling survey of 525 likely Democratic primary voters. The former U.S. senator from New York had a strong lead among black voters — 63 percent said they back Clinton compared with 23 percent who back Sanders. But Sanders made inroads with black South Carolinians, narrowing the 86-11 lead that Clinton had in November.
© Copyright IBTimes 2023. All rights reserved.