Hindenburg Shorts India's Adani Group, Cites Debt And Accounting Concerns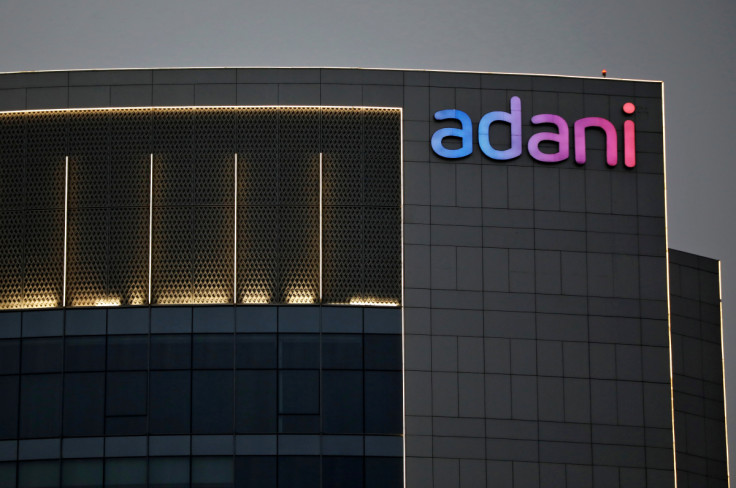 Hindenburg Research said on Wednesday it held short positions in Adani Group, accusing the Indian conglomerate of improper extensive use of entities set up in offshore tax havens and expressing concern about high debt levels.
The group, which is led by Gautam Adani, the world's third richest person according to Forbes, dismissed the U.S. short-seller's claims as baseless, saying it was timed to damage its reputation ahead of a large share offering.
The group's flagship firm, Adani Enterprises, will on Jan. 27 launch the country's biggest public secondary share offering, aiming to raise to $2.5 billion to fund capital expenditure and pay off some debt.
Hindenburg, known for having shorted electric truck maker Nikola Corp and Twitter, said it holds short positions in Adani companies through U.S.-traded bonds and non-Indian-traded derivative instruments.
Its research report questioned how the Adani Group has used offshore entities in offshore tax havens like Mauritius and the Caribbean Islands.
It also said key listed Adani companies had "substantial debt" which has put the entire group on a "precarious financial footing", and asserted that shares in seven Adani listed companies have an 85% downside on a fundamental basis due to what it called "sky-high valuations".
Adani Group's Chief Financial Officer, Jugeshinder Singh, said in a statement the company was shocked by the report, calling it a "malicious combination of selective misinformation and stale, baseless and discredited allegations."
"The timing of the report's publication clearly betrays a brazen, mala fide intention to undermine the Adani Group's reputation with the principal objective of damaging the upcoming follow-on Public Offering from Adani Enterprises," it added.
"The Group has always been in compliance with all laws," the company said. It did not address specific allegations made by Hindenburg.
The research report, Hindenburg said, was based on an investigation over two years that involved speaking with dozens of individuals, including former Adani Group executives as well as a review of documents.
India's capital markets regulator, the Securities and Exchange Board of India, did not immediately respond to a request for comment.
Adani has repeatedly dismissed debt concerns. Singh told media on Jan. 21 "Nobody has raised debt concerns to us. No single investor has."
Shares in Adani Ports And Special Economic Zone fell 6.3% while Adani Enterprises ended down 1.5%.
GRAPHIC: Adani stocks tumble on report flagging financial risk -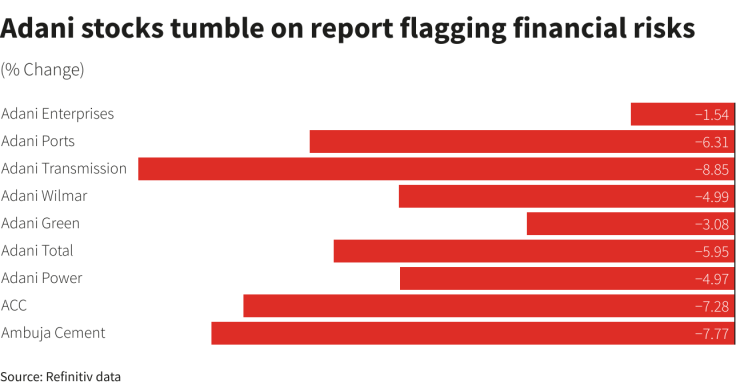 GRAPHIC: Adani Group stocks: Market Cap and price movement -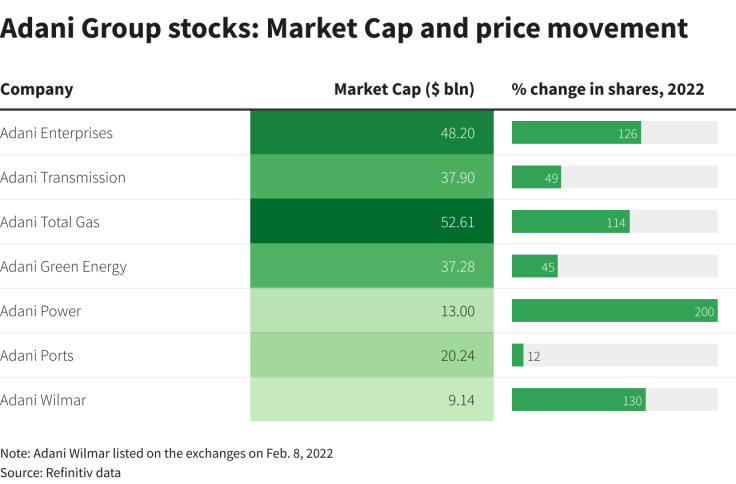 Hindenburg's report said five of seven key listed Adani companies have reported current ratios - a measure of liquid assets minus near-term liabilities - below 1. This, the short-seller said, suggested "a heightened short-term liquidity risk".
Adani Group's total gross debt in the financial year ended March 31, 2022, rose 40% to 2.2 trillion rupees.
Refinitiv data shows debt at Adani Group's seven key listed Adani companies exceeds equity, with debt at Adani Green Energy Ltd exceeding equity by more than 2,000%.
CreditSights, part of the Fitch Group, described the group last September as "overleveraged". While the report later corrected some calculation errors, CreditSights said it continued to be concerned about Adani Group's leverage.
Hindenburg also said it was concerned that a high proportion of equity held by promoters or key shareholders in Adani Group listed companies has been pledged for loans.
"Equity share pledges are an inherently unstable source of lending collateral because if share prices drop, the lender can make a collateral call," it said in the report.
Last year, the Adani Group bought cement firms ACC and Ambuja Cements from Switzerland's Holcim for $10.5 billion. Days later, it pledged shares in the two firms, worth about $12.5 billion at the time, to banks in a non-disposal agreement that prevents it from offloading the shares until lenders agree that debts are paid.
ACC and Ambuja both fell over 7% on Wednesday.
© Copyright Thomson Reuters 2023. All rights reserved.
FOLLOW MORE IBT NEWS ON THE BELOW CHANNELS