Hip-Hop Icon Flavor Flav Arrested On Felony Charge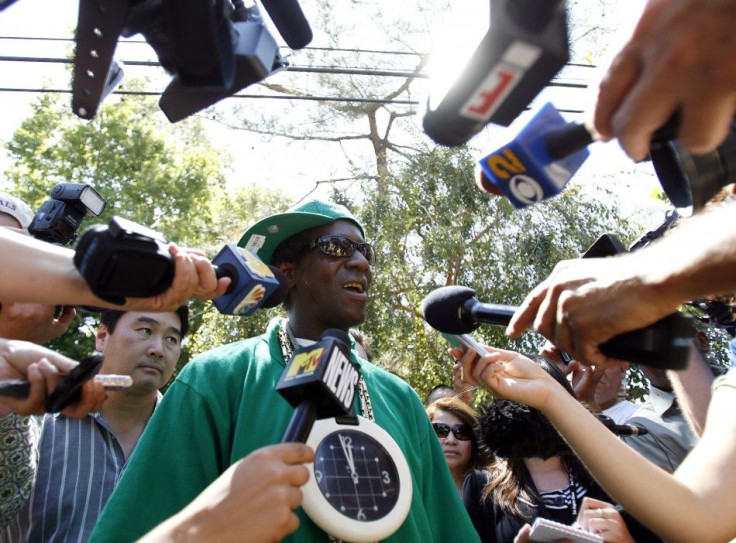 Hip-hop icon and entertainer Flavor Flav — legal name William Drayton Jr. — was arrested Wednesday on felony charges stemming from an alleged domestic dispute at his Las Vegas home, according to the Associated Press.
Officers responded to the home after a call was placed about a domestic disturbance. The caller claimed she'd been in a physical confrontation with her fiance — identified as Drayton -- who also reportedly threatened her 17-year-old son with a knife, KTNV reported.
At the scene, police officers placed the 53-year-old former Public Enemy rapper under arrest and charged him with felony assault with a deadly weapon and misdemeanor domestic battery. He was being held on $23,000 bail.
Being on the wrong side of the law is nothing new for Drayton, who has a mile-thick jacket. According to Entertainment Weekly, he was in and out of jail during his high school days for committing various robberies. In the early 90's, when he suffered with a heavy drug abuse problem, he served time for assaulting his girlfriend and shooting a gun at a neighbor. Later in that same decade, he was imprisoned for other domestic battery and drug charges.
Following those offenses, Drayton was booked in 2002 for driving with a suspended license and parole violations. He cleaned up his life, famously appearing on "The Surreal Life" and starring in the "Flavor of Love" while dating Brigitte Nielsen, though he wound up back in custody last year for driving violations.
More recently, KTNV said, he opened two self-branded restaurants, though they both closed soon after opening their doors.
© Copyright IBTimes 2023. All rights reserved.