On Holy Thursday, Healthy-looking Pope Urges Priests To Shun Disunity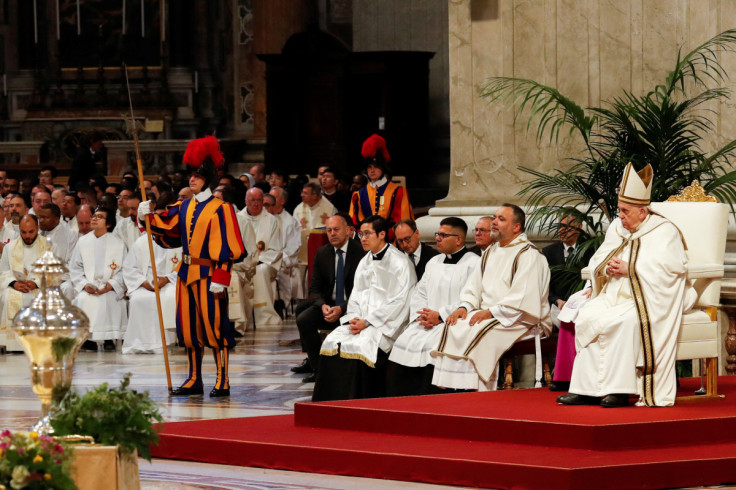 Pope Francis, appearing fully recovered from a bout with bronchitis, on Thursday began an intense four days leading to Easter urging priests to avoid fomenting division in the Church and seek harmony if they wanted to win back lapsed faithful.
"Sometimes we priests can be rude," he said in the homily of a Holy Thursday morning Mass in St. Peter's Basilica on the day the Roman Catholic Church commemorates the birth of the priesthood.
People seeking spiritual peace and tranquillity in their lives will continue to keep their distance from the Church and view it with suspicion if they see it bogged down in internal disunity, finger-pointing and being coldly judgmental, he said.
Francis, 86, spent four days in hospital last week for treatment of bronchitis after complaining of breathing difficulties. He recovered quickly following an infusion of antibiotics.
Apart from an occasional cough during the nearly two-hour-long Mass, Francis read his homily in a clear and strong voice for 20 minutes. He frequently and confidently went off script as he called on priests to stick to their calling as peacemakers and ministers of mercy.
Francis, along with dozens of cardinals and bishops and about 1,800 priests, gathered in Christendom's largest church and renewed the vows they took on the day of their ordination.
He urged them not to live "double lives" or turn into Church bureaucrats seeking promotions with perks and privileges, and not yearn for a bygone past when the Church was more self-centred.
"If people see in us too people who are dissatisfied and discontented, who criticise and point fingers, where else will they find harmony?" Francis said.
"How many people fail to approach us, or keep at
a distance, because in the Church they feel unwelcomed and unloved, regarded with suspicion and judged?"
Thursday through Sunday is the most intensive period in the Church's liturgical calendar as Christians commemorate the period between Jesus' arrest to what they believe is his resurrection from the dead.
On Thursday afternoon, Francis was scheduled to wash and kiss the feet of 12 inmates at a juvenile facility outside Rome in a gesture commemorating Jesus' humility towards his apostles on the night before his death.
The pope is due to preside at two Good Friday services on the day Christians commemorate the crucifixion, including a Via Crucis (Way of the Cross) service at Rome's Colosseum.
He presides at an Easter vigil Mass on Saturday night and on Easter Sunday delivers his twice-annual "Urbi et Orbi" (to the city and the world) blessing and message in St. Peter's Square.
© Copyright Thomson Reuters 2023. All rights reserved.