'House Of Cards' Season 3 Premieres Early: What Happens To Doug Stamper After Release Date Change [SPOILERS, PHOTOS]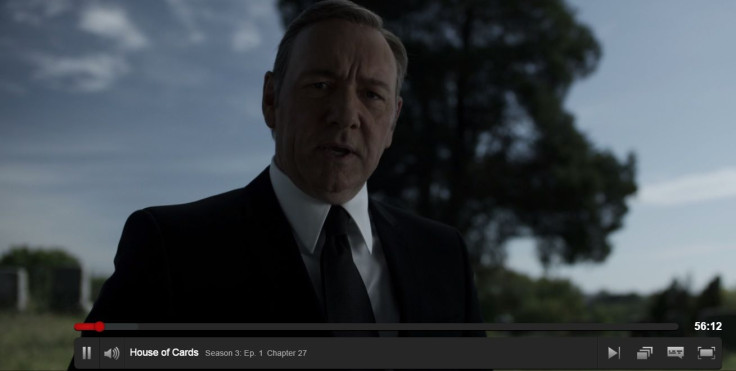 Netflix sent the Internet into a tizzy after Season 3 of "House of Cards" leaked Wednesday. It was quickly removed, but thousands of fans grasped for spoilers as Frank Underwood assumed his role as president. One lucky International Business Times reporter was fortunate enough to watch the first episode -- also known as Chapter 27 -- before it was taken down.
The first minutes of the new season open up with Frank (Kevin Spacey) bringing white roses to a graveyard. The new U.S. president brings flowers to his father's grave. "Hey Pop, it's been awhile, hasn't it?" — those are the first spoken words in Season 3. Frank hasn't softened up, though; he soon reveals he only went there because, as president, he has to show he's "human." He then urinates on the gravesite when no one is looking.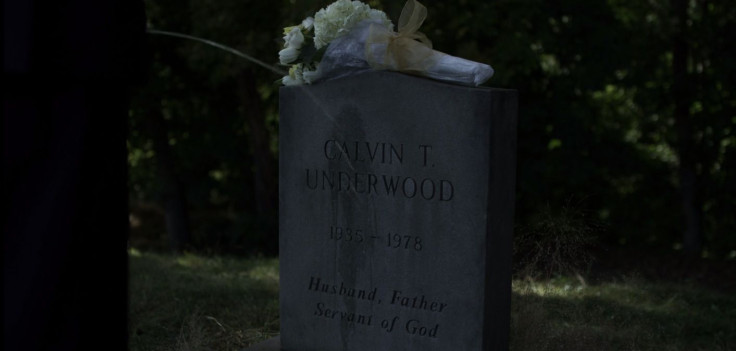 The next scene shows Doug Stamper (Michael Kelly), Frank's former right-hand man, in the hospital. When viewers saw him last he was with Rachel (Rachel Brosnahan), the girl he was supposed to protect, but Doug soon developed an obsession with her. After a physical altercation between the two, where Doug was severely beaten, Rachel got away. In the end, Doug was left physically damaged, but the harm to his left frontal cortex will render his emotions unpredictable.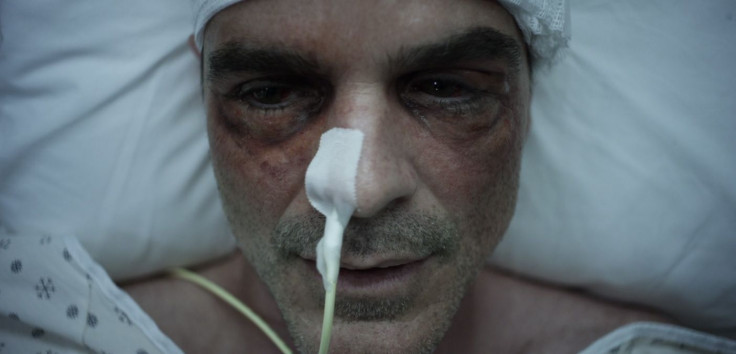 Claire (Robin Wright) is the first person to visit Doug, besides his brother who was looking after him. The first lady lets him know his job is waiting for him. When asked about how Doug sustained his injuries, he lies and says a man did it. He doesn't know where Rachel is and adds: "That's the truth."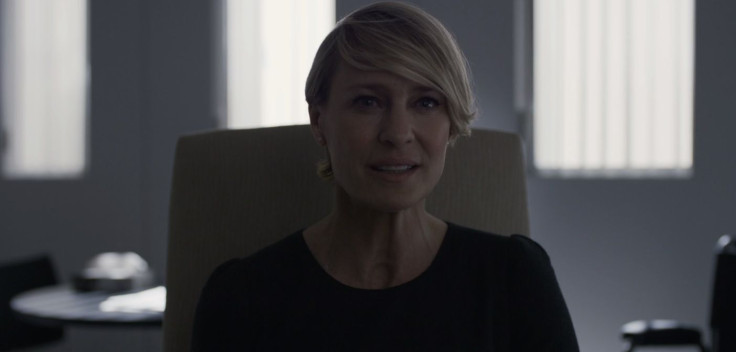 When Doug gets the all clear to leave the hospital and go home, a note from Frank and Claire is waiting for him. "We had cleaners come by. Thought you should come back to a tidy home. Fridge is stocked too." Does this also mean they "tidied" up the mess he left when he fought with Rachel?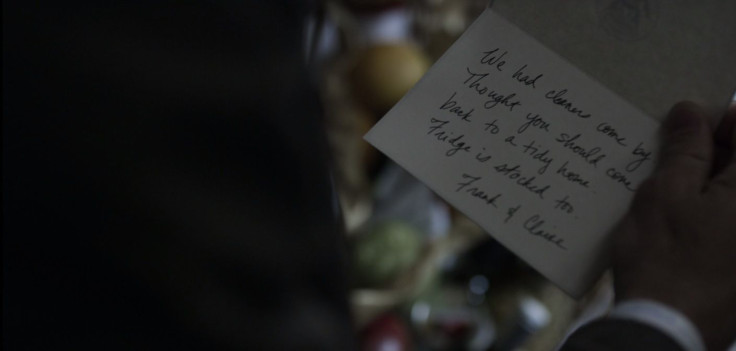 Now that he's out of the White House, Doug is forced to sit back and watch Frank flounder as President of the United States -- apparently, being leader of the free world isn't as easy as Frank thought.
"American Works" is Frank's major program as he tries to fix the unemployment rate in America. Any opposition the president receives from his team is met with termination. Remy (Mahershala Ali), who assumed Doug's old position, tells a colleague his services are no longer needed after getting into an argument with Frank.
In the next scene, Doug breaks his arm in the shower after he receives a call from the White House. Instead of calling 911 for help, he concocts a makeshift cast with a wooden spoon and duct tape.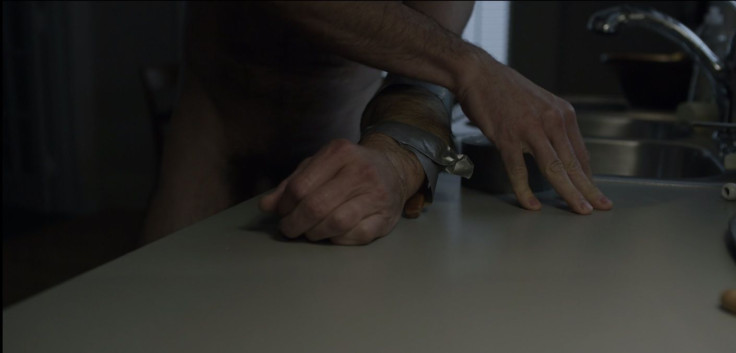 Once he meets with Frank, the president explains that although there is a place for him in the White House, he just wants him to focus on his recovery and come back when he is "truly ready."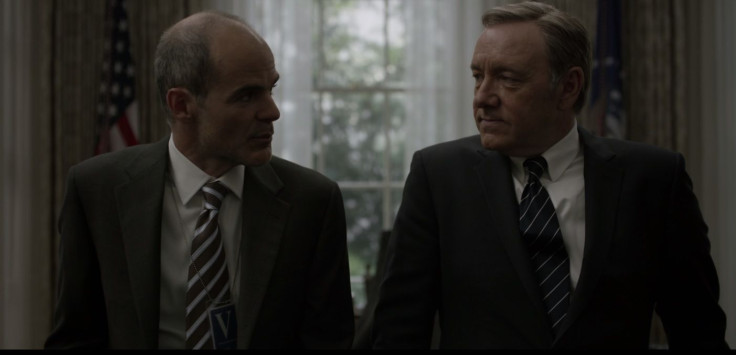 Next, Claire makes her plea to be ambassador to the United Nations. She no longer wants to take a back seat to "Francis" and voices that she, too, wants to run for office. Though her husband is struggling in the polls, Claire says it's important for him to announce his candidacy for 2016 -- it's about the both of them.
As the pain worsens, Doug struggles with his sobriety. He received a prescription for pain pills after getting his arm taken care of at the hospital and even though he throws away his prescription, the few pills he took ruined his sobriety. In the middle of the night he buys some bourbon and hires a prostitute. In a scary twist, Doug brings a bourbon-filled needle into the bedroom with the hooker — but he doesn't use it on her. Instead, he has the woman squirt the bourbon into his mouth.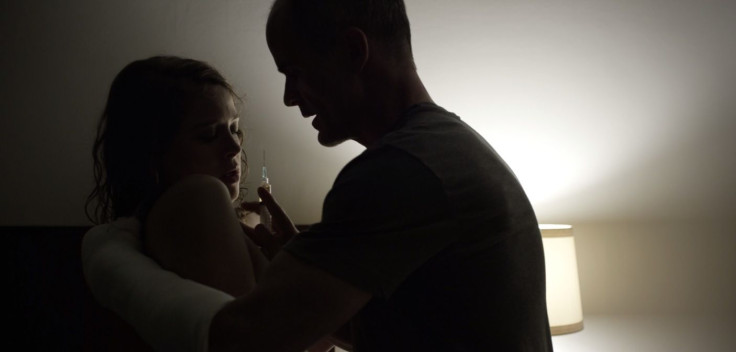 In the final scene, Frank is forced to make a difficult decision about bombing a target that could possibly contain children. He gives his authorization. The episode finishes with the Underwoods walking away hand in hand.
As originally planned, Season 3 of "House of Cards" will stream of Netflix Friday, Feb. 27.
Follow me on Twitter @mariamzzarella
© Copyright IBTimes 2023. All rights reserved.