House Ethics Committee To Investigate Blake Farenthold For Sexual Harassment Allegations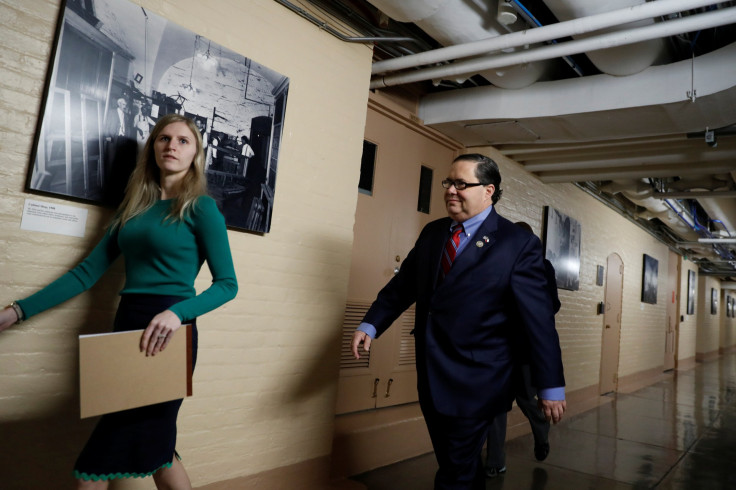 The House Ethics Committee announced Thursday it was moving forward with an investigation into GOP Corpus Christi Rep. Blake Farenthold, nearly a week following revelations that the Texas Republican paid a sexual harassment allegation settlement with taxpayers' money. A former aide, who accused him of harassment, agreed to cooperate, her lawyer said Thursday.
The committee said they will investigate whether Farenthold sexually harassed the former member of his staff. It added it will examine whether the Texas representative discriminated against the former staffer based on her gender and then retaliated against her when she complained about the bias.
The ethics panel investigation will also look into allegations that the Texas GOP representative also made inappropriate statements to other members of his staff.
While the committee's statement did not name the aide, who accused Farenthold of harassment, a lawyer for his former staffer confirmed her identity last week. Lauren Greene served as the congressman's communications director until she was fired in July 2014. She filed a lawsuit later in 2014 that accused Farenthold of making sexually charged statements toward her and engaging in off-color behavior. Greene reportedly received an $84,000 taxpayer-funded settlement after suing the Texas Republican, according to a Politico report.
The report added Greene previously declined requests to cooperate or provide interviews from the ethics panel. The committee requested her again after she spoke about the lawsuit with Politico and CNN, where she told the news outlets after suing her former employer, it was difficult for her to find work at new places.
Greene told CNN she is speaking out as part of a national "reckoning" over sexual harassment.
"We're having these conversations that have been needed to be had," she said.
Greene's attorney, Les Alderman, told the Dallas Morning News she "plans to cooperate" with the ethics committee but no date was set for a meeting. Greene declined further interview requests, he said.
Earlier in 2015, the Office of Congressional Ethics investigated Greene's allegations and informed the House Ethics Committee it "did not find substantial reason to believe that Representative Farenthold engaged in the alleged conduct."
This investigation comes just few days after Farenthold declared himself innocent in the case and promised to repay taxpayers for the settlement. Farenthold denied the allegations and maintained in court Greene was fired for poor performance.
"I'm going to hand a check over this week to probably Speaker [Paul] Ryan or somebody to say, 'Look, here's the amount of my settlement. Give it back to the taxpayers,'" Farenthold told KRIS-TV in Corpus Christi. "I want to be clear that I didn't do anything wrong, but I also don't want the taxpayers to be on the hook for this."
In a statement released earlier this week, Farenthold also mentioned his decision to repay taxpayers is "not an admission of guilt." He added, at the time of the lawsuit, he was advised he could not pay with private dollars because his former aide Greene filed the lawsuit against his congressional office.
"I believe the current system that requires taxpayers to fund secret settlements must be fixed," he said, Dallas Morning News reported.
© Copyright IBTimes 2023. All rights reserved.