How America's First-Ever Tourism Marketing Campaign Is Paying Off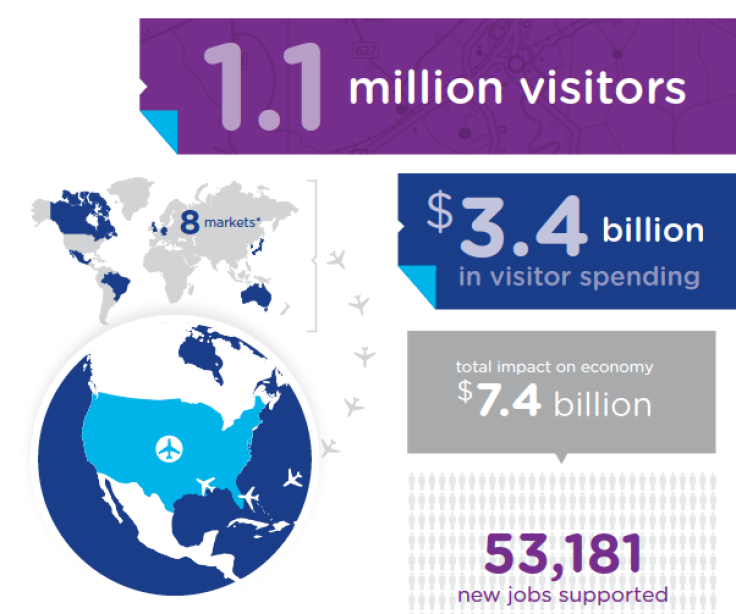 Congressional Republicans have accused it of everything from wasteful spending to cronyism, but the United States' first-ever tourism-promotion board, Brand USA, finally got some validation of its efforts Thursday when a study, conducted by Oxford Economics, revealed that it had boosted last year's U.S. arrivals by 1.1 million.
Researchers said that figure represented a 2.3 percent increase over growth that would have occurred without Brand USA marketing incentives. The additional visitors spent $3.4 billion in the United States, including travel and U.S. carrier fare receipts, generating $7.4 billion in business sales, $3.8 billion in GDP, $2.2 billion in personal income and 53,000 new jobs, according to the report.
Brand USA added that, based on its marketing expenses of $72 million and incremental international visitor spend of $3.4 billion, these results represent a return on investment of 47 to 1.
Christopher Thompson, president and CEO of Brand USA, said the report only proved what many in the tourism industry already know: It's a significant component of the U.S. GDP, exports and employment. "International tourism is not only one of America's best levers for creating jobs, growing exports and driving economic growth, the benefits also extend well beyond the travel industry to include retail, restaurants, transportation and other businesses," he stated Thursday.
The Oxford Economics study looked at eight markets -- Australia, Brazil, Canada, Germany, Japan, South Korea and Mexico -- where Brand USA fully executed consumer, trade outreach and co-op programs last year. "Growth was evident for most of the eight markets, but, somewhat unsurprisingly, the strongest growth was evident from emerging origin markets such Brazil and South Korea, with more moderate growth from some developed markets," researchers noted in the report.
Roger Dow, CEO of the U.S. Travel Association, said the new figures showed that Brand USA had unequivocally tapped into the international travel market to grow the economy -- and had paid "vast dividends toward that end."
"At long last, it is not just anecdotal: The empirical evidence clearly demonstrates that Brand USA works," he enthused.
Countries much smaller than the U.S. spend tens of millions of dollars on tourism promotion each year. But for decades, arms-crossed America saw itself as a nation that didn't need to invite people in; the idea was that they'd come anyway.
Until mid-2012, the U.S. had never once put together a comprehensive marketing effort to promote itself as a destination. Rather, it relied on individual states, resorts and attractions to recruit tourists on their own.
But inbound tourism took a hit in the post-9/11 years. While international tourism flourished, fewer people chose the U.S. as their destination of choice at a loss of billions of dollars in visitor spending. By 2011, the nation's slice of the global tourism pie had shrunk by a whopping 15.5 percent.
President Barack Obama put travel and tourism on the agenda as a potential economy-booster in 2009 and signed the Travel Promotion Act into law in March of 2010. The U.S. Secretary of Commerce then appointed an 11-member board of directors to govern the public-private partnership that is Brand USA and charged them with inspiring travelers to "Discover America."
"In a global tourism market that is hyper-competitive, Brand USA has already gone a long way toward leveling that playing field, bringing billions of dollars in new overseas spending to our economy," Dow noted. "The best part: Brand USA is doing this at zero cost to the taxpayer, thanks to the innovative funding mechanism created by Congress."
The public-private partnership derives its funds from a $14 customs fee and the travel industry itself. Major companies like Walt Disney Co., Marriott and Best Western have each offered more than $1 million in contributions.
Fueled by the program's success, President Obama has set a goal of attracting 100 million overseas travelers annually by 2021. To get there, Brand USA will have to raise international tourism traffic by about one-third over a seven-year period. It hopes to do that by expanding its advertising to new markets and working to streamline the often-cumbersome U.S. visa process.
© Copyright IBTimes 2023. All rights reserved.