How Apple Expands Its Market And Pushes Users To More Expensive Devices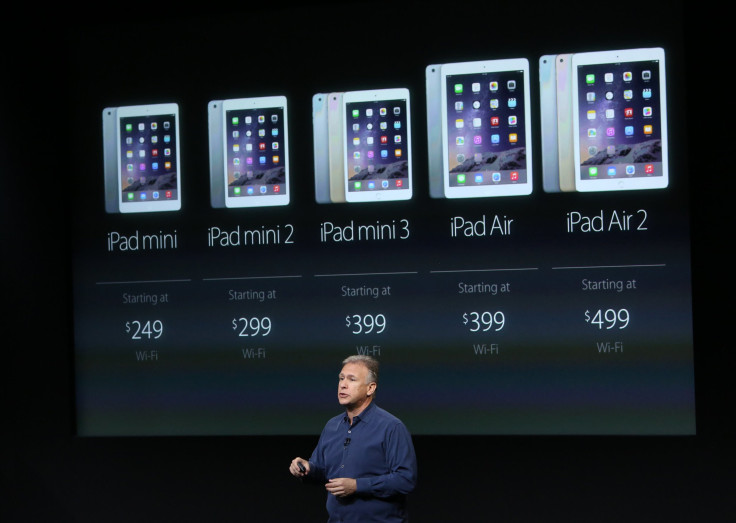 Whether it's iMacs, MacBooks, iPhones or iPads, for Apple Inc., each product line has a simple pricing conceit: good, better, best. But increasingly the "good" -- the lowest-end product -- isn't very good at all.
The lowest-end Macs, iPhones and iPads may be good enough to lure the most price-sensitive users, but by keeping the specs low, Apple is ensuring most of its most loyal users will opt for "better," in what amounts to a subtle price increase that is expected to pad Apple profits and margins going forward.
The reason to make "good" less good is to keep prices down and expand Apple's user base, which the company must do to grow. A wider range of price points means a bigger audience for Apple. "[Apple is] expanding the market and it needs to expand the market," said Roger Entner, analyst at Recon Analytics. "Wall Street pushes them to increase sales. If you don't expand the market, nothing happens."
Let's look at how this is playing out across Apple product lines.
The $1,099, 21.5-inch iMac introduced in June featured a lower price, $200 less than the previous base model. But it came with lower graphics performance and soldered RAM, making user-performed upgrades virtually impossible. Those looking to do more with their computers would have to opt for the higher-priced iMac.
The beloved Mac Mini was afforded similar treatment with its updated model released Thursday. The budget-friendly Mac had been seemingly ignored by Apple for a couple years without any significant upgrade. When the company announced its updated model, fans of the Mac Mini cheered -- until they looked more closely at its specs. Gone were the options of quad-core Intel processors and user-replaceable RAM. In their place were Intel dual-core processors and soldered RAM, which many considered a significant downgrade, ZDNet reported.
For some fans of Apple's entry-level models such as the Mac Mini, the changes are a deal-breaker. But to those looking at Apple's effort to expand the reach of its product lines, it's simply the cost of diversification.
When the company introduced a new iPad Air 2 and Retina iPad Mini 3 with Touch ID, the latter continued to sport the A7 processor instead of receiving an upgrade to the A8 found in the iPhone 6. To make purchase decisions more confusing, Apple has continued to offer its Retina iPad Mini 2 and the original iPad Mini at the starting price of $299 and $249, respectively.
"A lot of people never upgrade, especially the price-sensitive segment," Entner said. "So you have to cut corners somewhere and that's where they're cutting."
Perhaps the most stark example of this is Apple's iPhone line, which is designed to be upgraded as mobile contracts expire every two years. The general rule with technology is prices stay the same while specs improve over time. That's been the case with iPhones -- until the entry-level iPhone 6, that is. The iPhone 6 is a much-improved device, but a key feature remained unchanged: storage. The company opted to keep its base model iPhone 6 at 16GB while replacing the 32GB model with a 64GB option. The 16 GB entry-level iPhone 6 has the same storage as the entry-level iPhone 5s, but Apple users are accustomed to getting more for the $199 with contract price point of the phone.
The "good" low-level device gets less appealing; those with any storage anxiety whatsoever will go for the 64 GB, mid-level "better" device, $299 with a two-year mobile contract.
In the case of the iPhone, there's possibly another motive. With the introduction of iCloud Drive in iOS 8, which allows users to easily use files between OS X Yosemite and iOS, Apple can continue to offer its iPhones at competitive entry prices. If users need more space or performance, they have the option of upgrading to a more expensive iPhone model or purchasing iCloud storage space.
"Using just 16GB of onboard capacity also allows Apple to add in other features while keeping the entry-level price of the iPhone 6 low," IHS Technology memory and storage analyst Fang Zhang told Computerworld. "They need to control how much storage is in the whole bill of material to achieve certain gross margins and operating costs. That is their sweet-spot price."
It's a fairly new move for Apple to offer such a wide range of products and price points. But it's not unique to the industry itself. Despite the launches of the Galaxy Note 4 and Galaxy S5 this year, Samsung Electronics Co. has continued to offer older models such as the Galaxy S4 to appeal to different price points and user types.
While Apple doesn't necessarily offer countless models of its devices, it has gradually warmed up to offering users more options, especially in emerging markets and soon enterprise customers with its IBM partnership. Though the diversity of products may risk some cannibalization of products such as the iPad, it's the cost Apple pays to expand its market share globally.
© Copyright IBTimes 2023. All rights reserved.