How Bernie Sanders Pushed Hillary Clinton To The Left On Economic Policy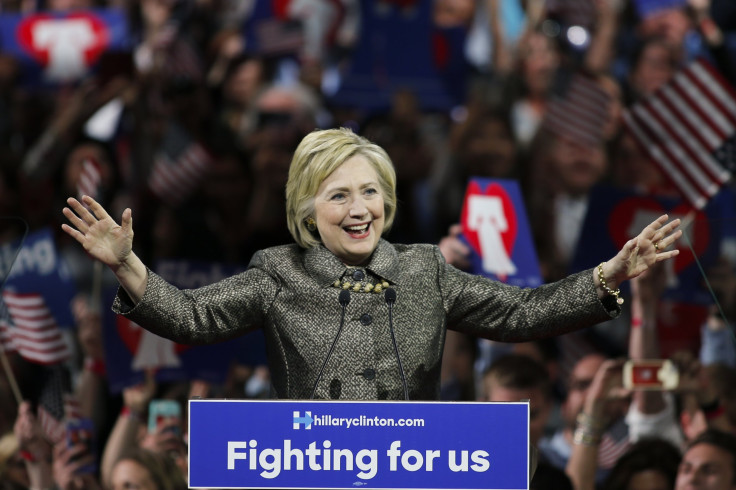 Hillary Clinton pulled farther ahead of Bernie Sanders on Tuesday night as results from Connecticut, Delaware, Maryland, Pennsylvania and Rhode Island came in, winning four out of five primaries. But in many ways, the Vermont senator had already won. His influence was obvious in her victory speech.
Speaking in Philadelphia, Clinton trumpeted her commitment to "bold, progressive policies" and her determination to reform the campaign-finance system, and gave Sanders his own shoutout in her remarks. "I applaud Senator Sanders and his millions of supporters for challenging us to get unaccountable money out of our politics and giving greater emphasis to closing the gap of inequality," Clinton said. "I know together we will get that done."
From the time he entered the race, Sanders posed a left-wing challenge to the former secretary of state, and as his supporters grew more passionate and he was able to set the terms of the debate, his ideas seem to have shaped a number of Clinton's economic policies.
Clinton came into the 2016 race largely known as a moderate, cautious about a minimum wage hike and enthusiastic about international trade deals. But Clinton's stances now are closer to the views that propelled Sanders into the race — a fact not lost on Republicans. Sen. Lindsey Graham, R-S.C., whose own 2016 candidacy ran aground early, responded on Twitter to her Tuesday night speech.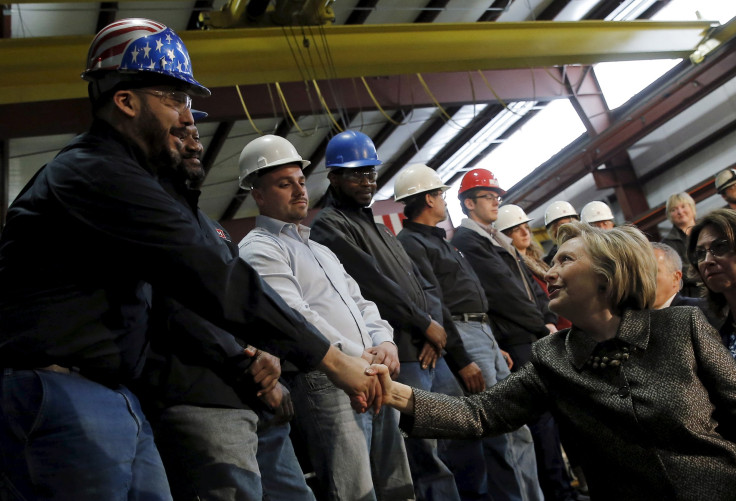 Trade: Sanders has always opposed the Obama administration's Trans-Pacific Partnership deal and frequently argues that trade deals hurt American workers by sending jobs overseas. In contrast, Clinton described the TPP deal in extremely positive terms when she was secretary of state.
"This TPP sets the gold standard in trade agreements to open free, transparent, fair trade, the kind of environment that has the rule of law and a level playing field. And when negotiated, this agreement will cover 40 percent of the world's total trade and build in strong protections for workers and the environment," Clinton said during a visit to Australia in 2012.
She had always said she wanted to see the details of the deal before approving it, but after she announced her run for president, Clinton's remarks about TPP and about trade in general grew more cautious. Then, after President Barack Obama announced the deal was complete in October 2015, Clinton came out against it.
Trade has remained a hot topic on the 2016 campaign trail, and Sanders has often used Clinton's late opposition to TPP to argue that he would be the better choice for Americans concerned about their jobs.
Bernie Sanders Presidential Candidate Profile | InsideGov
Keystone XL Pipeline: Like the TPP deal, Sanders opposed expanding the Keystone XL pipeline, which would carry heavy crude oil from western Canada through the United States, before he ran for president.
Clinton initially avoided taking a position on the pipeline during the early months of her campaign, but then in September 2015 she spoke out against it. "I think it is imperative that we look at the Keystone pipeline as what I believe it is — a distraction from important work we have to do on climate change," Clinton said in September, CNN reported. "And unfortunately from my perspective, one that interferes with our ability to move forward with all the other issues. Therefore I oppose it."
Wall Street reform: This is one of Sanders' biggest issues, and he has long been a strong advocate for reforming the country's banking system. Last spring, he introduced a bill in the Senate to reinstate the Glass-Steagall Act and break up big banks. He also has heavily emphasized the donations that Clinton has received from Wall Street and speeches she gave to Goldman Sachs, for which it paid her a total of $675,000.
Clinton has rebutted Sanders' criticisms by promising to be tough on Wall Street and often reminds voters that she talked about the excesses of big banks during her first speech of the campaign. She has put out a plan to reform Wall Street that includes provisions to hold corporations and individuals accountable, impose regulations on shadow banking and defend the Dodd-Frank legislation that aims to improve transparency and protect consumers from big banks.
There is still disagreement about which Democrat's plan would be more effective. Clinton's ties to Wall Street and her failure to prove she'd be tougher on banks than Sanders seem to have cost her many young votes, according to recent polls.
Hillary Clinton Presidential Candidate Profile | InsideGov
Paying for college: Sanders introduced a bill for free tuition at all public universities in May 2015, and this has been a major selling point for him among younger voters, who are often saddled with huge debt from their student loans.
Clinton also introduced a plan to make college more affordable, but her policy focuses on making college "debt-free" rather than totally free of tuition. Clinton has stood her ground on this area, often saying that she is "not in favor of making college free for Donald Trump's kids."
Minimum wage: Sanders supports a federally mandated $15 per hour minimum wage, while Clinton wants a $12 federal minimum, with states encouraged to raise it higher. However, pressure from Sanders has pushed Clinton to say she would be open to other ideas.
After defending her previous position, Clinton said during an April 10 debate that she would sign legislation creating a federal $15 per hour minimum wage if it came across her desk while she was president.
Sanders seized on the comment. "I'm sure a lot of people are very surprised" to learn Clinton would support the higher minimum wage, he said. "I think the secretary has confused a lot of people," Sanders said.
Clinton clarified that she still thinks a $12 federal minimum wage is best, but her effort to emphasize support for $15 was seen by many as a recognition that Sanders' position is popular among his followers.
After Tuesday, Clinton is even closer to winning the Democratic presidential nomination. As she heads toward the Democratic National Convention this summer and the general election beyond, Clinton will need to convince Sanders supporters to embrace her. To do so, she may find herself needing to even more closely embrace her rival's views.
© Copyright IBTimes 2023. All rights reserved.