How Davis Roofing Solutions Became DFW's Most Trusted Roofing Contractor
Concern for wellbeing. Honesty and integrity. A standard of excellence. Here are the values that have made Davis Roofing Solutions first-in-mind for North Texas homeowners.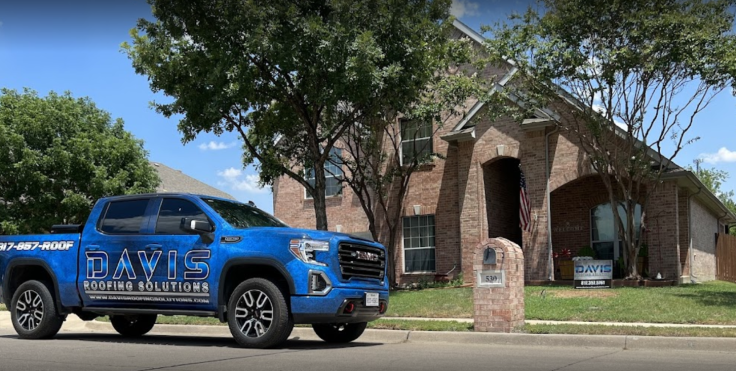 Those in North Texas may know how to stand strong against a wicked spring storm – but their home's exterior is not as resilient when it comes to hail, winds, and everything else mother nature has to throw at it.
If you live in the Dallas-Fort Worth area, you know that worrying about your roof goes hand in hand with responsible home ownership – at least you should.
When it comes to roofing repair and replacement in Fort Worth and Dallas, you have many options. But you're a Texan: you don't just want to find a good contractor. You need the best.
That's why we recommend Davis Roofing Solutions for anyone who needs their roofing system repaired or replaced in DFW and across all of Texas.
This well-respected roofing contractor has built a name for itself – after only a year in business. To get to the heart of why this team has been so successful, we sat down with founder and owner Drew Davis.
Davis – a Christian, father, husband, and avid entrepreneur – cites three core values that inform his company's culture and make up the value that homeowners get out of every roofing project they take on.
Each of these key tenants is influenced by faith: "as scripture tells us," Davis says, "with everything we do, we do it to the glory of God."
Here are the three core values that made Davis Roofing Solutions the most trusted roofing contractor in DFW and beyond.
#1 – Have a Genuine Concern for the Well-being of Others
Davis is putting up roofs – a family home's first line of defense. Beyond the costly damage that can result from shoddy work, an irresponsible contractor can put their clients and team at risk.
That's why Davis Roofing Solutionsstarts from a place of genuine concern. Safety comes first from the moment the team of seasoned installers show up to the job site and doesn't stop for years after – as the finished product has been designed to protect both the investment of your home and the wellbeing of your family.
Concern for your property is seen in the little details. The team always uses what's known as a Catch-All System, which is essentially a netting system that is designed to protect your siding, windows, AC units, plants, and landscaping from any debris, nails, or screws that may fall while the team is working. Those with kids, pets, or anyone who likes walking barefoot through the grass will be at peace knowing they even perform a triple magnet sweep of your property at the end of the job.
This concern for others' wellbeing motivates the next value, which centers around honesty.
#2 – Lead with Honesty and Integrity
Trust is rare in the roofing industry. Many homeowners have unfortunately worked with lesser contractors who upsell, cut corners, and disappear when their jerry-built work becomes a huge headache.
Beyond this, most people's insurance policies are supposed to cover roofing repair – yet the biggest names in that space try and weasel out of their commitments when your roof is damaged.
This is why a focus on honesty and integrity was so important for Davis to impart on his team.
"The best thing about being a roofer," he says, "is that we are able to help homeowners get something they actually need and do a great job throughout the entire process."
"There's a lot of fly-by-night companies out there," he says. "and so it is our mission to lead this industry in every aspect. That's why we do things like give lifetime warranties on our material AND labor – that's another major thing that really sets us apart."
This integrity extends to how Davis Roofing Solutions acts as an advocate for DFW homeowners making insurance claims about their roof.
"Insurance companies are not working for their clients," Davis explains, "they're working for themselves. Whenever they send an adjuster out to a property, they're not looking for minor details: they don't want to write checks."
That's why homeowners in DFW know to call Davis Roofing Solutionsfirst – so that the team can send out a contractor to be present when the adjuster arrives. This ensures that they get the most value out of their claim – and keeps their insurer honest!
"It's good to have somebody like us in your corner," Davis says, "to make sure that the job gets done right."
#3 – Be The Standard of Excellence
This one ties back to Davis Roofing Solutions' roots as a Christian-based business.
"Our contracts make us accountable," he says, "but we're accountable to someone far more important than our homeowners. Our work, our attention to detail, our integrity, our level of workmanship – all of that demonstrates and reflects the accountability that we have to Christ."
This is a team that works with faithfulness, diligence, and a whole lot of pride in every little element of their builds.
"Attention to detail is a powerful thing," Davis says. "It's the little things that add up at the end of the day. When we have to repair another contractor's work, it's most often because of something basic that could have been avoided to begin with – like replacing a pipe's boot on the roof and causing a massive leak."
This high standard doesn't just apply to craftsmanship – but also to the service that homeowners enjoy from start to finish.
"We want to bring more value than anybody else in the industry," the contractor says. "... And we do exactly that. Every. Single. Time."
Sometimes this means that a few shingles are replaced for free when there's no major damage. Other times, the value lies in a meaningful exchange between a DFW resident and a rep from the team.
"We want to be memorable," Davis says. "We're not looking for an immediate paycheck – we're looking for a lifelong customer, even including the generations that follow them"
Davis Roofing Solutions has taken over the North Texas roofing market, becoming DFW's Most Trusted Roofing Contractor. Give value-driven entrepreneur Drew Davis some time – they'll soon be America's most trusted roofing contractor, too.
If you have a roofing problem and need the DFW's best solution, give Drew Davis of Davis Roofing Solutionsa call at 817-857-ROOF or visit their website.