'How To Get Away With Murder' Season 2 Spoilers: Is Wes Annalise's Son? She Reveals Shocking Information After Eve Returns To Clear Nate's Name In The Murder Of His Wife In Episode 7 [RECAP]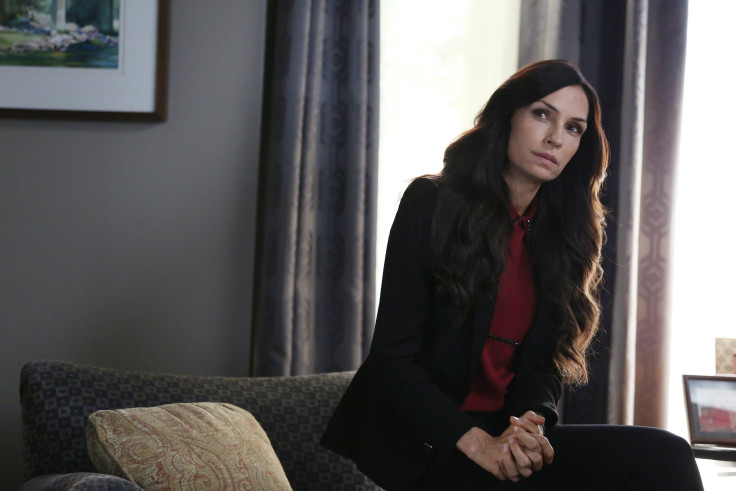 Just when viewers thought ABC's hit crime drama "How to Get Away With Murder" couldn't get any more shocking, show creator Shonda Rhimes ups the ante. Annalise Keating (Viola Davis) finds herself in a tight spot once again during episode 7 after the death of Nate's (Billy Brown) wife Nia. While collecting his wife's belongings at the hospital Nate learns he's facing new murder charges -- this time for his wife's death. Naturally he looks to Annalise for help.
After learning that Nate will be forced to take the stand for a second time Annalise pays a visit to her former friend and lover Eve (Famke Janssen). She tells Annalise she's been expecting her and agrees to take the case. Eve sets up a meeting with Annalise and Nate to get the details about the murder. She learns that both were partially involved in Nia's death, but does not waiver in her decision to defend Nate. In court Eve faces off against Emily Sinclair (Sarah Burns) who is trying ruthlessly to prove that Nia's husband provided her with a lethal dose of drugs to end her life. While Annalise stays as far away from the courtroom as possible, she sends Wes (Alfred Enoch) to do some reconnaissance. Eve's first witness is a nurse at the hospital in which Nia was held. After a lengthy string of questions, the nurse makes comments that incriminate Nate, seemingly to cost Eve the case. Wes reports back to Annalise, who is less than happy. She confronts Eve later that night, asking whether she threw the case -- like they joked about earlier in the episode. Eve denies intentionally losing, telling Annlise to sit back and wait for the blood test results to determine the truth.
Annalise is unclear on how Eve plans to get Nate off the hook with blood tests in play, but she trusts her anyway. The case returns to trial and, much to everyone's surprise, there is no evidence of drugs in Nia's system. Wes, who returned for another round of spying, confronts Eve about the test results, telling her he knows she doctored the paperwork or had someone else do it. He questions why she protects Annalise, but Eve plays it coy. She and her former lover reunite at a hotel for a night of celebration and champagne. They toast to Eve's success and continue to joke about running away together. The topic of discussion then shifts to Wes, with Eve questioning -- for a second time -- why Annalise seems to have taken a special interest in him. She suggestively tells Eve, "It's him," leading viewers to believe Wes is the child Annalise gave up many years ago.
While this case and Annalise's big reveal were the main focus of Thursday's episode, there were many other noteworthy moments. Here are more things that happened during "I Want You to Die" that viewers should store in their memory banks:
Bonnie (Liza Wiel) confronts Asher (Matt McGorry) about an incident that occurred at Trotter Lake many years before. Bonnie was told by Sinclair that Asher had been involved in a gang rape at the house. She shares that information with Asher, which forces him to come clean. He claims he had no part in the rape and his father decided to cover it up without him asking.
Wes finds a gun in his drawer previously hidden by Levi (Matt Cohen). Flashbacks during the episode suggest Wes played some part in the shooting that took place in the Hapstall case, though it is unclear how big a role he had.
Oliver (Conrad Ricamora) decides to get more involved in the goings-on at Annalise's law practice. He gets a call from Frank (Charlie Weber) about a case and agrees to take it. He arrives at the house and finds himself setting up a fake date with a serial killer. Colin (Jack Falahee) doesn't want him going, so he takes his place. Unfortunately the killer is one step ahead of them and shows up at Oliver's apartment.
Bonnie confronts Annalise about letting Asher in on her troubled past, spewing some hateful words at her former mentor. She tells the Middleton University professor she wishes it was her that died in the house rather than Sam (Tom Verica).
Another flashback to the Hapstall mansion shows someone being thrown from one of the many balconies in the home. It is unclear from the episode who it was.
© Copyright IBTimes 2023. All rights reserved.