'How I Met Your Mother' Season 9 Spoilers: Sandy Rivers And 'Pretty Little Liars' Actress To Return; 5 Other Guest Stars We Want To See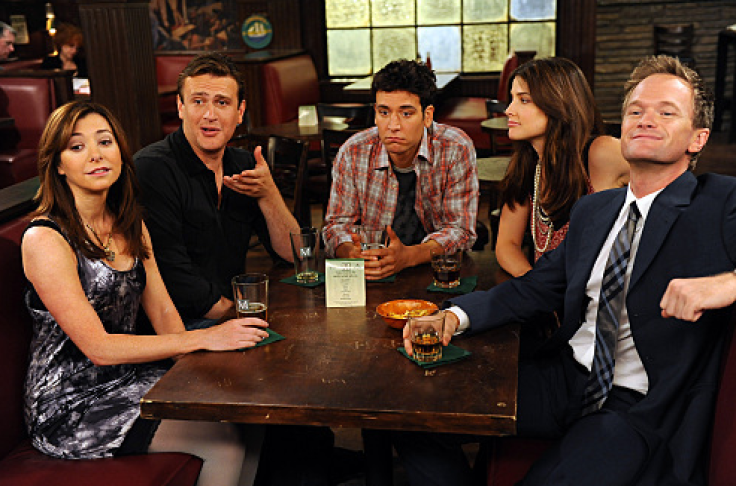 "How I Met Your Mother" has only four episodes left until the acclaimed CBS series airs its series finale on March 31. Doesn't it feel like just yesterday we were watching Ted steal the blue horn for Robin? Now nine seasons later, fans are preparing themselves for the Canadian-born journalist to walk down the aisle to meet Barney! Ugh, time really does fly when you're watching one of the best TV series on cable.
And because the beloved program is coming to an end, it looks like creators Carter Bays and Craig Thomas really are going out with a bang, bang, bangedy, bang! What exactly do we mean by that? Well, according to reports, the creators are throwing it way back with a blast from "HIMYM" past in the remaining episodes.
"Btw, all you HIMYM fans, I said goodbye to Sandy Rivers today. Thanks for having me back @CarterBays et al," Alexis Denisof, who played the role of everyone's favorite narcissistic anchorman, tweeted. Sandy made his debut in season 1 of "HIMYM" as Robin's colleague at Metro News One. Despite never getting Robin's or the gang's approval, we feel in love with hating him—especially when he hit on young female interns. Gross.
And Sandy won't be the only reccurring guest to make an appearance during the final episodes of season 9. According to reports, Lucy Hale, who played Robin's younger sister Katie, will be making a cameo episode 19, "Vesuvius."
We've seen Mitch (better known as The Naked Man), Tim Gunn, and even Billy Zabka make season 9 apperances—so with that said, we can't imagine who else Bays and Thomas will be throwing into the finale episodes of "HIMYM." Here's our prediction of who fans should expect to see:
1. Gary Blauman, played by Cobie Smulder's husband, Tara Killiam, will be reprising his role in his self-titled episode, which will air March 17. If you don't remember Blauman, he was a co-worker of Barney and Marshall in the legal department at Goliath National Bank—and kind of a jerk.
2. Even though Ted has made it clear to his former boss, played by Bryan Cranston, that he's moving to Chicago we still have a feeling Hammond Druthers' character might come into play during the next 5 episodes.
3. There's no way "How I Met Your Mother" could end without Ranjit Singh, played by Marshall Manesh, making an appearance. I could even imagine the beloved cab driver driving off into the sunset with the gang in the back of his cab, couldn't you?
4. Carl MacLaren, played by Joe Nieves, has been a recurring cast member since the show's pilot in 2005. He's the bartender at MacLaren's pub, which is the gang's all-time favorite place to go. According to reports, Carl was originally supposed to play the role of a police office. However, no one told Nieves that the scene was cut from the pilot. He ended up arriving to the set in full costume, which is when Bays and Thomas gave him the role of Carl. Since then he's appeared in almost every season of the show.
5. Any of Barney's ex-girlfriends. Come on, we can't be the only ones who think that a few of his crazy ex-girlfriends are still looking to make Barney their boyfriend.
What character do you think Bays and Thomas should include in their final few episodes? Let us know in the comments section below and don't forget to tune into "HIMYM" when episode 19 airs on March 3.
© Copyright IBTimes 2023. All rights reserved.