How To Improve Sleeping Habits As Study Finds 87% Americans Don't Get Adequate Sleep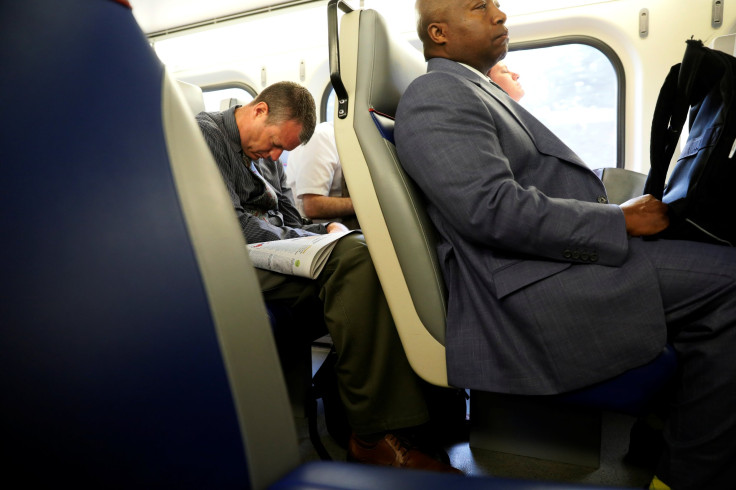 A recent study found that nine out of 10 Americans have trouble falling asleep, which poses a serious health problem and must be addressed. The survey from Vicks ZzzQuil released earlier this month revealed that 67 percent of Americans said they had trouble falling asleep at least once a month while 47 percent reported that they experienced this trouble at least once a week.
The study, according to a report, attributed stress related to family life as the top factor causing sleeplessness; 41 percent respondents said that they were not able to get a sound sleep as they worried about their family.
While 32 percent of them said they could not sleep at night as outweighing financial concerns bothered them; 30 percent said that an unpleasant experience or interaction with their bosses make them sleep deprived.
Read: How Your Brain Starts To Eat Itself When You Get Less Sleep
ZzzQuil commissioned the survey, which was conducted online by Harris Poll in December 2016 among more than 2,000 Americans.
According to a report of SleepScore Labs — a sleep monitoring technology developed by ResMed, a global manufacturer of masks, machines and other products that diagnose, treat or help manage sleep-disordered breathing (particularly sleep apnea) — released in January, which collected consumer sleep data from over 1.53 million nights, showed that 79 percent of Americans get less than the recommended seven hours of sleep. The report also suggested that 50 percent of the people regularly consumed prescription medications, over-the-counter sleeping pills or herbal remedies and food supplements to get better sleep.
A 2015 Consumer Reports survey showed that Americans spent an estimated $41 billion on sleeping aids and remedies in 2015 and according to Natana Raj, an analyst with BCC Research in Wellesley, Massachusetts, that figure is expected to grow to $52 billion by 2020.
While health experts suggest various ways to improve our sleep, physical exercise is the easiest solution. "There has been more and more research in the last decade showing exercise can reduce insomnia," CNN reported citing Rush University clinical psychologist Kelly Glazer Baron said. Baron added: "In one study we did, for example, older women suffering from insomnia said their sleep improved from poor to good when they exercised. They had more energy and were less depressed."
Even University of Pittsburgh's Christopher Kline, who studies sleep through the lens of sports medicine, agreed with Baron. Kline said there have been more recent studies that looked at people clinically diagnosed with insomnia, rather than self-described poor sleepers, CNN reported.
Kline added: "The results show exercise improves both self-reported and objective measures of sleep quality, such as what's measured in a clinical sleep lab."
Apart from exercise, sleeping aid can also come in the form of an app. There are several mobile apps that study your sleep pattern, create soothing sounds to put you off to sleep and wake you up in morning, according to a report.
For instance, there is Sleep Cycle, which rests under your pillow and works to gather data. The app will then use the gathered information to wake you up when you are the least "groggy." In-built graphs in the app will show your sleep patterns.
Nature Sounds Relax and Sleep app creates relaxing sounds that help you unwind. You can choose from a list of different nature-inspired relaxing sounds that include those of thunder, ocean, sea, birds, rain, water, waterfall, nature and start your personal audio therapy.
The Sleep as Android app wakes you up at the right time, which makes you feel less lethargic during the day. Set your alarm with a ringtone of choice, and track your sleeping patterns and sleep quality.
Read: How Does Your Social Life Suffer When You Are Sleep Deprived
If you are glued to your electronic devices before hitting the bed, there are chances that you will sleep badly. A study in Proceedings of the National Academies of Sciences found that those who use electronics that emit blue light (including phones) right before going to bed "were less sleepy before bedtime, but sleepier and less alert the following morning after eight hours of sleep."
And another important factor that might cause sleeplessness is an unhealthy diet. What you're eating and drinking, also affects your sleep. Try to finish eating two to three hours before bedtime so your whole system is ready to relax. If you plan on drinking, do it early on in the evening so that by the time you go to sleep, your body has time to digest it, according to the Better Sleep Council — which was established in 1978, and is the consumer-education arm of the International Sleep Products Association.
FOR FREE to continue reading
✔️ Unlock the full content of International Business Times UK for free
offer available for a limited time only
✔️ Easily manage your Newsletters subscriptions and save your favourite articles
✔️ No payment method required
Already have an account?
Log in
© Copyright IBTimes 2023. All rights reserved.