How India Is Dealing With Its Gang Rape Cases And The Blow To Its Image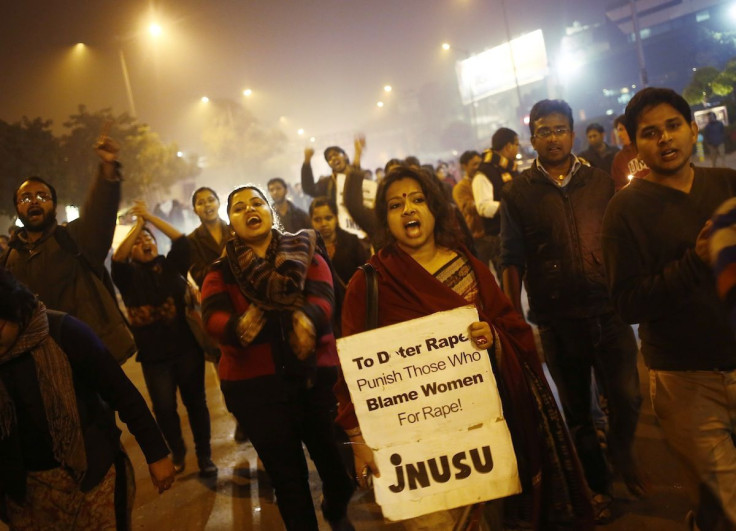 Police in Delhi are investigating the alleged gang rape of a 51-year-old Danish tourist who lost her way in the heavily trafficked Paharganj area of the Indian capital Tuesday night. Two "vagabonds" were arrested in connection with the attack Wednesday, but questions remain over how much progress India has made in facing its rape crisis.
The December 2012 gang rape and murder of an Indian student on a Delhi bus sent shockwaves around the globe and cast a spotlight on the treatment of women in the world's second-most-populous nation. Since then, India has overhauled its laws to fast-track rape cases and to widen the definition of assault to include stalking and voyeurism. But these measures have done little to stop the rising tide of sexual violence.
Tuesday's attack was only the latest in a spate of high-profile assaults on women that have tarnished India's reputation as a safe and welcoming tourist destination. In a separate incident last Friday, an 18-year-old German tourist told police she was raped by a man sharing her compartment on a train traveling from Mangalore to Chennai in southern India. A 33-year-old Polish woman, meanwhile, reported to police that she was drugged and raped on Jan. 2 while traveling to the Indian capital in a taxi with her 2-year-old daughter.
Last year, two separate gang rape cases involving women from the United States and Switzerland made global headlines, as did the case of a British woman who allegedly leapt from a second-floor hotel balcony to escape an assault in Agra, home of the Taj Mahal.
Several other high-profile rape cases involving Indian women in 2013 prompted much soul-searching but little in the way of tangible changes in attitude, despite swift and severe punishments for the attackers. All the while, prospective tourists began to question whether each new case was simply an isolated incident (as they'd been told), or rather part of an unnerving trend.
According to human-rights workers, thousands in India lose their lives each year due to rape, domestic assaults and other acts of violence against women. The government's own crime records are equally shocking: According to the statistics of India's National Crime Records Bureau, one woman is raped every 21 minutes.
Many have long assumed the spate of sexual violence -- and its increasing coverage in the media -- would take its toll on India's reputation, and statistics released earlier this month add weight to the argument.
The number of foreign tourist arrivals to India in 2013 increased by about 4.1 percent year-on-year to reach 6.84 million. While seemingly positive, that figure was below the 7 percent forecasted by the U.N. World Tourism Organization and well under the Tourism Ministry's own goal of 12 percent growth. While industry analysts expected a banner year in 2013 thanks to a depreciation of the rupee, international arrivals grew at their slowest pace since the 2008 global economic downturn.
A survey of 1,200 tour operators conducted by the Associated Chambers of Commerce & Industry of India, or Assocham, in the first quarter of 2013 suggested that the number of female tourists had fallen by more than a third. "Some tourists have emailed in asking whether it would be safe to travel, and some have changed their minds about traveling to India this year," Assocham wrote in its report. "Those who are determined to visit India are taking extra precautions and avoiding affected areas."
Tourism accounts for more than 6 percent of India's gross domestic product, according to government calculations, and the Ministry of Tourism is well aware of the growing image problem. It added an advisory on its "Incredible India" website last year in an attempt to convince female tourists that the nation remained a safe destination.
"A few isolated incidents have been reported in India in which foreign women travelers were sexually assaulted. In all these incidents, the accused were apprehended by the police authorities within a few days, and action was initiated to bring the culprits to justice," the advisory reads. "India is a country of peace-loving and law-abiding citizens. It is a safe destination for domestic and international tourists. However, like any other civil society, there are aberrations, and a few persons break the law now and then."
The ministry also launched a campaign entitled "I Respect Women" this past July following a meeting of all state tourism ministers, union territory administrators and various stakeholders within the tourism industry. At that same gathering, the ministry adopted a "Code of Conduct for Safe & Honorable Tourism," which encouraged "tourism activities to be undertaken with respect for basic rights like dignity, safety and freedom from exploitation for both tourists and local residents, in particular women and children."
These initiatives were all aimed at changing what human rights activists say is a deeply entrenched culture of discrimination against women in India's staunchly patriarchal society.
Some of the Tourism Ministry's efforts have been scrutinized for further scaring visitors away. A series of television ads (like this one posted on YouTube) show taxi drivers and touts harassing female visitors. The ads are aimed at Indian men and star Bollywood actor Aamir Khan, who comes to the rescue and praises the value of respecting tourists. However, critics argue that the ads make sexual harassment of foreigners look like the norm, rather than an anomaly.
Conversely, another "Incredible India" ad aimed at the international market has come under fire for giving women a false sense of security. It depicts a young single girl traipsing around the Indian subcontinent and cavorting with unfamiliar men, something most guidebooks would deem unwise.
Critics have called this ad misleading and dangerous, yet it plays on themes of self-discovery popularized in books like "Eat, Pray, Love" and movies like "The Best Exotic Marigold Hotel," both of which inspired many women to consider a trip to India.
Whether or not they'll make the journey in 2014 remains to be seen. Many hope that in rectifying its image abroad, India can protect not only foreign women -- it can protect its own.
© Copyright IBTimes 2023. All rights reserved.
FOLLOW MORE IBT NEWS ON THE BELOW CHANNELS