How To Instantly Transfer Money From Venmo To Bank Account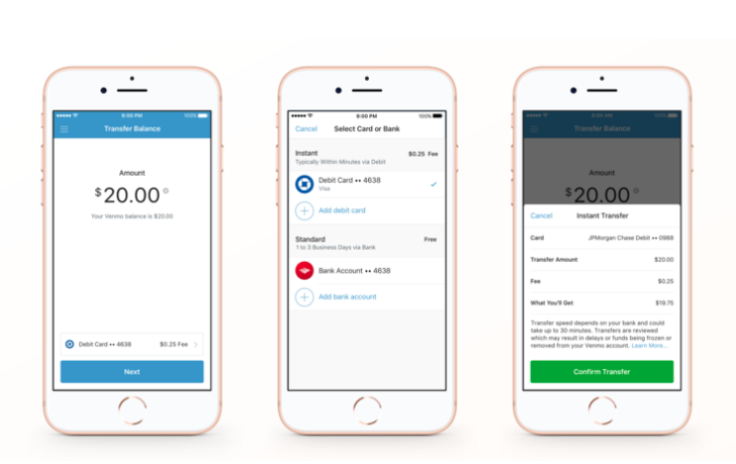 Venmo is trying to keep ahead of its rivals by allowing users to transfer money to their bank accounts faster.
Venmo users are now be able to instantly send the funds stored in the app to their bank accounts by paying an extra $0.25. The platform announced the new feature this week.
Venmo currently lets users send money to their bank account, but the transactions usually take a few days. The delay could be a problem for people who need the money quick, like if they need the cash to buy last minute concert minutes, or a quick gift for someone's birthday.
The new feature was launched on Monday to users with eligible Mastercard or Visa debit cards. Some people might not be able to see the new feature, but Venmo says users will get the transfer option soon.
The platform says the money is transferred to the user's bank account "within minutes" with the new feature. However, the service notes that transfer speeds depend on the user's bank, adding that some transfers could take up to 30 minutes.
The standard version that takes a few days to transfer money will still be available to users for free.
How To Instantly Send Money On Venmo
To send money from Venmo to a bank account instantly users should:
Update their Venmo

Go to the menu tab on left

Tap on the "Transfer to Bank" option

Type in the amount that should get transferred to bank

Tap on next

There are two options now on the screen, Instant and Standard.

Under the Instant section, tap in the bank card the money should get transferred to

Confirm Transfer
Venmo Competition
Venmo's new feature comes as other platforms introduce payment-to-payment options. Apple recently launched its Apple Pay person-to-person payment feature, which makes it easier for iOS users to exchange money with other Apple device owners. Facebook and Gmail also have payment options. Facebook also teamed up with PayPal, which owns Venmo, and rolled a new feature last November that allows users to create and send PayPal invoices on the Messenger app.
Venmo also has to compete with Zelle, a payment service used by several leading banks. Zelle's service is available on bank apps and doesn't need to be downloaded separately. Zelle has partnered with Chase, Bank of America, TD Bank, Wells Fargo and other financial institutions for its service. While Zelle isn't as popular as Venmo and PayPal, the easy-to-use service has been on the rise. A survey last summer found eight percent of millennials use Zelle several times a day, and seven percent use it a few times a week.
It's also worth noting that since Zelle is linked to bank institutions, users can send and receive money much faster, which is why Venmo is now stepping up its game. Unlike the new Venmo feature, Zelle's instant service is free and also doesn't charge users for sending money across different banks.
© Copyright IBTimes 2023. All rights reserved.