How To Make Eggnog: Recipes For Traditional, Chocolate And Pumpkin Versions Of Everyone's Favorite Holiday Drink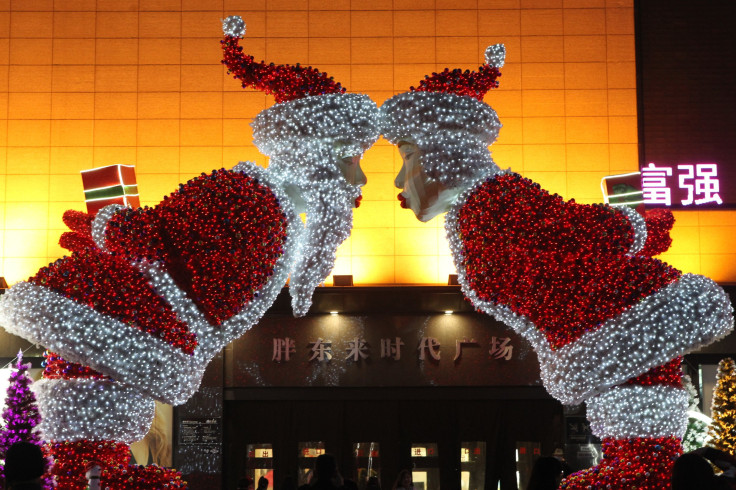 Party season is in full swing, and nothing is as festive as a delicious cup of egg nog! For decades, egg nog has been a Christmas staple, and has been the party fuel for every holiday festivity. Whether you're hosting your own Christmas party, or just want a glass of egg nog to curl up on the couch with, check out these super easy recipes for the popular, seasonal drink.
Traditional Egg Nog: For this recipe, courtesy of Alton Brown on foodnetwork.com, you'll need four egg yolks, 1/3 cup of sugar (plus 1 tablespoon), 1 pint of whole milk, 1 cup of heavy cream, 3 ounces of bourbon, 1 teaspoon of freshly grated nutmeg and four egg whites. Beat the egg yolks until they lighten in color, and gradually add the 1/3 cup of sugar. Continue to beat until it is totally dissolved, and then add the milk, cream, bourbon and nutmeg, stirring to combine. Then, place the egg whites in the bowl of a stand mixer and beat to soft peaks. While the mixer still running, slowly add the 1 tablespoon of sugar and beat until stiff peaks form. Whisk the egg whites into the mixture. Chill and serve. Watch how to make this recipe here.
Spiced Chocolate Eggnog: This recipe for spiced chocolate eggnog, courtesy of marthastewart.com, was inspired by traditional Mexican flavors. The recipe calls for 2 quarts of whole milk, 1 3/4 cups sugar, 1/2 teaspoon coarse salt, one vanilla bean (seeds scraped and pod reserved), four cinnamon sticks, twelve egg yolks, 5 ounces of melted bittersweet chocolate, 3 ounces of melted milk chocolate, 2 cups of heavy cream 1 1/4 cups of brandy (optional), whole nutmeg for garnish and cayenne pepper for sprinkling. First, heat the 2 quarts of milk, sugar, salt, vanilla seeds and pod and cinnamon sticks in a large pot over medium-high heat. Stir until sugar dissolves and mixture is heated through. Remove from heat. Let stand for 30 minutes. Next, prepare an ice-water bath. Whisk yolks in a bowl until pale, which will take about two minutes. Whisk 1 cup of milk mixture into yolks in a slow, steady stream and whisk the yolk mixture into remaining milk mixture. Cook over medium-high heat, stirring until the mixture reaches 180 degrees.
Finally, remove pot from the heat, add melted bittersweet and milk chocolates, and stir until incorporated. Discard the vanilla pod and cinnamon sticks, pour mixture into a large bowl set in ice-water bath, and let cool, stirring often. Whisk cream until soft peaks form. Pour cooled eggnog into a large serving bowl, and add brandy if using, topping with whipped cream. For the finishing touch, grate the nutmeg over top, and sprinkle sparingly with cayenne.
Pumpkin Eggnog: For a unique twist on the classic holiday drink, try pumpkin eggnog! This recipe, courtesy of rounds.com, requires two eggs, 1 cup of superfine sugar, 5 cups of whole milk, one, 750 ml bottle of rum, 1 teaspoon of vanilla extract , 1/2 teaspoon of ground cinnamon, 1/2 cup of pumpkin puree, whipped cream and freshly grated nutmeg. First, beat the egg yolks until creamy. Gradually add half the sugar, beating at high speed until thick, and then stir in the milk, rum, vanilla, cinnamon and pumpkin puree. Place in the fridge to chill for at least two hours. Next, beat the egg whites until soft peaks form, gradually adding the remaining sugar. Continue beating into stiff peaks, followed by folding the egg whites into the chilled rum mixture. Garnish with freshly grated nutmeg and a dollop of whipped cream.
Willamsburg Eggnog: This recipe, courtesy of drinksmixer.com, calls for six eggs, 1/2 cup of rum, two cups of heavy cream, 1/2 cup of brandy, 1 cup of milk, 1/2 cup of whisky, 3/4 to 1 cup of sugar and 1 tablespoon of nutmeg. First, separate the egg yolks from the egg whites, setting the whites aside. Mix the yolks well, gradually adding the cream, milk and sugar. Whip the egg whites until "soft peaks" form. Fold the white into the rest. Gradually add the alcohol. Next, add nutmeg right away, or sprinkle on top. Let chill in the fridge for at least two hours, uncovered.
FOR FREE to continue reading
✔️ Unlock the full content of International Business Times UK for free
offer available for a limited time only
✔️ Easily manage your Newsletters subscriptions and save your favourite articles
✔️ No payment method required
Already have an account?
Log in
© Copyright IBTimes 2023. All rights reserved.