How Many Muslims Will Vote In US Presidential Election? Donald Trump Could Be Derailed By Record Turnout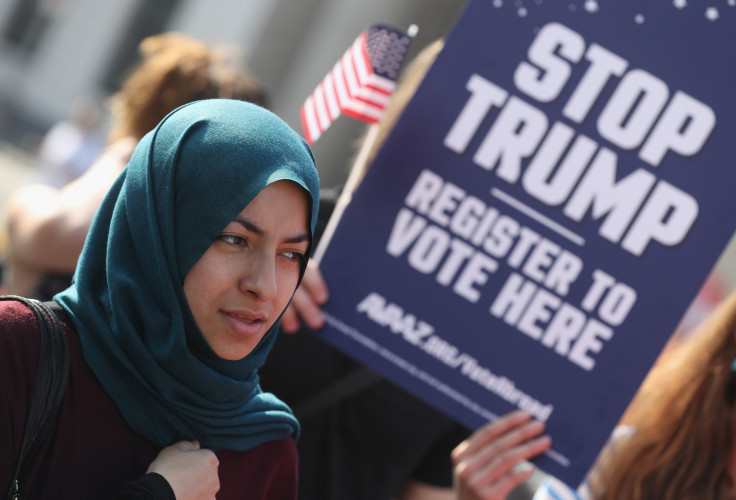 Muslims make up just one percent of the United States population but they could yet have a significant impact on the outcome of November's presidential election. Donald Trump's rhetoric, including calling for a blanket ban on all Muslims entering the country, is thought to have spurred a sharp increase in Muslims registering to vote.
As of June, more than 300,000 Muslims had registered to vote since 2012, according to the Council on American-Islamic Relations (CAIR). According to the group, there are currently 824,000 registered voters whose first, middle or last names match a list of more than 43,500 traditionally Muslim names.
Meanwhile, the U.S. Council of Muslim Organizations, the largest coalition of local and national Muslim groups, is aiming to get one million Muslims to register to vote ahead of the Nov. 8 election. On Monday, CAIR launched its own voter registration effort, in which participants pledge to register five people to vote.
"As citizens, it is our duty to educate ourselves about the civic process and to participate in that process," CAIR National Communications Coordinator Nabeelah Naeem said in a statement. "Our diversity is what makes us stronger as a nation."
While Trump didn't mention his proposals to prevent Muslims from entering the country at Monday's first presidential debate, his opponent, Hillary Clinton, did look to exploit the divisiveness of his stance.
"We're working with our friends in the Middle East, many of which, as you know, are Muslim majority nations," she said. "Donald has consistently insulted Muslims abroad, Muslims at home, when we need to be cooperating with Muslim nations and with the American Muslim community."
Muslims in the U.S. are likely to have a particularly dim view of Trump's proposal given that a 2014 Pew Research Center survey found that 63 percent of them are immigrants. Islamophobia has also become an increasingly critical issue for this group. While in 2012 it was the most important issue for just 15 percent of American-Muslim voters, earlier this year that number had jumped to 30 percent.
In the wake of attacks committed by individuals inspired by radical-Islamic ideology in Orlando, Chattanooga, Tennessee, San Bernardino, California, as well as in New York City and New Jersey two weeks ago, attacks on Muslims have been on the rise, reaching levels not seen since the aftermath of the Sept. 11, 2011 terrorist attacks.
On Monday, New York Mayor Bill de Blasio launched an initiative to support Muslim communities, including an ad campaign across social media. Last month an imam, a person who leads prayers in Mosques, and his assistant were killed in an execution-style shooting in the Borough of Queens.
New York City is home to the largest population of Muslims in the U.S., but there are also significant communities in swing states like Florida, Ohio and Virginia. And while Trump has done little to moderate his rhetoric, which includes stating that "Islam hates us" and calling for surveillance of mosques, the Clinton campaign has a national outreach director focused on reaching out to Muslim voters. Particular focus from the Clinton campaign has been on swing states that could decide an election that polls suggest is increasingly closely fought.
FindTheData.org | Graphiq
The percentage of Muslim voters identifying as Democrat has been on the rise since 2000, when an estimated 90 percent of the community voted for George W. Bush. In just the last two years the number has jumped from 51 percent to 67 percent, while the percentage identifying as Republican remained unchanged at 15 percent. Meanwhile, a poll by CAIR on Super Tuesday in March showed Trump with the support of just 11 percent of American Muslims. In 2008, 90 percent of Muslims voted for Barack Obama, according to CAIR.
Worryingly for the Republican party, the Muslim vote is only likely to increase in importance. A 2015 Pew Research Center Report stated that Muslims are expected to overtake those who identify as Jewish and become the largest non-Christian religion group in the U.S. by 2050.
© Copyright IBTimes 2023. All rights reserved.