How Many Sears And Kmart Stores Are Left? More Locations Closing [Complete List]
More Sears and Kmart stores continue to disappear from the retail landscape as additional closures plague the retailer.
The company will close at least 12 Sears stores and six Kmart stores by mid-April, USA Today reported.
Sears, which held 489 namesake stores and 360 Kmart stores in 2019, filed for bankruptcy in October 2018. The retailer emerged from Chapter 11 in a $5.2 billion deal from its former chairman Eddie Lampert's hedge fund ELS Investments.
Under the new company, Transformco, several Sears and Kmart stores have been quietly closed after the company announced back in November 2019 that it would close the doors at 96 locations by February 2020.
Since that time, Transformco has not publicly announced that it was closing more stores, but local reports indicate that more locations are shuttering, leaving only about 36 Sears and 30 Kmart stores left, according to a recent Forbes article.
In mid-January, Transformco announced that it sold five Kmart stores located in Kill Devil Hills, North Carolina; Jackson, Wyoming; Scotts Valley, California; Wall, New Jersey; and Auburn, Maine, to Target.
In a statement about the transaction, President of Transformco Properties Scott Carr said: "Transformco continues to pursue opportunities to create value from its real estate portfolio and to partner with retailers, property owners and communities as part of the ongoing reinvention of retail real estate ."
Over the past 15 years, more than 3,500 Sears and Kmart stores have closed, and about 250,000 workers have lost their jobs, USA Today reported.
Sears is not the only retailer that is closing stores. The pandemic has forced several companies to shut down their brick-and-mortar locations as consumers shift to online purchases.
In January alone, Macy's, Bed Bath & Beyond, Family Video, Godiva, Loves Furniture, Stock + Field, L'Occitane, Christopher & Banks, and American Eagle all announced that they were closing stores in the coming months as a result of the impact of the COVID crisis.
Here are Sears and Kmart stores that are scheduled to close in 2021, according to USA Today and local reports.
Sears Store Closures
California
Clovis: Sierra Vista Mall, 1140 Shaw Ave.
Los Angeles: Boyle, 2650 E Olympic Blvd.
Orange: Mall of Orange, 2100 N Tustin St.
Sacramento: Arden Fair Mall, 1601 Arden Way
Florida
Brandon: 686 Brandon Town Center Mall, 686 Brandon Town Center Mall
Hawaii
Aiea: Pearlridge Shopping Center, 98-180 Kamehameha Highway
Hilo: Prince Kuhio Plaza, 111 E Puainako St.
Maryland
Silver Spring: White Oak Shopping Center, 11255 New Hampshire Ave.
Massachusetts
North Attleboro: Emerald Square Mall, 1009 S Washington St.
New Jersey
Belleville: 411 Main St. #371
New York
Valley Stream: Green Acres Mall, 1150 Sunrise Highway
Puerto Rico
Puerto Rico Sears store closing
Caguas: Las Catalinas Mall (February)
Carolina: Plaza Carolina Station (February)
Mayaguez: Mayaguez Mall 975 Hostos Ave Ste 110 (February)
Texas
Mesquite: Town East Mall, 3000 Town East Mall
Virginia
Sterling: Dulles Town Center, 21000 Dulles Town Circle
Kmart Store Closures
California
Big Bear Lake: 42126 Big Bear Blvd. (Late February)
Long Beach: 2900 North Bellflower Blvd.
Maryland
Silver Spring: 14014 Connecticut Ave
Massachusetts
Hyannis: Capetown Plaza, 768 Iyannough Road
Pennsylvania
Kingston/Edwardsville: 18 Mark Plaza
Willow Street, Pennsylvania 17584
Puerto Rico
Bayamón: Rexville, PR-199 (February)
Mayaguez: Pr Route 2 Km 149.5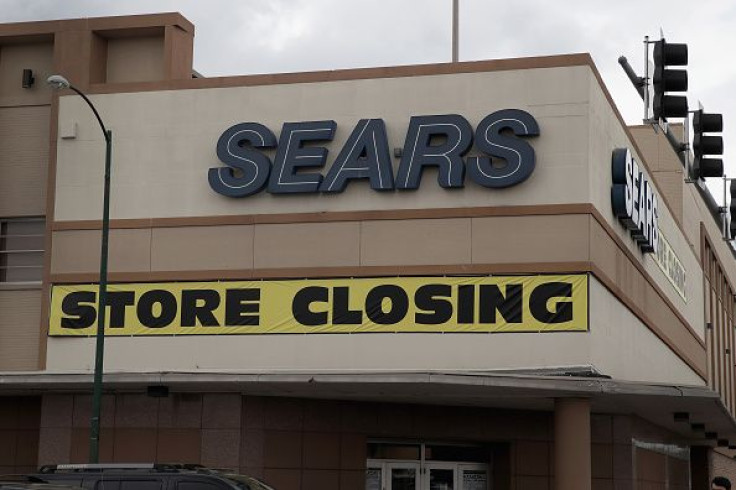 © Copyright IBTimes 2023. All rights reserved.