How Much Money Has The ALS Ice Bucket Challenge Made?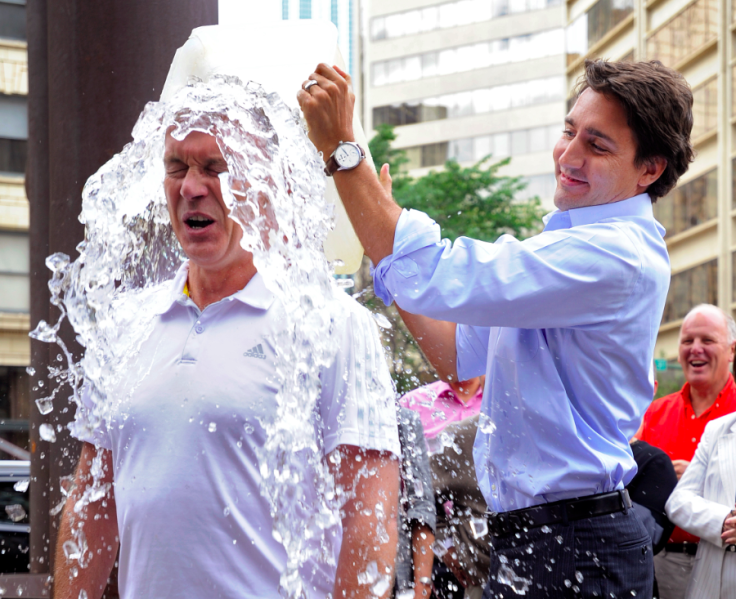 The Ice Bucket Challenge is like the ultimate game of truth or dare for social media users, but it has also raised millions of dollars for Amyotrophic Lateral Sclerosis (ALS), the lethal neurodegenerative disorder also known as Lou Gehrig's disease. Everyone from Oscar-winner Anne Hathaway to former U.S. President George W. Bush has poured buckets of ice water over their heads, which has helped raise more than $41 million, the New York Times reported Thursday.
The foundation received $19.4 million in proceeds last year, but thanks to 739,000 new donors, the ALS Association doubled its donations in one month, according to the Internal Revenue Service. In one day, the challenge helped the ALS association earn $8.6 million in proceeds, Time reported on Wednesday. "Increased awareness and unprecedented financial support will enable us to think outside the box," the charity said in a statement.
In addition to the money, the Ice Bucket Challenge has also helped raise awareness. Only half of Americans knew about ALS a month ago, the Times wrote, but now it is hard to find someone who has not been nominated, let alone someone who never heard of it.
"While the monetary contributions are so absolutely incredible, and we'll be able to really make a considerable difference in moving the mission of the ALS Association forward, the real fortunate part of the Ice Bucket Challenge is the amount of awareness it has raised for the ALS cause in general," ALS spokesperson Carrie Munk said to the Times. "It puts us in a whole different ballgame to find treatments and cures for this disease."
Little is known about ALS. There is no cure and the cause is not yet known. The life expectancy for people who have the disorder, which is about 30,000 Americans, is two to five years from the time they are diagnosed.
Dozens of celebrities have participated in the Ice Bucket Challenge. "Nashville" star Hayden Panettiere confirmed her pregnancy when she nominated her unborn child to participate:
Lady Gaga sat in silence as she poured ice water over her head:
Pop star Katy Perry took the challenge on a boat:
"Girls" star Lena Dunham said she was "honored" to be nominated:
© Copyright IBTimes 2023. All rights reserved.